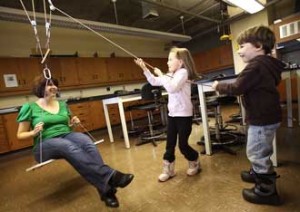 By Neale McDevitt
It may not have the highest profile among McGill laboratories, but the WOW Lab has to be the most fun. Where else do researchers spend their days flying kites, bouncing laser beams through cubes of Jello, and making running toy trains levitate using superconductors and magnets?
Fun and games aside – although fun and games are at the very core of this initiative – the WOW Lab is on a very serious mission; to instill a love of science in kids of all ages.
"Studies have shown that students are naturally interested in science at the very beginning of elementary school," said Brian Alters, Tomlinson Chair in Science Education and director of the Lab. "But as years go by, these same students are less and less interested. Somewhere along the way we seem to have lost the 'wow factor' in our science teaching."
Funded by Imperial Oil, the WOW Lab's five-year mandate is to create science and math classroom activities for teachers who are often too busy to develop them themselves. Each
activity is blue-printed from top to bottom so teachers know exactly what materials they need
(everything must be available at dollar, hardware or grocery stores); how long it takes to set up; where it fits in their curriculum; what questions to ask their students; and follow-up activities. At project's end, teachers will have online access to some 20-30 activities that are tried, tested and true.
A joint project of the faculties of Science and Education, the Lab is comprised of 17 undergraduate and graduate students and six staff members – a team Alters refers to as "imagineers."
"Basically, we start with what makes us laugh and enjoy science and try to relate it back to students," said Maggie Weller, Lab manager, pointing to the Lab's burping balloons. "We have one activity in which students can measure the speed of light using a chocolate bar and a microwave oven. When it's over they get to eat the chocolate. That's not good science, that's fabulous science."