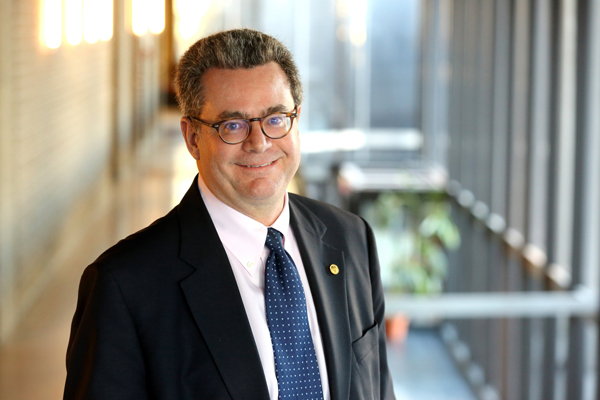 By Doug Sweet
Dean of Arts Christopher Manfredi was named by the Board of Governors on Tuesday as McGill's next Provost and Vice-Principal (Academic). A 26-year veteran of McGill, Manfredi, 55, has served as a Professor in the Department of Political Science, Chair of that Department and, since 2006, as Dean of Arts. Manfredi will continue to serve as Dean until the end of April, when he will take a couple of months of administrative leave in preparation for his new duties. He spoke to The Reporter about the challenges he faces and about his life and background. 
So what possessed you to go after this position, given the current circumstances and the context?
I've spent 26 years at McGill; it's been very good to me in terms of my academic career. I think it's important for people to step up to the plate when there are necessary positions of leadership available, and that's what I did when I became Dean. I was approached by a number of different people who thought I might be a good candidate for this position and I decided to put my name forward. I'm pleased that the Principal has confidence in me.
That said, you are coming in at what is a challenging time.
Of course it's a challenging time, but challenging times are what make jobs interesting. It's been challenging times for the last several years, so I'm not un-used to challenging times. I know there's a great team of people at the University, broadly, to help us get through these difficulties.
Beyond money – and we all know that when it comes to the Provost's office that budget is Job 1 – there must be other challenges independent of budgetary concerns.
What really attracted me to the position this time around is the fact that it's had the Vice-Principal (Academic) component brought front and centre in a way that it hasn't been. I think it has always been the case that the Provost has been concerned with academic matters at the University, but by adding the V-P (Academic) portfolio to the Provost's portfolio, explicitly, it has put a new emphasis on those aspects of the Provost's position. It was done consciously, because I think the Principal really wanted to emphasize the academic aspects of the portfolio, in addition to the pure budgetary parts of it.
I think what's exciting is the opportunity to really start thinking about what the University looks like in terms of its academic programs, how it delivers those programs, how it develops academic programs that are perhaps a little bit less conventional than it has had in the past.
Tell us a little bit about you…
I was born in the suburbs of Toronto (Scarborough, which when I came to Montreal I learned from my students from Toronto is properly called Scarberia). We moved to Regina, Sask., when I was 10 and then four years after that to Calgary, which is when my family stopped moving. So, Grade 9 through 12 was in Calgary and university in Calgary for a BA and an MA in Political Science. I did a PhD at what's now called the Claremont Graduate University; it used to be called the Claremont Graduate School, which is the graduate institution attached to the Claremont Colleges, which are five independent but conjoined liberal arts colleges in southern California, directly east of Los Angeles. It was very pleasant from about November through April.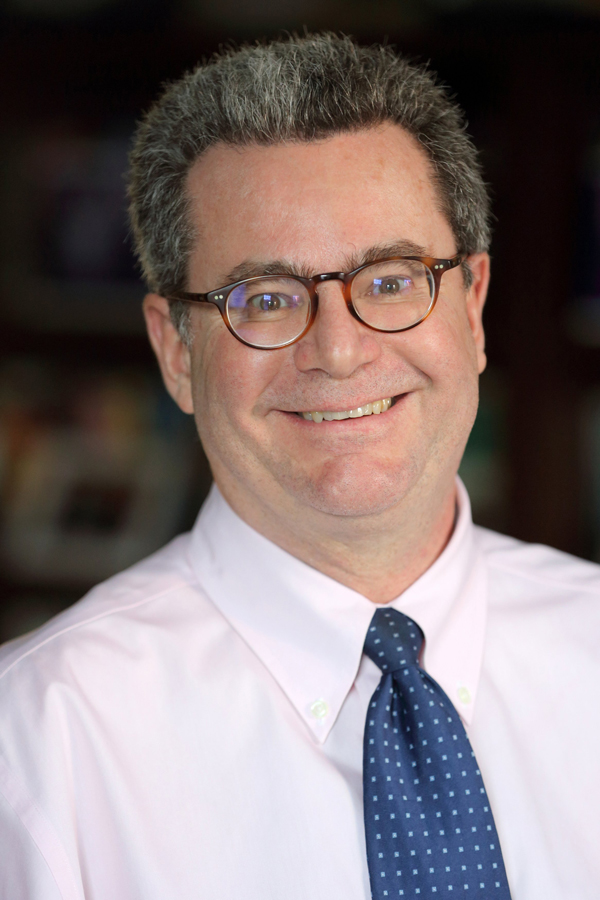 And where did you start teaching?
After I got my PhD in '87, I was hired to be a visiting assistant professor at Claremont McKenna College. I taught for a year there. And then I came to McGill in 1988 under a program that existed at the time called the Canada Research Fellows Program, which was a bridging program for young faculty until a wave of expected retirements took place. I had a three-year position under the Canada Research program with an option for a fourth year, and I had been renewed for the fourth year when a tenure-track position in my department at McGill came open and I competed for it and was fortunate enough to get it. So, I was tenured in 1993; I became full Professor in 1997. I served as Chair of the Department from 2000 to 2006, with a year off for a sabbatical.
Why administration? Somewhere along the way, you learned to like being an administrator.
Again, I go back to the notion that universities are self-governing institutions and in order for self-governing institutions to work, people have to be willing to take on these responsibilities. And at a certain point it becomes a particular generation's – a particular cohort's – responsibility, and it became my cohort's responsibility to become Chair, to lead the Department of Political Science, and some people thought I would be good at it, so I agreed to do it, out of both a sense of duty and interest. And the same thing, when the Deanship opened up in 2005. It was time for the cohort to which I belong to take up its position of leadership and I thought I had something to contribute, so I put my name forward.
No one becomes an academic in order to become an administrator, it's not the thing you try to do. But there are some similarities. You usually become an academic because you're very curious and you like solving puzzles. And administration is like that. Administration is all about solving puzzles, in some sense. So I find that every day there's a new set of puzzles to solve – and I suspect that I'll find out on July 1 that there are lots very complicated puzzles to solve – and I like that. I'm pretty good at multitasking and I think that administration forces one to be a multitasker. I discovered that I'm reasonably good at managing people, which is something I didn't know was one of my strengths. I think one of the things you need in a position like this is the ability to identify talent, and as the Chair of the Department of Political Science, I had an opportunity to make a lot of hires, and I think we were quite successful in identifying good talent. And I had the opportunity to appoint a lot of really good Associate Deans and whatever success we've had in the Faculty, they're a big part of the reason.
When you're not working, what do you like to do?
So, in the wintertime it's almost a family ritual that we ski. So we rent a house near Jay Peak, Vt., from mid-December to mid-April and we go down every weekend and ski and during school breaks we spend a long time there, so that's our big winter thing. We play tennis in the summer; I recently took up golf again after not having played it for a very long time, so I enjoy golf. When you hit a really nice shot – you know, the 10 times a round when you do that – it's exhilarating. I like to read crime novels. They're not particularly sophisticated or deep, but I find they help clear my mind. And I like reading books about politics, I like books on the ins and outs of politics. It's not just a professional interest; I like to understand how politics works.
You came to McGill because of that program, but you must have felt that McGill was a good place to head to.
It was always considered the top university in Canada. Montreal was always an interesting place in my family. In spite of the fact that I was born in Toronto and grew up in the West – my mother's from Owen Sound; my father's from Welland – my mother was a rabid Montreal Canadiens fan and I grew up as a rabid Montreal Canadiens fan, so Montreal always had a certain cachet. So the idea of coming to Montreal – to the country's best university in what my mother thought was the best city in the country was really attractive.
I understand that you advised the prime minister on the selection of David Johnston as Governor-General.
Yeah, in 2010, I was asked to be a member of a committee – for the first time a prime minister used a process to identify a short list of candidates for Governor-General and I was asked to be a part of that – so our mandate was to produce a short list of candidates after consulting broadly and the prime minister selected who he thought would be the best person. I think it was a great choice. It's nice to have a McGillian as McGill's official Visitor in Rideau Hall.
I don't expect you to lay out your road map to the University's financial prosperity on the day after your were appointed, but, broadly speaking, I assume you are in agreement with the Principal's five priorities on what McGill should be doing?
Obviously. The notion of an open, committed, purposeful university and the five priorities are all critical. We have to look very carefully at the expenditure side of the operations, particularly the non-academic expenditure side and, obviously, we have to think very creatively about new revenue sources beyond just our public-policy efforts to change the funding formula and the tuition formula, and so on. But we may have to push ourselves – McGill may have to push itself – a little out of its comfort zone to accomplish some of these things. And we'll have to see exactly what that might mean.
Let's talk for a moment about the tendency for a job like this to be the "cat herder," given the tendency of academics to be very independent-minded and to sometimes focus on their own niche instead of appreciating the broader picture. How do you approach those kinds of issues? You must have dealt with them as both Chair and Dean.
First of all, you've got to remember that, except in a very small way, universities don't operate on a command and control system, so you have to understand that those are the cards that you have to play, that's the environment in which you work, and understand that anything you want to accomplish has to be done through a process of persuasion, consultation and consensus-building, without forgetting that at some point a decision has to be made. And so you have to be willing to understand that there's a limit to the amount of consultation and persuasion that you can do. At some point, a decision simply has to be taken and the person who has the responsibility for the consequences of those decisions has to assume the authority for making them.
You also have to be willing to listen to constructive criticism and to recognize that you might not have all the right answers; other people do have things to contribute. I think all university administrators understand that. So you have to be willing to listen, you have to be willing to recognize that you might not be right all the time.
University administrators have the advantage of looking at the big picture, and try to take into account all of the facts. And that's an important thing. You've got to think about what the big picture is, as opposed to the little pieces. And what might look completely crazy from the point of view of one little piece of the puzzle makes a whole lot more sense if you think about the big picture.
We are going through what would be considered a periodic upheaval, to a certain extent, in terms of changes in the senior administration. We have a new Principal, who's only been here for a little more than a year, we are changing a large number of Deans.
One of the biggest challenges for me will be working with a number of new Deans – in Science, Agricultural and Environmental Sciences, Management and a new Dean of Arts. That's going to be a really big challenge. And other Deans are in their second terms. But that's one of the reasons why it's also an exciting time – to work with and build a new team for the University. So there's going to be a lot of turnover, but there's going to be a whole new team trying to steer us through the rapids.
Related story:
Christopher Manfredi named Provost-designate