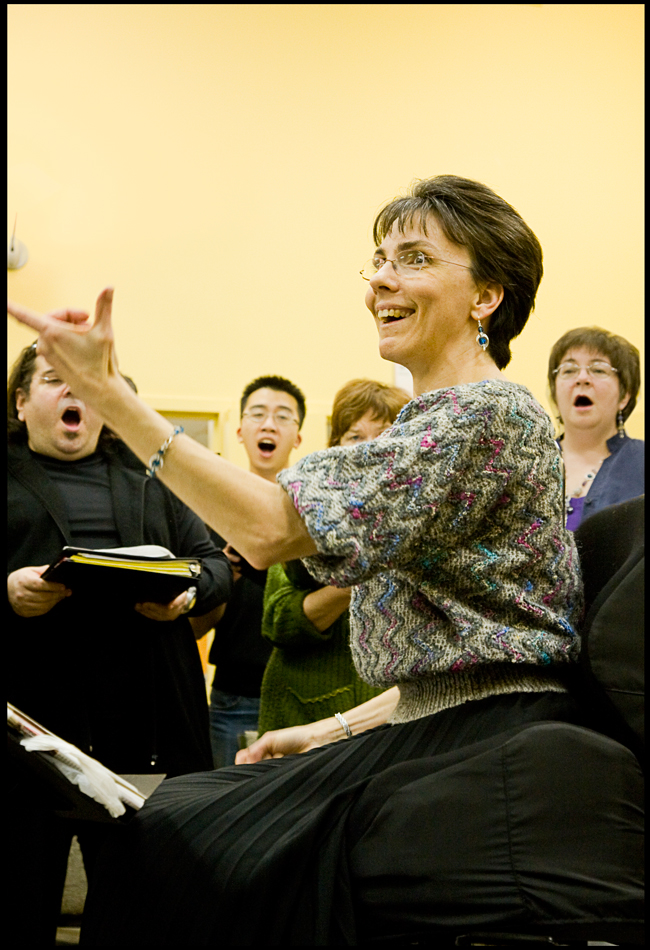 The McGill and Montreal music communities are mourning the loss of a beloved member. McGill professor Eleanor Stubley went missing on August 7. This morning, Montreal police confirmed that her body has been found; they do not suspect foul play. Professor Stubley was 57 years old.
Eleanor Stubley was an Associate Professor and Associate Dean of Graduate Students in the Schulich School of Music.
Prof. Stubley was born in Brampton, Ontario. She earned her Ph.D at the University of Illinois at Urbana-Champaign, her M. Mus. from Brandon University and her B. Mus. from the University of Toronto. In 1989, she joined McGill, where she taught music education, musicology, and performance.
"Eleanor Stubley was a vital member of the Schulich School of Music community," said Brenda Ravenscroft, Dean of the faculty. "As Associate Dean for Graduate Studies, she demonstrated on a daily basis profound devotion and fierce advocacy for students, learning, and artistry. An accomplished choral conductor and a thought-provoking scholar, she constantly found unique ways to bridge performance and research, and was an influential mentor for countless graduate students. She was a beloved colleague, who inspired all those around her with her humanity, passion and courage."
Prof. Stubley conducted ensembles around the world, including the Massey Singers, Elektra, Laapula, the Bach Festival Orchestra, and members of the Canadian Opera Company. Her artistic creations include The Pines of Emily Carr, a performance documentary about the relationship between inspiration and place, and Living Gestures, a multimedia concert series that was performed in Canada and Finland. As the founder and artistic director of Chora Carmina, she helped create innovative collaborations between Quebec musicians and visual artists.
In a message to the McGill community, Principal Suzanne Fortier said that Prof. Stubley "was critically acclaimed as both a scholar and an artist" and "will be greatly missed" in the McGill, Montreal and international music communities of which she was such an important member. Principal Fortier noted Prof. Stubley's long-term commitment to the Yellow Door Choir, "which used the power of song to raise more than $65,000 for social justice organizations dedicated to tackling such issues as homelessness, women and violence, and illiteracy." Stubley was the community choir's music director from 1998 to 2014.
Over the course of her career, Prof. Stubley received many accolades, including winning the Prague Conservatory's International Dvorak Competition and receiving the Queen Elizabeth II Diamond Jubilee Medal.
Prof. Stubley had multiple sclerosis, requiring the use of a wheelchair or forearm crutches, and her work tried to bridge what she called "the schism that has traditionally existed between the words used to describe and explain music and the experience of music in and through the body in performance." One such project, a performance collaboration with sculptor Joël Prévost, asked "How are we touched as we listen? What do these hands touch and what are they touched by?"
"As a conductor, I engage with music in and through my hands as a bodily experience," Eleanor Stubley wrote on her website. "Not only does music have a tactile presence across the surface of my palms, the movements of my hands are the very means by which I shape, sculpt, and carve out its expressive possibilities to give it a dynamic presence as evolving sound."
In 2014, Prof. Stubley established the Eleanor Stubley Recording Prize, which is awarded "to an outstanding graduate student in a performance, composition or conducting program at the Schulich School of Music for a transformative recording project."
The Schulich School of Music will host a memorial for Professor Eleanor Stubley, on Sept. 16 at 4:30 in the Strathcona Music Building's (555 Sherbrooke Street West) Pollack Hall. 
An invitation has also been extended to anyone who would like to sing in two choral works during the event, led by Professor Jean-Sébastien Vallée.
• Rehearsal: Saturday, September 16, 2:30 p.m. in Pollack Hall
• Repertoire: Howard Goodall's Lacrimosa (from Eternal Light) and Vivaldi's Et in terra pax (from Gloria)
• Scores will be available at 2 p.m. on Sept. 16, in the East Lounge of Pollack Hall. PDFs can be emailed ahead of time if requested
• Singers will be asked to sit on stage during the Memorial Event. No official dress code is required.
• Please confirm your participation by email at development.music@mcgill.ca before Wednesday Sept. 13.