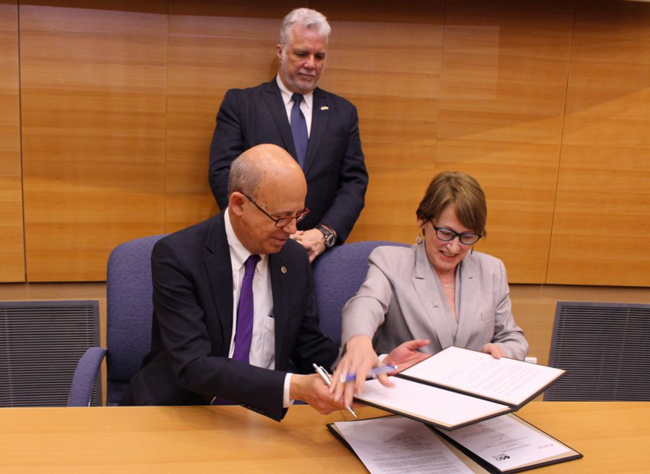 Principal Suzanne Fortier was part of a Quebec delegation led by Quebec Premier Philippe Couillard on a trade mission to Israel and the West Bank from May 21 – 24.
The goal of the mission was to increase economic and academic research ties between Quebec and Israel, a country known for its technology industry and high number of digital start-ups. Both Israel and Quebec excel in information technology, biotechnology, aerospace and agribusiness.
"We're here to observe, to learn and, hopefully, that can lead to developments down the road," said Couillard. It marks the first official visit to Israel by a sitting Quebec premier.
More than 100 people, including entrepreneurs, heads of research institutes and university leaders accompanied the Premier. Along with Principal Fortier, Angelique Mannella, Associate Vice-Principal (R&I), Innovation & Partnerships, took part in the Premier's delegation. In addition, some 17 McGill researchers, as well as Rosie Goldstein, Vice-Principal (Research and Innovation), travelled to Israel to host workshops in the areas of Neuroscience, Oncology, and Water resources management.  with the goal of strengthening and expanding collaborations with Israeli universities.
Speaking with the CBC, Principal Fortier, noted that one of the goals of the mission was to create better links between university researchers and the private sector. "We have to ensure that what happens [at McGill] has benefits for society, and ensure that the knowledge and technologies pass into the hands of entrepreneurs who are going to put them in practice," she said.
On Sunday, Principal Fortier accompanied the Premier to the Kufr Aqab Center in East Jerusalem. The Center is part of the International Community Action Network (ICAN), a McGill-based initiative that combines social work and legal aid to empower disadvantaged populations.
ICAN has established 11 rights-based practice community centres in some of the most disadvantaged areas of Palestine, Jordan and Israel. These ICAN centres provide services such as legal aid, education and housing to over 120,000 people each year, implementing programs that engage, educate and empower the citizens most affected by conflict, economic hardship and instability.
"For over two decades, ICAN-McGill has advanced community leadership in Israel, Palestine and Jordan. Its centers aim to serve some of the region's most marginalized communities and in doing so, empower them," Principal Fortier said during her address at the Kufr Aqab Center. "Through our visit today, McGill wishes to reinforce its proud partnership with ICAN and express our pride in the McGillians who work to improve the social welfare of people in East Jerusalem and across the region."
On Tuesday, the Principal was part of the Quebec delegation that visited Tel Aviv University (TAU). With Premier Couillard looking on, the Principal signed a Memorandum of Understanding (MOU) renewal with TAU's president, Joseph Klafter.
The renewed MOU recognizes many areas of collaboration between the two institutions, including the formal partnership between Brain@McGill and the Adams Super Center for Brain Studies of TAU. The collaborative effort addresses the challenges of prevention, diagnosis and treatment of neurological and neurodegenerative diseases.  Principal Fortier noted that both units "possess complementary strengths in neuroscience, and a stronger relationship between them will benefit students and researchers at both of our great universities."
Later that day, Rosie Goldstein, Vice-Principal (Research and Innovation), signed a new MOU with Ben Gurion University, one of Israel's leading research universities and announced that McGill had also signed a new MOU with Hebrew University, where three research workshops were hosted during the mission.