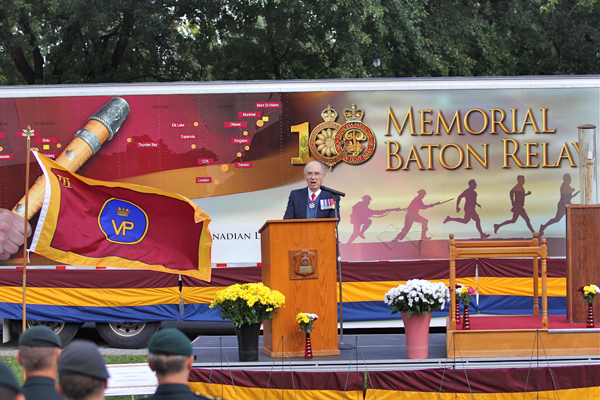 Cross-Canada relay comes to Montreal
By Neale McDevitt
Although based in Edmonton, Alberta, and Shilo, Manitoba, the roots of the Princess Patricia's Canadian Light Infantry (PPCLI) reach back to Montreal and McGill, beginning with the regiment's founding in 1914 by University benefactor, Andrew Hamilton Gault.
With that as its foundation, it was fitting that the regiment's centennial celebration cross-Canada Memorial Baton Relay (MBR) – in which military runners carried a baton containing the names of the 1,866 PPCLI soldiers who have fallen in active service to Canada – featured a stop in Montreal on Sept. 16, just a few hundred yards from McGill's Percival Molson Stadium. The stadium is named after the McGill grad and benefactor who died in battle near Vimy Ridge as a captain in the PPCLI. The MBR runners set off from Edmonton on Aug. 10, and making over 20 stops along the way en route to a tree-planting ceremony at Rideau Hall in Ottawa on Sept. 18.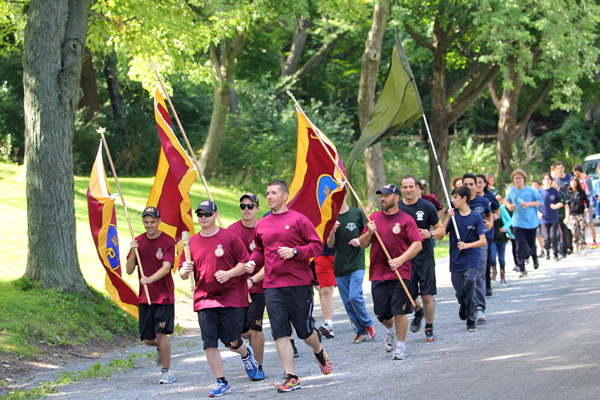 Following a memorial service in the military graves section at Mont Royal Cemetery, the relay runners covered eight kilometers carrying the baton and battalion flags to the George-Étienne Cartier Monument in Mount Royal Park for a wreath-laying ceremony. The military runners were accompanied by members of the Royal Canadian Regiment, the Royal 22ième Régiment, Laval High School students and a trio of McGill students and varsity track athletes – Ryan Salsbury, Francois Jarry and Ben Forestall.
Colonel Peter Dawe, Commander of the Second Canadian Mechanized Brigade Group, opened the ceremony by underlining the strong ties between McGill and the PPCLI. "When planning our centennial celebrations we were keen to include a component that would highlight the national flavor of this regiment – a regiment that may be based in Western Canada but has counted among its ranks and members from every province and territory including a significant number of Quebeckers," he said. "Of course, Montreal and McGill University figure very prominently in our regiment's narrative."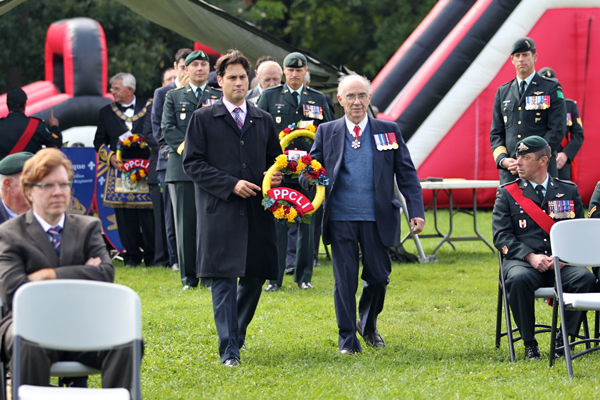 At the ceremony, Desmond Morton, Hiram Mills Emeritus Professor at McGill and a leading Canadian historian who specializes in Canadian military history, further outlined McGill's connection to the PPCLI and Canada's efforts during the First World War. "This has been a 100-year relationship. When the relationship was formed it was very much the idea of Hamilton Gault, who said that Canada's role in this brand-new war had to be dynamic and effective. That will come because we have trained soldiers representing Canada," he said.
That training came in the form of McGill's Canadian Officers Training Corps (COTC), the first of it's kind in Canada, that prepared battle-ready officers for the Canadian Armed Forces, including the PPCLI. Perhaps the most prominent product of this training was Percival Molson who, prior to his death in 1917, was awarded a Military Cross for valor for his actions during the Battle of Mount Sorrel in 1916.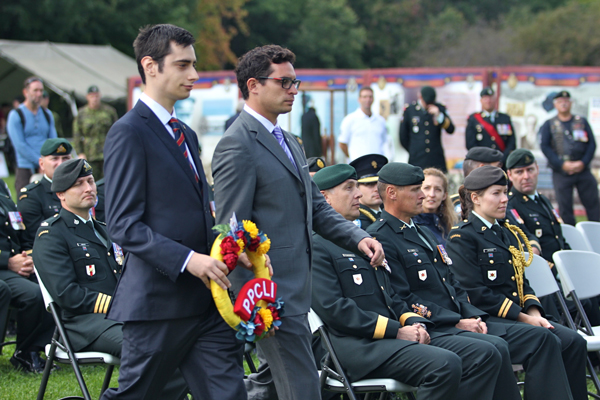 A wreath-laying ceremony followed the speeches. McGill representatives laid two wreaths. The first was laid by Professor Morton and Olivier Marcil, (VP Communications and External Relations). The second wreath was laid by members of the Executive of Post Graduate Students Society, Juan Camilo Pinto (Secretary General) and Julien Ouellet (External Affairs Officer).