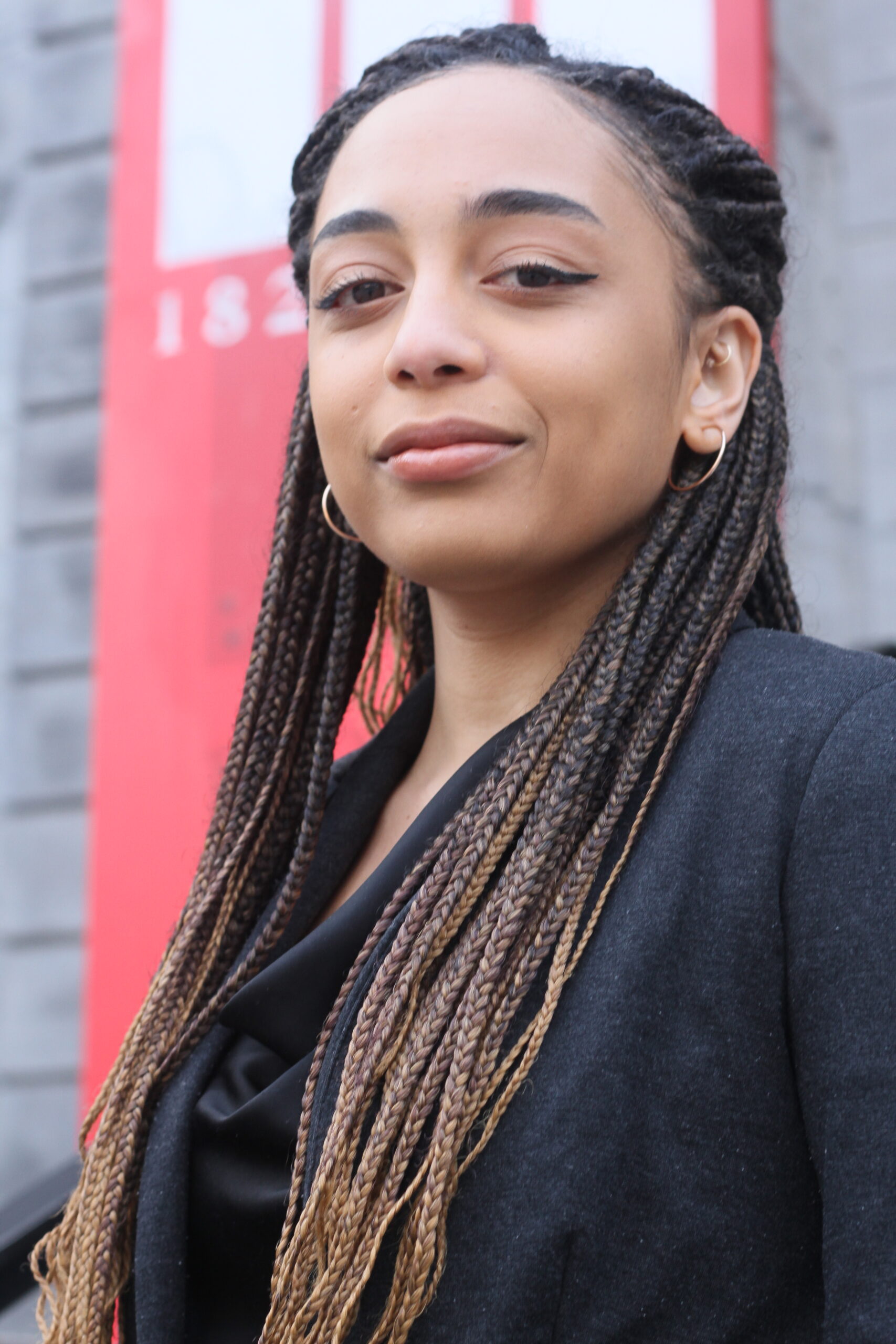 Paring down years' worth of complex research into just three minutes can be just about as challenging as the research itself. Neuroscience PhD student Ylauna Penalva is one of a select few that has been able to master that skill.
In April, Penalva placed first in McGill's MT180 (Ma thèse en 180 secondes) competition, the French-language version of the 3MT (Three-minute thesis) event, with her presentation La Maladie d'Alzheimer: Avant d'oublier. Two months later, she placed third in the national final, hosted by l'Association canadienne-française pour l'avancement des sciences (ACFAS) at Université Laval in Quebec City.
The winner of McGill's English-language 3MT competition, Atia Amin, will take part in the English-language national finals in Montreal in November, after winning the Eastern Regional Finals in June.
The premise of the competition is simple: explain your research in just three minutes to a non-scientific audience, with no props other than a single slide. The competition, which originated at Australia's University of Queensland in 2008, places a premium on performance and storytelling, and serves to help make scientific research relatable to ordinary people.
Grew up around the world, chose McGill
Penalva, a Franco-Cameroonian, grew up in seven countries in Africa, Europe and Asia. She arrived at McGill in 2016 to begin her bachelor's degree in physiology, completing an undergraduate research project where she studied the transmission of painful stimuli in the nervous system of C. Elegans. That experience, along with her volunteer work at the Montreal General Hospital motivated her to zero in on Alzheimer's disease for her graduate studies.
She chose McGill because of its location in a French-speaking city, and its international renown in medical sciences.
"I have now grown to love McGill and Montreal, from its calm freezing winters to its lively bright summers, I consider it my new home," Penalva said. "This is in part why I chose to continue my graduate studies here, in addition to the fact that the Integrated Program of Neuroscience at McGill is recognized as a leader for graduate studies in neuroscience in North America, and worldwide."
She began her master's studies in the fall of 2019 with a project on molecular pathways involved in the development of Alzheimer's disease. She applied to take her PhD candidacy exam early and began her PhD in the fall of 2021. She hopes to graduate by the end of 2024.
Penalva, who also has a background in theatre and dance, got involved with the 3MT/MT180 contest to make her graduate studies a little more interesting.
"You can ask any PhD student and they'll tell you that in grad school, things tend not to go the way you expect them to with setbacks and failures," she said. "Therefore, I try to take as many opportunities to make my doctorate as fun and exciting as possible outside of my experiments."
Keeping the listener involved
For Penalva, taking part in 3MT/MT180 competitions has been an eye-opener.
"You rapidly realize that there are many notions that you take for granted when you explain your research to other people in your field," she says. "For example, in my case I assume the person knows how a neuron works or how proteins are made and transported in a cell to exert their functions. This is not something you can do in the setting of the 3MT/MT180. You thus have to find ways to introduce key concepts in a clear, concise fashion such that your research makes sense to someone who's never heard about it before."
While graduate students are trained to be as detailed and precise as possible, the 3MT/MT180 competition forces students to zoom out of their projects and find ways to be scientifically accurate while not being too technical.
"On top of summarizing, which is hard enough, you need to keep your talk exciting, keep the listener involved. Thankfully at McGill, we have a dedicated team of coaches that walk us through the process of cutting down on information and keeping only what is crucial about our work while weaving a story for the audience. This is done through two major training sessions where all the students work together and practice their speeches on each other."
Penalva's subject matter, Alzheimer's disease, is relatively well known among the public – something which makes her presentations easier.
"The more removed from common knowledge your subject is, the more difficult it may be to present to the audience, I was thus lucky in this sense," she says. "However, an unknown disease or project can also make for a great talk as the audience can come out of it feeling like they truly learned something new."
As she sets her sights on completing her PhD, Penalva is looking to encourage other grad students at McGill to take part in the competition – particularly on the French side.
"There are plenty of bright francophone researchers at our school that could  give great speeches at the French nationals. It is also a great opportunity to network with other francophone students and learn about research conducted in francophone universities across the country."