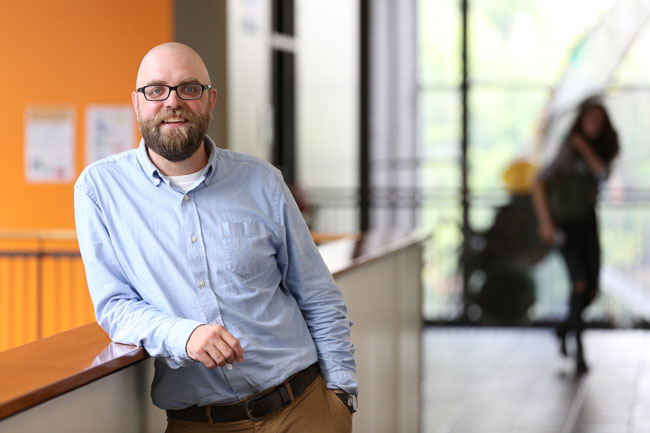 On Nov. 4, Professors Christopher Buddle (Associate Provost, Teaching and Academic Programs) and Fabrice Labeau (Deputy Provost, Student Life and Learning) updated the community about the academic planning process for the Winter 2021 semester. Although courses will continue to be offered primarily through remote delivery, next semester will see enhanced in-person teaching activities, should Montreal be downgraded from its current red-zone status.
The same week, Prof. Buddle and Laura Winer (Director, Teaching and Learning Services) held a forum with student leaders to hear about their views on in-person teaching activities being planned for the future for the future. The Reporter had a chance to catch up with Prof. Buddle about what students are thinking about as they look toward the Winter semester.
Your message to the community talked about two tiers of in-person academic activities. Can you start by explaining the difference between the two?
This is an important distinction. As we're planning the Winter activities, we're looking at two kinds of on-campus activity: ones where students are required to be present on campus, and ones that are optional.
Tier 1 teaching activities are the ones that are essential to delivery in-person and on our campuses in the Winter 2021 term. They are mandatory or essential for a program of study, and therefore students will be required to be on campus to complete those activities. Not all programs have Tier 1, only those that include critical laboratories, clinical activities, project courses, or some other experiential in-person component, and not all laboratory courses are considered Tier 1. It's really focused on courses that have some activity that is not possible to deliver remotely, and making sure that students taking those courses can stay on track with their degrees. Students will have already been notified if their programs of study include any Tier 1 activities for the Winter term.
On the other hand, Tier 2 activities are optional. Students can choose whether to come to campus for those, and the students who don't – or cannot – won't be at a disadvantage. All Faculties will offer some Tier 2 in-person teaching activities. But, again, these are not mandatory. It's just a way to offer some of the face-to-face learning that students are telling us they want.
You've previously talked about how a majority of McGill students are expected to be in the Montreal area next semester. Do you know what kinds of in-person academic activities they're most interested in?
What we're hearing, both in last week's forum and in the surveys we've conducted, is that students are most interested in things like labs, conferences and tutorials being in-person. The lectures themselves can be online, but students are telling us that it's these other elements that are creating the most Zoom fatigue. Students are also interested in having spaces available on campus to do group work, or to study, so part of the planning activities we are undertaking are also looking at these options.
It's important to add that, even though students want these in-person opportunities, they're clear that it shouldn't translate into an increase in the workload.
Can you talk more about how students are feeling about the current workload?
Their message has been clear: They're overwhelmed, they're stressed. Remote learning is difficult, especially when most of our students are registered for full-time studies. This is why we want to make sure that in-person activities are adding value, not work. Because they're spending so much time on academics these days, that makes it all the more beneficial to spend time with friends ands peers in person, and to unplug from a screen now and then. We want to reduce stress, not amplify it.
What kinds of ideas are you exploring for the Winter semester? 
Something we're hearing from both students and instructors is that the sense of community isn't the same as it is during a "normal" year. They're missing a sense of connection, so that's one thing we're focusing on. One idea is general "check-ins" so that, for example, an instructor might be able to meet sub-sets of students at the start of term, or perhaps at a few different times during the term, and see if they have questions or concerns about the course. This wouldn't be a lecture or tutorial or conference, but rather an opportunity for students to get to know their instructors a little bit, and vice versa. As mentioned above, creating spaces for group work or study areas that can be a bit more "noisy" is really important so students can meet on campus to discuss their courses, and connect directly with peers.
There are also examples of activities being planned that aren't tied to a specific course. For example, at Mac campus some "outdoor walks" are being planned, where a Professor in wildlife biology will take small groups of students around campus in the Winter to view the local flora and fauna and be together in those experiences.  These kinds of connections are quite important to develop, and while we see this being especially helpful as an in-person offering, it could work online, too.
The Education Undergraduate Society, for example, has started hosting Zoom "study sessions" that are a very casual space for students to hang out, chat, and study together. Yes, it's additional commitment on the part of the EdUS students, but it's been a well-received way to create connection. And we are certainly seeing some creative ideas emerging from the Faculties that will really help provide ways for students to feel more connected to their peers, their instructors, and the University at large.
Of course, it's all a balancing act. We don't want to add to Zoom fatigue, nor do we want to add to TAs' or anyone else's already heavy workloads.
What have you been hearing from first-year students?
This year is difficult for everyone, but our first-year students are in a particularly tough spot. Everyone else has had a taste of "normal" McGill life – even our current second-year students at least had one regular in-person semester [Fall 2019] before the pandemic hit in March. That makes a big difference because they've already had that important in-person bonding experience.
But this semester, as strange as it is, is all that this year's first-years know. They're telling us that they feel isolated from each other, and they're craving opportunities for casual interactions. Many of them feel alone in the challenges we're facing. That's a really important point because we know that one of the big values in talking to our peers, whoever we are, is in discovering that we're not alone in what we're going through. That's huge.
One of the in-person activities we're exploring for Winter 2021 is a mentorship program that pairs first-year students with upper-year students who have already done the same courses, or are further along in the same program. This concept is already happening in the Faculty of Engineering, and some other Faculties will be developing something similar. Academic and career advising are also important parts of the student experience, so we're looking at how to expand in-person activities in those areas as well.
What about the in-person activities that were implemented this Fall? Will those continue in the Winter?
Absolutely. We know that study spaces are important to students, and the Study Hubs that we opened in the Fall are being well used. So the questions we're asking are about how to improve that experience. As mentioned previously, this could mean expanding available study space to include some classrooms, which would allow a group to study together in private, assuming physically distancing can still be respected.
Then there are basic technology issues, like printer access. Some students are using an entire three-hour Study Hub block just to print out course materials, so we're looking at how we could increase printer access.
Now, all that being said, I do want to make it clear that we only offer in-person activities for students when conditions permit, and we follow strict safety protocols as well. For example, while we know the condition in Montreal right now means that not all activities can occur in-person, we are certainly hoping the conditions improve for the Winter 2021 term.  It's also important to mention that Tier 2 activities are all being planned with a remote delivery "back up" plan, so if we need to adapt to changing conditions in the Montreal area, we can do so.
Speaking of safety, how do the students who have been on campus this Fall feel about the safety protocols that have been put into place?
The last time we spoke, I mentioned that 81 per cent of McGill students who participated in a recent survey said they felt comfortable being on campus in terms of safety measures. We were hearing much the same at the student forum. It's a small sample, but of the 11 students who participated in the forum, 10 said they would come to campus for in-person activities. And, anecdotally, we're hearing that students and student employees at the Currie Gym, for example, feel very safe because of the increased cleaning protocols and safety measures.
That's not to say that there aren't concerns, but we are working to address them! We continue to follow public health directives, and things do continue to change over time. We'll adapt as we go forward and make sure our campuses are safe and make sure people feel comfortable when they visit.