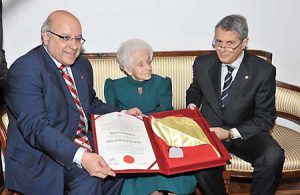 By McGill Reporter Staff
McGill University recognized the exceptional contributions to medicine and society of Rita Levi Montalcini by awarding her a Doctor of Science honorary degree at a ceremony hosted by Sapienza Università di Roma on Wednesday, Feb. 23.
The occasion marked the first time in McGill's 190-year history that the University has conferred an honorary doctorate on foreign soil – and only the second time that such a degree has been awarded off campus. The first was in 1944, when Winston Churchill and Franklin Delano Roosevelt were honoured in Quebec City.
McGill was represented at the ceremony in Rome by Provost Anthony C. Masi and Dr. Claudio Cuello, of McGill's Faculty of Medicine.
Rita Levi Montalcini, born in Turin in 1909, graduated from the University of Turin with a degree in Medicine and Surgery in 1936. Two years later, laws were promulgated enforcing Mussolini's "Manifesto per la Difesa della Razza" ("Manifest in Defence of the Race") and she was expelled from her position in Turin's Department of Anatomy. Undaunted, she continued her experimental work in an improvised laboratory, first in her bedroom and then in a cottage in the countryside to which she fled during the Second World War bombing of Turin in 1941.
After the war, an invitation to work at Washington University in St. Louis, Mo., changed the course of her life. As a full professor from 1958 to 1977, she divided her time between Rome and St. Louis.  She was a driving force behind the creation of the European Brain Research Institute in Rome, where she remains active.
Her fundamental research in St. Louis led to the discovery of the Nerve Growth Factor, or NGF. Her research on the multiple actions of NGF with her colleague Dr. Stanley Cohen, led to her being jointly awarded the Nobel Prize in Medicine in 1986. In 1987, she received the National Medal of Science from the President of the United States.
Rita Levi Montalcini has been a tireless champion of social issues related to research, particularly those of ethics and women in science. In 1992 she established the Rita Levi Montalcini Onlus Foundation, whose aim is to enable women living in the countries of the South, especially Africa, to access all levels of education. To date it has awarded some 7,000 study fellowships to young women in different African countries. In 2001, she was appointed Senator for Life of the Italian Republic.
"Throughout her remarkable career, Rita Levi Montalcini has embodied the highest ideals of science and humanitarianism, and we at McGill are delighted to pay tribute to her in this way," said Prof. Heather Munroe-Blum, McGill's Principal and Vice-Chancellor.