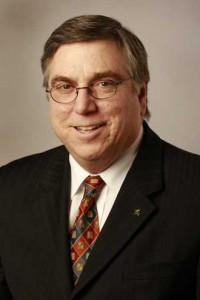 Université du Québec President will join McGill in 2009
McGill University Principal and Vice-Chancellor Heather Munroe-Blum is pleased to announce the appointment of Pierre Moreau to the position of Executive Director, Planning and Institutional Analysis (PIA) and Senior Advisor (Policy Development), effective February 11, 2009.
In this newly designed position, Dr. Moreau will provide leadership and direction to the PIA office, and anticipate emerging data needs as they relate to the strategic plans and priorities of the University. By ensuring precision in gathering, maintaining, analyzing and communicating institutional and other data, he will play an important role in shaping the external policy framework that supports the advocacy work of the Principal, Provost and McGill's senior executive group.
From 2004 to 2008, Dr. Moreau served as the sixth President of the Université du Québec, Canada's only public university system, with nine campuses, where he also served as Vice-President (Academic and Research) from 2002 and 2004. From 1993 to 2002, he served as Vice-Dean Academic, then as Dean of the Faculty of Sciences and Engineering at Université Laval. From 1987 to 2002, Dr. Moreau was a professor of biology at Université Laval, following a post-doctoral fellowship in molecular genetics with Pierre Chambon at the Institut de génétique et de biologie moléculaire in Strasbourg , France . From 1982 to 1987, he was professor and researcher in molecular biology at the University of Ottawa . Dr. Moreau holds a PhD in microbiology from McGill University .
His commitment to academic and civic services, both locally and internationally, is evidenced by board memberships that include: CREPUQ – Conference of Rectors and Principals of Quebec Universities (Vice-President); the Quebec Symphonic Orchestra (President), and CONAHEC – Consortium for North American in Higher Education Collaboration (Vice-President, 2005-2008); AUCC – Association of Universities and Colleges of Canada; IAU – International Association of Universities; and FCCQ – Quebec Chambers of Commerce Federation.