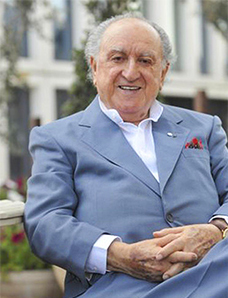 Principal and Vice-Chancellor Suzanne Fortier expressed sincere condolences to the family, friends and loved ones of David J. Azrieli, an accomplished architect, successful entrepreneur, and generous philanthropist, who died Wednesday at the age of 92.
The Polish-born developer and architect, who escaped the Holocaust by fleeing to Palestine and who later fought in Israel's War of Independence, came to Montreal in the 1950s to establish what would eventually become a highly successful real estate empire, with operations in Israel and Canada.
Over the course of his illustrious life, Mr. Azrieli's profound commitment to philanthropic causes was realized in the programs and institutions he supported personally and through the David Azrieli Foundation, which he established in 1989. His significant contributions to McGill include support for the prestigious Azrieli Lecture Series in Architecture, a Chair in Urological Sciences, and – this past May – a landmark gift to support leading-edge investigations by two McGill researchers into autism spectrum disorder and fragile x syndrome. In addition, Mr. Azrieli provided generous support to hospitals affiliated with the MUHC, including the Jewish General Hospital, the Royal Victoria Hospital and St. Mary's Hospital Center.
His extraordinary life and accomplishments were noted in a lengthy blog post by McGill History Professor Gil Troy.
Among his many honours, bestowed both in Canada and Israel, Mr. Azrieli was appointed a Member of the Order of Canada in 1984 and named a Knight of the Ordre national du Québec, the province's highest civilian honour, in 1999.
"Mr. Azrieli lived a remarkable life and was extraordinarily generous to institutions and organizations here in Canada and in Israel, especially when it came to universities and other places of higher learning and study," Prof. Fortier said. "Several years ago, he said that he never stopped learning, so it always felt natural for him to give back to education. For that, we are profoundly grateful."