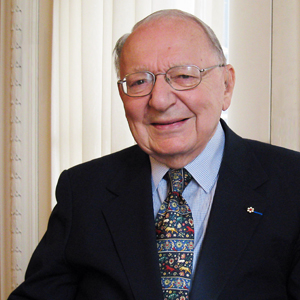 Emeritus Wainwright Professor of Civil Law Paul-André Crépeau, a McGill professor for more than 50 years, who La Presse described as one of the most important legal reformers in Quebec history and one of the fathers of Quebec's Charter of Human Rights and Freedoms, died on July 6 at the age of 85.
"A colossus has passed away today," said Daniel Jutras, McGill's Dean of Law and Arnold Wainwright Chair in Civil Law, in an announcement of Crépeau's passing. "McGill University's Faculty of Law is deeply sorrowed by the death of a man who for so long knew how to express and embody all the poetry, the richness and the deep roots of the Civil Law tradition in Quebec.
"Professor Crépeau was one of Canada's greatest humanists. His penetrating intellect, the depth of his intellectual cultivation, his extraordinary knowledge of Civil Law, his boundless energy, his sound judgement, and his great tact and discretion, all explain why he became a model for several generations of legal scholars and practitioners," Jutras said.
Born in Gravelbourg, Sask., in 1926, Crépeau obtained his Licence in Philosophy at the University of Ottawa (1947), a B.C.L. at the Université de Montréal (1950), a Bachelors of Civil Law at Oxford (1952), where he was a Rhodes Scholar, and a doctorate at the Université de Paris (1955). He began his career as an assistant professor at the Université de Montréal Faculty of Law (1955-1959), and soon after joined the McGill's Faculty of Law.
Crépeau dedicated his professional life to studying and developing Canadian civil law from a comparative law perspective as well as to promoting the French-inspired civil tradition, in Canada as well as internationally. In 1965, he was entrusted by the Quebec government with the reform the Civil Code. As the president of the Civil Code Revision Office, he aspired to create a work that would serve as a "collective reflection on the very foundations of private law institutions."
In 1978, this work culminated as a presentation to the National Assembly of the Draft Code Civil, accompanied by explanatory commentaries. It served as the framework for the government project that eventually became the new Civil Code of Quebec, adopted in 1991, and which came into force on January 1, 1994. With his colleague Frank R. Scott, Crépeau also prepared the Report on a Draft Bill concerning Human Rights and Freedoms, which inspired the National Assembly in formulating the Charter of Human Rights and Freedoms of 1975.
In 1975, Crépeau founded the Quebec Research Centre of Private and Comparative Law at McGill. From 1976, Crépeau held the Arnold Wainwright Chair in Civil Law. He was also Director of the Institute of Comparative Law for a decade.
An elected member of the Royal Society of Canada (1980), Crépeau was named officer, and later companion of the Order of Canada (1981, 1992), officer of the National Order of Quebec (2000), knight of the Ordre national du Mérite (France, 1984), as well as commander of the Ordre national des Arts et Lettres (France, 2004) and Advocatus emeritus of the Quebec Bar (2007).
Crépeau was also the author of more than 130 academic books, articles and presentations. At the age of 84, a few weeks before his death, he could still be found in his office at McGill, hard at work on a project addressing the fundamental principles of the law of contract.
McGill and its Faculty of Law have expressed their most sincere condolences to Crépeau's spouse, Madame Nicole Thomas, to his children Philippe, Marie-Geneviève and François, and also to his grandchildren.
Read the Faculty of Law's announcement of professor Crépeau's passing here: www.mcgill.ca/channels/announcements/item/?item_id=175751