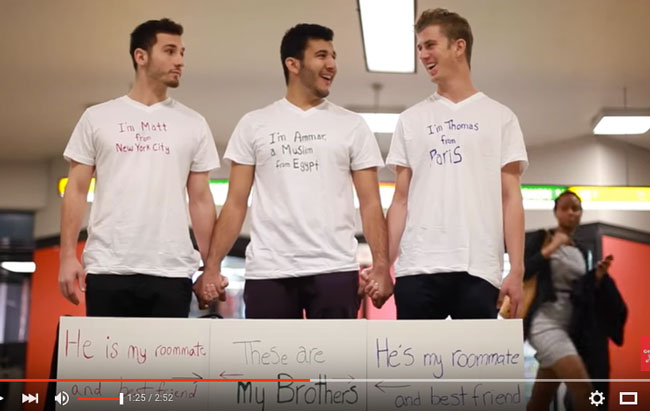 By Neale McDevitt
It was the simplest of gestures yet it stopped busy people in their tracks in the Berri-UQAM metro station during Monday's rush hour. Three friends stood on the platform holding hands. They each wore a simple white t-shirt identifying themselves as a New Yorker, a Parisian and a Muslim from Egypt. Their message was simple – even in the wake of the tragic events in Paris and Beruit, love is stronger than hate. Another friend took a video of people's reactions: Some smiled, some hugged, some fought back tears and many took pictures to post on social media.
"For the first five minutes none of us dared look up," said Thomas Brag, who graduated with a BCom last December. "We were looking straight down because we weren't sure what to expect when the metro doors opened and this entire mass of people that just flocked toward us.
"Once we looked up, we saw that people were crying and smiling and taking our pictures. And, right after that, they started coming up to shake our hands and hug us."
Brag, was holding hands with Matt Dajer (a recent McGill History graduate) and Ammar Kandil. A fourth friend, Derin Emre of Turkey filmed everything.
The four friends (three of them are roommates) have a youtube channel called Generation Y Not. Most of the videos on the channel involve the members doing things they have never done before. To date, this has involved everything from greeting strangers arriving at the airport and river surfing in Montreal, to being models at a fashion show and eating scorpions.
This past Friday, the group was editing their most recent challenge – telling jokes in public – when the news broke about the terror attacks in Paris.
"We were all silent for a full three hours. We didn't know what to say – there was just no room for opinions, no room for ideas," says Brag, who knows one person who is fighting for his life after being shot in the spine. "All we could do was hug each other and tell each other that we loved one another."
Brag says he and his friends knew there was no way they could post a video about telling jokes at a time like this. They realized how special their friendship was and how it personified qualities that the world needed to embrace, now more than ever.
"We feel ours is a very simple message of love, companionship, coexistence and tolerance – and we believe that's what the world needs at this time," says Brag. "We feel like sharing our story is the purest way to deliver this message."
So, on Monday morning, the friends set up shop on the platform of Montreal's busiest metro stations during morning rush hour. Armed only with some homemade signs and t-shirts, Brag, Dajer and Kandil took each other by the hand and waited for that first metro to open its doors.
"With these kind of things you never know what to expect – and often you'll get at least a few negative comments or reactions," says Brag. "But everyone – every single person – was positive. People were taking pictures, giving us hugs and saying thank you over and over. It was clear that this was something we all needed."
When asked, realistically, what this kind of gesture means in the face of such horrific violence, Brag is unequivocal. "This – and every act of love – is incredibly important, because these are the things that will keep us united," he says. "These terrorists want to separate us. They want to start internal conflicts where we start blaming each other and getting angry at each other. That's when they win.
"Everyone is scared and just opening your arms and listening to each other stories is the most impactful thing we could do right now," says Brag. "These terrorists want to divide us. The best thing to do is to hold hands and not let that happen."
Visit the Generation Y Not Facebook page.
Click on the thumbnail below to watch the video