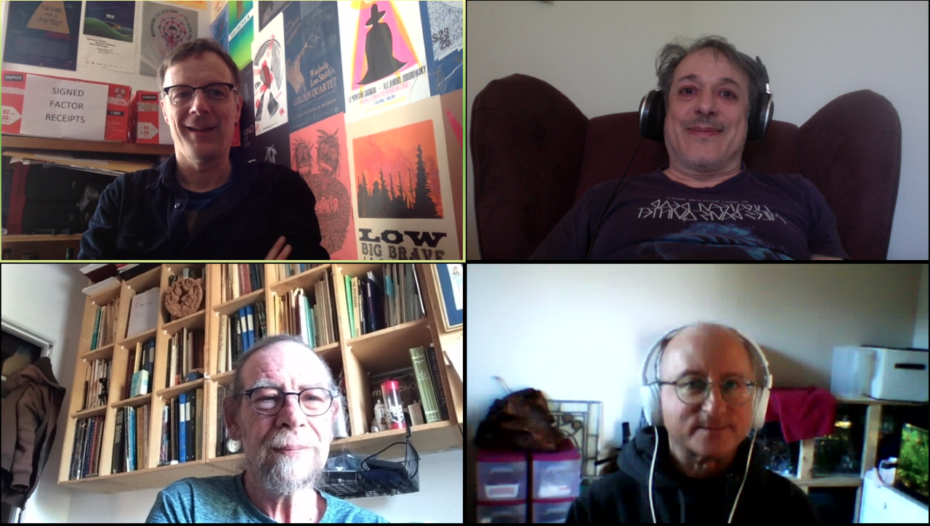 We are all in sore need of soothing to get through COVID-19, and few things, if any, do that better than music.
The 312 Ensemble, including McGill University philosophy professor Eric Lewis, will contribute a world première sound track next month to IF 2020, an online arts improvisational festival. Dubbed '24 hours. 150 artists. 1 world,' will feature original performances by international artists of all disciplines. The online festival was launched this year by the University of Guelph "as a way of connecting artists and arts lovers around the globe during the COVID-19 pandemic."
IF 2020 will feature short performance videos by musicians, spoken word poets, dancers, theatre practitioners, and multi-disciplinary artists in response to the COVID-19 pandemic.
A pandemic ensemble
The 312 quartet, which also includes Lawrence Joseph, retired McGill professor emeritus of epidemiology, has played improvised music online together every day since March 24 – and has recordings of each session to prove it.
Lewis said the name 312 comes from the number of the room where they play in a building housing a musicians' co-op on rue Atateken, formerly rue Amherst.
Each member has his own preferred instrument. Joseph's is a guitar, and Lewis plays brass (cornet and trumpet), as well as electronics. Bassist Peter Burton, director of Suoni per il Popolo, an experimental music festival specializing in "leftfield music," plays "assorted bowed objects" on the IF 2020 recording. Bryan Highbloom, now retired but for about 35 years the music therapist at the Jewish General Hospital, plays "the sax and anything else he feels like," Lewis noted.
"We consider the 312 Ensemble in a funny way to be a COVID-era creation," Lewis said. "We are a pandemic ensemble."
Before the viral outbreak, the members played together for about five years, including once a month as part of a band called the Free Jazz Messengers at Les Sans-Taverne brew pub in Point St. Charles. The four have also played longer than that in all kinds of improvised and other musical settings.
No golden oldies
You won't find Taylor Swift, Beyoncé, Drake, or golden oldies in the line-up – and that's just the point. The music is eclectic, improvised, inventive, free-form and off-the-beaten-track – way off.
Over a 24-hour period starting on August 8 at midnight Greenwich Mean Time (August 7 at 8 pm Montreal time) – even band members don't know at what time their contribution will play – IF 2020 will stream performances that were pre-recorded by the 150 artists.
For the IF 2020 Festival the 312 Ensemble has recorded – remotely, of course – a 10-minute work entitled Droning Bowls for Covid Days. Three of the quartet members produced "drone tones" using  Tibetan bowls and the fourth – Burton, "who didn't have a Tibetan bowl at home" – produced similar drones by bowing on various objects, including a wine glass.
Expressive, improvised responses to COVID-19
Joseph may have retired but he is still active at McGill. Along with Ian Gold of McGill's Department of Philosophy, he is a lead investigator in 'Inside Out: Film as a Medium for the Exploration of Mental Disorder,' a project that explores various facets of mental disorders, such as anxiety, depression and psychosis "that may be difficult to express in words alone." A longtime rocker and music writer for various publications – like Musicworks currently – he has also written books and contributed articles on the subject, including one where epidemiology and music converge.
Joseph, who is currently focusing more on jazz and improvised music, said in an email that "part of the IF 2020 mandate… is to include some ways that COVID-19 has affected you as a musician. Our work addresses that both by using daily COVID-19 data parameters from Quebec to indicate some stop and start times of improvised works we inserted into our main drone background, and by the improvised works themselves, which were driven by our day-to-day thoughts and feelings about how COVID-19 is affecting all of us."
The group said that the "COVID data, itself cold, and far too often heartless, is filtered through our expressive improvised responses to it."
Democratic deliberative discourse
Stressing that he speaks only for himself and not necessarily for the group, Lewis called collective improvisation "a way of experimenting in new forms of community and democratic deliberative discourse. You are collectively ceding power and taking power at various moments, following and leading, assisting or putting obstacles up to someone doing something, revealing things about yourself and learning things about others."
The opposite of collaboration can also happen, he noted, "just like in a community when someone is really bossy and tries to take control. We don't want to be too utopian about collective improvisation. It could simply reproduce the power dynamics inherent in any group. But it is also a site where you can experiment with new kinds of power dynamics."
"What does it mean for none of us to take control?"
The IF 2020, which includes free-form musicians and artists from more than 15 countries, is presented by the International Institute for Critical Studies in Improvisation, in response to the number of arts festivals and events that have been cancelled due to the pandemic.