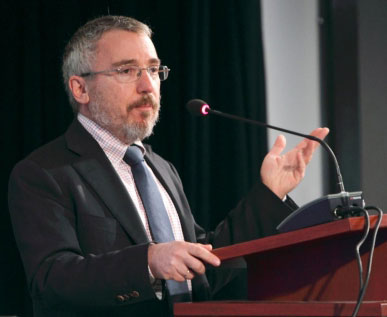 Provost and Vice-Principal (Academic) Christopher Manfredi announced on Wednesday, Aug. 24, the appointment of Prof. Philip Oxhorn to the position of Associate Provost (International), effective 1 September 2016.
This is a new position at McGill and was created to develop the University's international strategy with a view to:
Identifying and maintaining partnerships with international institutions and foreign governments;
Strengthening efforts to expand our reach and sustain collaborations through digital connections;
Overseeing international revenue-generating opportunities that expand our reach;
Expanding opportunities for students to situate their knowledge and understand their lives in a global context through ensuring that the curriculum reflects a global perspective and through student mobility and exchanges;
And supporting international teaching and strategic research collaborations stemming from the extensive interests of professors and students across all our Faculties.
The Associate Provost will work closely with the Deputy Provost (Student Life and Learning) and the Vice-Principal (Research and Innovation) to pursue these objectives.
Oxhorn said he is delighted to be able to take on the new role.
"As Associate Provost (International), I very much look forward to working with the McGill community to help develop an international strategy that takes full advantage of McGill's unique strengths and resources," he said. "Assuming a newly created position is always a bit daunting, but it is a challenge that is all the easier to meet given McGill's already enviable international reputation."
Oxhorn, Manfredi noted, has been a faculty member in the Department of Political Science since 1989, and is also Editor-in-Chief of the Latin American Research Review and a Senior Research Fellow on the Council on Hemispheric Affairs. He recently concluded a nearly eight-year term as the inaugural Director of the Institute for the Study of International Development (ISID), where he did much to advance international research and education at McGill.
"I congratulate Professor Oxhorn on this appointment and wish him every success in his new role," Manfredi said.