Since the creation of the Principal's Prize for Outstanding Emerging Researchers in 2013, Principal and Vice-Chancellor, Suzanne Fortier has honoured 15 of McGill's most accomplished early-career researchers. This year, three outstanding members of McGill's faculty, Professors Erica Moodie, Odile Liboiron-Ladouceur and Derek Ruths, have joined their ranks, receiving the prize during the convocation ceremonies for the Faculties of Medicine, Engineering and Science.
"For the fifth year in a row, McGill has awarded this special prize to three highly accomplished early career researchers," said Principal and Vice-Chancellor, Professor Suzanne Fortier. "I am delighted to have the opportunity to recognize and celebrate them during McGill's spring convocation ceremonies. The selection committee has made excellent choices in selecting Professors Moodie, Liboiron-Ladouceur and Ruths for this prize, and I wish them continued success."
Administered by McGill's Office of the Vice-Principal, Research and Innovation, the prize, which includes a monetary award, honours researchers across all disciplines. McGill awards up to three prizes annually. Doctor Erica Moodie received the prize at the Health Sciences Convocation on May 29. Professor Odile Liboiron-Ladouceur received the prize at the Engineering Convocation on May 30, and Professor Derek Ruths received the prize at the Science Convocation on June 1.
Erica Moodie: Developing research on precision medicine in Canada
"I am grateful and honoured that my work has been recognized in this way. I am very lucky to have an incredibly supportive family and excellent mentors. Aside from the personal sense of gratitude, I think it is incredibly important for the discipline of statistics to be recognized."
Erica Moodie is a biostatistician, an Associate Professor of Biostatistics in the Department of Epidemiology, Biostatistics, and Occupational Health, a William Dawson Scholar, and an elected member of the International Statistical Institute. She is also the Director of the Biostatistician Graduate Program and the Director of the McGill Health Statistics Training Network. Now, she is the recipient of the Principal's Prize for Emerging Researchers.
Her research focuses on adapting treatments to individuals or groups of individuals based on clinical characteristics like sex, blood pressure, or stage of cancer. This approach of adaptive treatment strategies, also known as precision medicine, aims to target the proper treatment to the right individual, at the right time. Particularly relevant for patients suffering from chronic illnesses where treatment must evolve over time, Professor Moodie has been using statistical methods for precision medicine to optimize therapies for patients suffering from depression, cancer and diabetes. Presently, she is investigating how to optimize immunosuppressant therapy for cancer patients receiving bone marrow and blood transplants.
For years, she was the only statistical methodologist working on precision medicine in Canada, but there are now several Canadian researchers in this area, in part thanks to her training efforts. Professor Moodie has maintained an active teaching and mentorship program throughout her career, supervising over 30 students, as well as several research assistants and visiting students, and she believes her love for mentoring has helped advance her career. She credits her commitment to mentorship to the outstanding support and inspiration she received from her family of statisticians and a biologist, her undergraduate mentors at the University of Winnipeg, and her colleagues at McGill. As the Director of the Biostatistician Graduate Program since 2011, she has learned to coach students, helping them to overcome their insecurities, as well as to harness their excitement for research
"I love seeing students get hooked on a topic-and hooked on curiosity," explained Professor Moodie.
Developing the capacity for precision medicine in Canada
Over the last decade, there has been an incredible interest in precision medicine, both in applied health research and quantitative methods. Finding her research niche at the intersection, Moodie first learned of the statistical study of precision medicine as a graduate student at the University of Washington, and was inspired to work in the area after attending a research seminar given by Professor Susan Murphy from the University of Michigan, who is now at Harvard University. Moodie remains excited by the topic today and transfers that excitement to her students.
"I have a lot of students working in this area now and they also seem very excited about it," said Professor Moodie, "It is a really fun area because you see the potential for so many different applications and it really draws the students in."
The significance of recognizing statistics
In addition to the personal sense of gratitude Professor Moodie feels about receiving the Principal's Prize for Outstanding Researchers, she is delighted to see statistics and methodology recognized as an area of research in its own right, not just as a supporting component of other disciplines.
"It is incredibly important for the discipline of statistics to be recognized," she expressed. "Statistics is often 'in the background,' and yet the role it plays in epidemiology, clinical trials, biology, and other fields is not just as a supporting role but as an essential component."
Odile Liboiron-Ladouceur: Paving the way for future experts in the computing industry
"Being awarded the Principal's Prize for Outstanding Emerging Researchers gives me the confidence that my approach to research, my ideas, my philosophy, all that I have become as a researcher, is appreciated. It also tells me that I am going in the right direction, which gives me motivation to pursue greater things."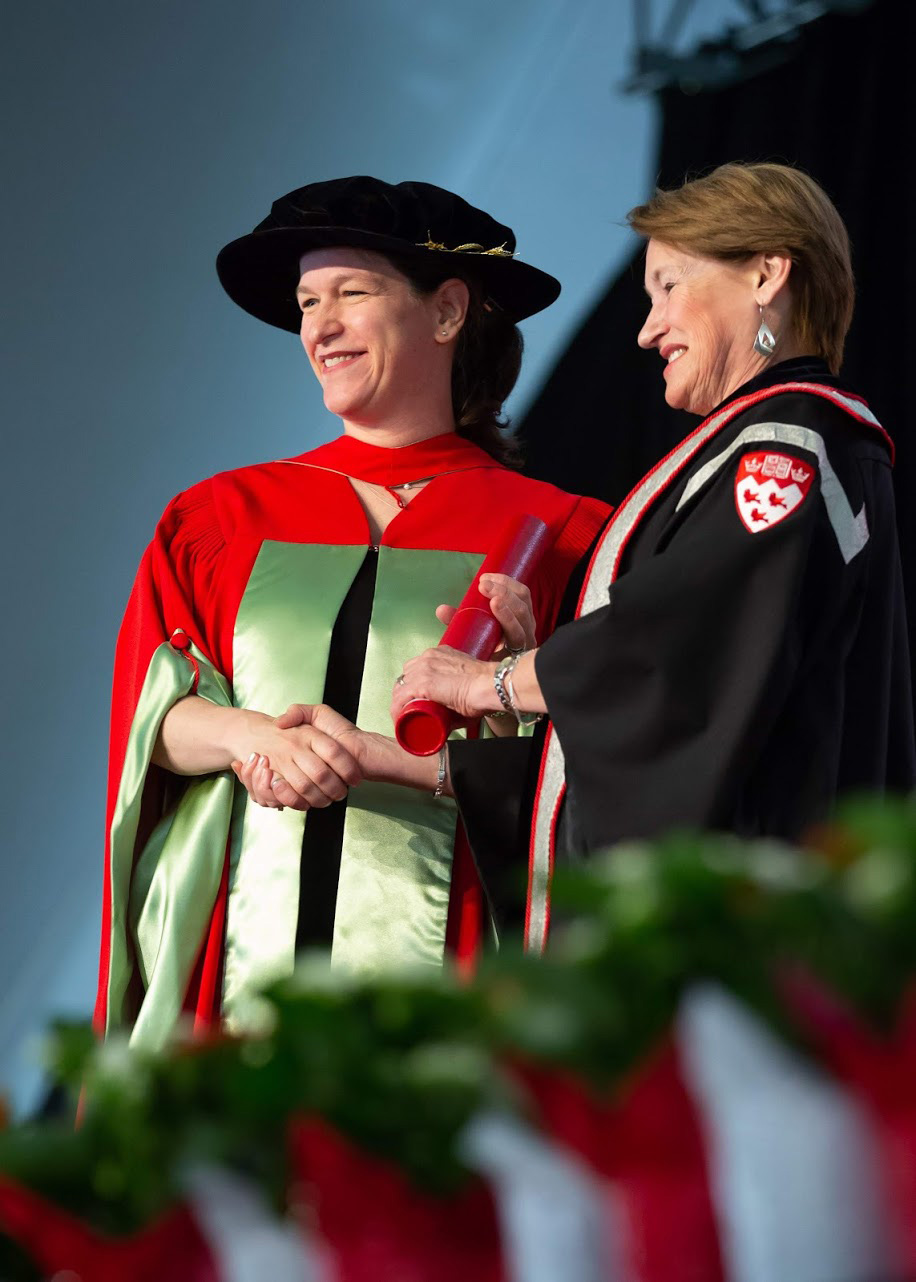 Odile Liboiron-Ladouceur is an Associate Professor in the Department of Electrical and Computer Engineering, a Tier II Canada Research Chair, and leader of McGill's top-notch Photonic DataCom laboratory.
Her research focuses on the use of photonic technologies towards data communications within computing platforms and communication systems. This research makes an impact on the performance and energy efficiency of modern computing applications, like live media streaming, cloud computing and search engine speed. Computer platforms can be quite large and need hundreds of thousands of servers connected together to process information quickly and efficiently. Professor Liboiron-Ladouceur's work specifically enhances the communications between those servers because many computing applications used today require high amount of data processing.
"Think of data like water – if you have a large amount of water and try to drain it all into a small pipe, it will take a long time before the water gets out," she explained. "It's the same with data – in order for it to move quickly, you need to increase the size of the pipe."
As data capacity increases, researchers must find ways to minimize energy consumption. So how does the 'pipe' increase in size while maintaining energy efficiency? Over the last decade, connection between servers have moved from electronic connections to fiber-optic connections, a method of transmitting information from one place to another by sending pulses of light through an optical fiber. Fiber-optic connections allow for a large amount of information to flow through the pipe at high speeds while keeping energy consumption at a minimum. Professor Liboiron-Ladouceur researches how to develop devices and techniques to make efficient use of optical connections for this purpose.
Professor Liboiron-Ladouceur has quickly established herself as an active and significant innovator, steadily gaining international visibility and recognition in the computing industry. She has translated designs emerging from theory into prototypes, and obtained patents for multiple inventions in the field of computing.
Forming future experts in the field
In addition to her many accomplishments, Professor Liboiron-Ladouceur has successfully supervised and trained 24 graduate students who have become technical experts in this emerging field. Her goal is to expose the next generation of experts to state-of-the-art engineering development and bring forward the multidisciplinary aspect of the research. Through mentorship, she hopes to foster critical thinkers and encourages students to work collectively.
"Everyone is making a small contribution to a larger effort to advance science," she expressed. "The more we can collectively move forward, the more I think our field of research can truly advance for the benefit of society."
The significance of prizes and awards for young researchers
Professor Liboiron-Ladouceur highlights the importance of prizes and awards for early-career researchers who are navigating academia. She emphasizes that prizes and awards provide reassurance to young researchers and provides the satisfaction of being appreciated for the work they have accomplished so far.
"Standing next to Principal Fortier while Vice-Principal Crago summarized my achievements in front of thousands of people felt very good," she said. "It was like a big tap on the shoulder telling me that I've done well and that I am going in the right direction with my research."
The future infrastructure of the Photonic DataCom Lab
Professor Liboiron-Ladouceur is currently on maternity leave after welcoming a fourth child into her family. Yet, she is already thinking about how she can step her research up a notch when she returns to the Photonic DataCom lab. As an experimentalist, her goal is to update the research infrastructure within her lab, which needs new and updated equipment. When she first arrived at McGill, she had funding from the Canada Foundation for Innovation (CFI), which helped advance her research immensely. Since then, her research lab has embraced new projects in order to keep up with new technology and current technological needs.
"I will probably need to apply for a CFI after I return from maternity leave," she said. "I need new tools to do more and keep up with changes over the next ten years."
Another future initiative that has been motivating Professor Liboiron-Ladouceur is to connect to the Montreal research community for better resource-sharing. She hopes that these connections will help her continue learning from new mentors and experts in the community.
Derek Ruths: Crossing boundaries and disciplines for computational social science research
"To be selected for the Principal's Prize for Outstanding Emerging Researchers is a tremendous honour. It is very exciting to feel that the community I'm proud of acknowledges and values the exploratory the work that I do. I think of McGill as a very supportive home for it and an award like this just underscores how supportive McGill is. That is a very important signal to me, to colleagues, and to the community at large."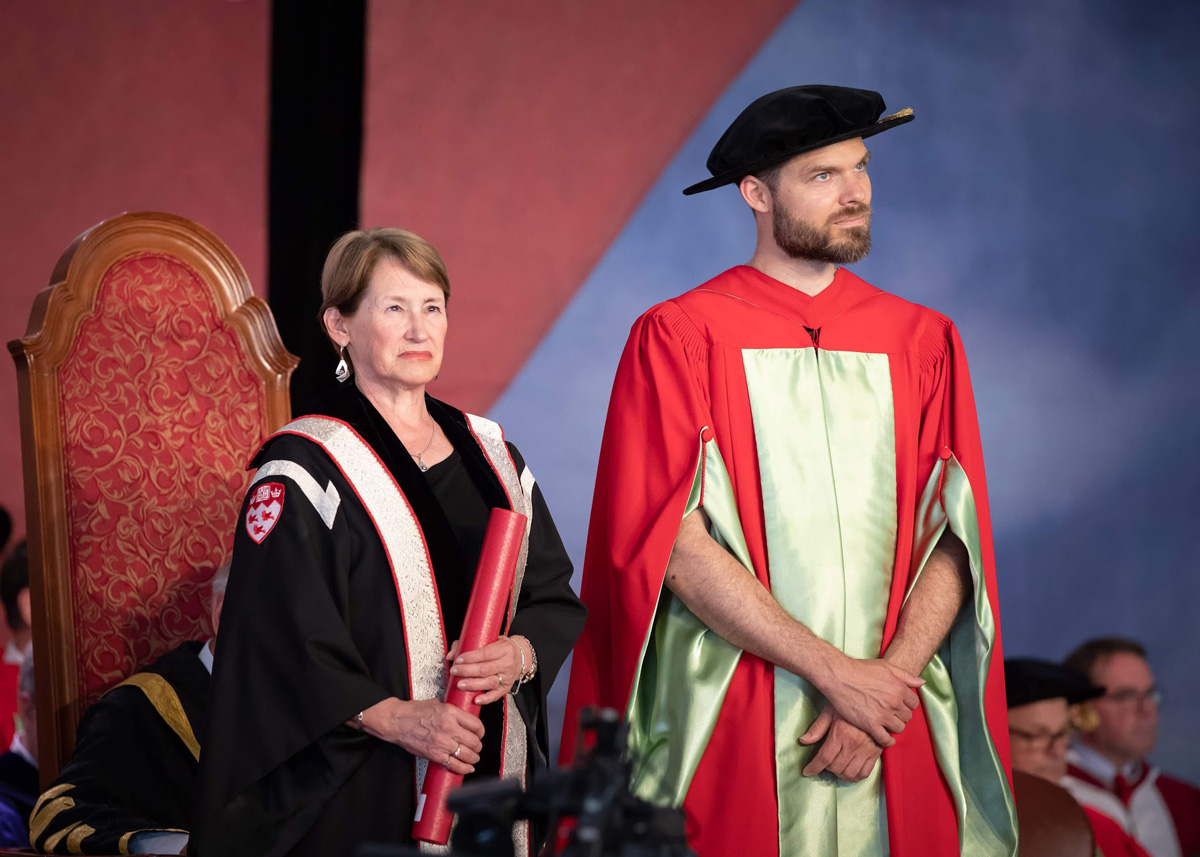 Professor Derek Ruths is an Associate Professor at the School of Computer Science in the Faculty of Science. Professor Ruths began his career at McGill in 2009 as an Assistant Professor of Bioinformatics. Soon after, he made the leap into the emerging field of Computational Social Science, where he rapidly established himself as a leading researcher in the field, not only in Canada, but internationally. He founded the McGill Centre for Social and Cultural Data Science, the first interdisciplinary research centre of its kind in Canada and one of the few in the world. He is also a devoted research advisor, mentoring over 30 students. He credits his bright-minded students with generating new ideas and growth in the way research is conducted in their research space.
"I love working in this area," said Professor Ruths. "It involves moving back and forth between different perspectives and bringing them together in interesting ways."
Professor Ruths' research seeks to develop new ways of measuring and modelling human behaviour through the study of a wide range of subjects, including online social platforms, New York Times bestsellers, human communities, political parties, and ancient civilizations. He performs this research by developing powerful data analysis tools and techniques to approach decision making. He uses computational techniques – a combination of applied machine learning, new machine learning and artificial intelligence techniques – with theories and ideas from social sciences and humanities.
The leap from Bioinformatics to Computational Social Science
Professor Ruths loved working in Bioinformatics, and from time to time, still engages in the field. His long-held interest in social informatics helped him to identify the need for a bridge between the computational and social sciences worlds.
"I think of academia as a place where our mandate is to push on exciting frontiers and figure out what the opportunities are," said Professor Ruths. "Computational Social Science seemed very open and a frontier that I was excited to explore."
He credits McGill for making his career shift a smooth process. The departments, the faculties and the McGill community at large supported his decision, which made a huge difference for him.
Crossing boundaries and disciplines in his research
Professor Ruths is committed to performing social sciences research ethically, and responsibly. Therefore, he has engaged fellow researchers who understand social systems, and can think about social behavior in critical ways to explore related research questions.
"At McGill, we are fortunate to have strong researchers in the area of social systems with deep interdisciplinary interests," said Professor Ruths. "This has been so critical to my work."
What's next?
The future initiative Professor Ruths is most excited about is what he broadly calls, 'research into online bad behavior.' His team will be studying hate speech, harassment, and radicalization on the internet. While distinct subjects, they are, in his opinion, part of the same challenge.  The challenge is not only about solving problems that are socially important, but also figuring out how to measure and tackle these issues in a way that is inclusive, ethically responsible, adaptive, and transparent.
"I think it's a tremendously important area, and of course there are many other people working on it, but I'm excited about stepping into it as we ramp up our research program," said Professor Ruths. "I think we will be learning a lot."