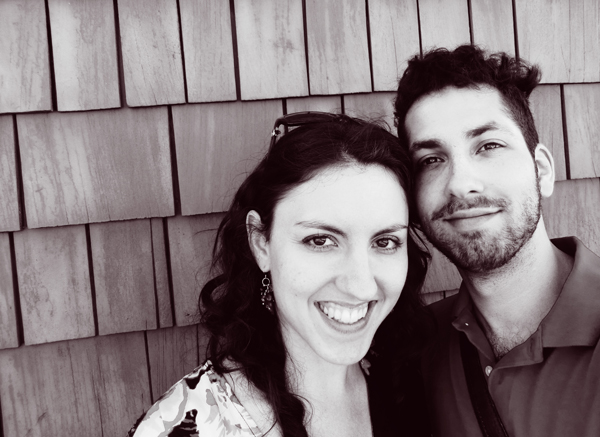 By Elisabeth Faure
Two McGill alums spent their summer crossing the country as part of a collaborative art project exploring Canadian identity. "Our goal is to find out who we are and what defines us through authentic stories and expressions from the diverse body of people that live in this country," says Aquil Virani, who is collecting stories and sketches for the project with partner Rebecca Jones. "We want to investigate further than the tales told by commercials and textbooks to dig deeper into our identity and celebrate what makes us unique."
The multi-media project, titled Canada's Self Portrait, involved a coast-to-coast-to-coast trip gathering submissions from the general public of all 13 provinces and territories. The works will explore who Canadians are and what they believe. Writings and drawings will be included directly in the creation process of the Canada's Self Portrait artwork, book and documentary.
Virani, whose parents were both born overseas, and Jones, whose family has been in Canada for generations, were motivated to explore Canadian identity for personal reasons. "Since both of us were kids, we've labeled ourselves as Canadians without truly understanding what our identity really is," says Virani, who graduated from McGill in 2012 with BA in Philosophy (with a minor in Marketing). To get the project rolling, the two started an Indiegogo fundraising campaign, to help offset the cost of their three-week cross-Canada tour. The campaign exceeded its initial goal of $2,000.
So far, drawing submissions have included hockey sticks, tuques, maple leafs, and sketches about diversity, freedom and multiculturalism. "We can't wait to see what's next," Virani says.
Virani credits McGill with giving him and Jones the ambition to tackle big projects. "My time at McGill taught me to take initiative and follow through," he says. Virani, who put on two solo art shows at McGill as a student, says the early experience was valuable. "With more than 20, 000 undergraduates and countless opportunities in every topic imaginable, I developed the skills to prioritize what was important to me and take action."
The University's diverse campus also contributed to Jones' and Virani's inspiration for the project.
"We were both so fortunate to immerse ourselves in the global diversity of the McGill community, meeting so many inspiring individuals with rich stories to tell," says Jones. "This awe and admiration for our multicultural colleagues quickly turned into curiosity about ourselves, and who we were as Canadians. What was our story? What defined us?"
The two completed their cross-country trip in early August. "We were delighted with the positive reception that the project received in every city we visited," says Jones, who graduated in 2013 with a BA&Sc in Psychology and International Development Studies. "People were excited to participate and have their voices heard, resulting in some inspiring and informative conversations about Canadian values."
Jones and Virani are now embarking on the next phase of their project. The following months will see the production of the Canada's Self Portrait project. They will still be accepting contributions based on the downloadable submission form on the project website (below).
So, when will the project launch? No big surprise here – Virani confirms, "We're planning on launching it close to Canada Day!"
To learn more about Canada's Self Portrait, go here.