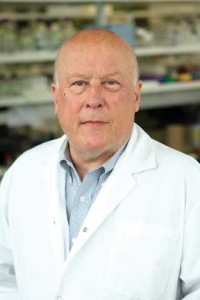 By McGill Reporter Staff
As leader of one of the five McGill-led projects to receive funding from the Canada Foundation for Innovation (CFI) as announced on June 19, Dr. David Thomas is understandably thrilled. A joint venture with UQAM, the Disease to Therapy Initiative is designed to develop new medications to treat certain infections and chronic diseases that do not receive sufficient attention from the pharmaceutical industry. With the more than $10.6 million CFI money matched by the Quebec government and topped off by funds from McGill and UQAM, Disease to Therapy will benefit from a $26-million shot in the arm.
"This is like a honey trap," said Thomas, Chair of the Department of Biochemistry and Canada Research Chair in Molecular Genetics. "This is going to attract scientists from around the world and it will attract extra funds. You'll see some massive momentum being generated by this grant. It will make a huge difference to McGill – we'll see it in trainees, will see it in new hires, we'll see it in new funding and in exciting new science."
But the excitement felt by Thomas the researcher is further accentuated by his experience as the father of a daughter who contracted leishmaniasis – a debilitating disease that resembles leprosy – while on a bike excursion in South America. "She was a kid being treated by a therapy using the same heavy metals that they've been using since the 1940s. The therapy hasn't moved on," he said.
Leishmaniasis is considered an "orphan disease" by industry insiders because although its effects can be devastating, there is not enough demand worldwide to make it profitable for big pharmaceutical companies to develop new treatments for it.
"With orphan diseases, it comes down to the market," said Thomas. "As horrible as cystic fibrosis is, there are only 90,000 patients worldwide so there is very little work being done in the this area by pharmaceutical industry. It's not like Viagra. The market is very restricted."
"Here at McGill we have one of the biggest concentrations of life science scientists east of University Avenue in Toronto, including a great network of superb people who are interested in infectious diseases and orphan diseases, and this will support them in many ways," said Thomas, citing work being done by researchers like Phillippe Gros (malaria), Nahum Sonenberg (memory) and Greg Matlashewski (leishmaniasis). "And we will build a cystic fibrosis centre in the McIntyre [Medical Sciences Building]."
Along with the Disease to Therapy Initiative, four other McGill projects received CFI funding.
Laboratories for Broadband Optical and Wireless Systems (LBOWS) is an ambitious initiative designed to allow communications networks built in the 20th century to handle the connectivity needs of the 21st and is led by Dr. David Plant, chair of the Department of Electrical and Computer Engineering.
McGill/IRCM Research Group on Embryology and Disease (MIRGED) is a unique collaboration between three separate McGill research groups, plus the l'Institut de recherches cliniques de Montréal (IRCM). Led by Dr. Paul Lasko, Chair of the Department of Biology, MIRGED will use state-of-the-art technology to answer fundamental questions about the biology of various human pathologies.
Metabolism and Cancer: from Obesity to Cachexia is a major collaborative project teaming researchers doing fundamental research in metabolism and clinicians to probe the links between the progression of cancer, obesity and cachexia, which is best described a wasting away of the body. The project is headed by Dr. Vincent Giguère of the Department of Biochemistry working at the Rosalind and Morris Goodman Cancer Centre.
Toward a Healthy Environment: Green Chemistry and Green Chemicals is a comprehensive project intended to transform the field of organic chemistry. Dr. C.J. Li, Canada Research Chair in Green Chemistry, virtually co-invented green chemistry, a movement that discovers new chemical reactions which allow chemists to switch from harmful petrochemicals and solvents to environmentally sound alternatives like water.
For Thomas, the funding also means he and his fellow researchers are able to take their research to the next level. "Together with my colleagues I think we've come up with a great plan for what to do in the post-Genome era where we are not just finding out about diseases but actually curing them.
"I was hired by McGill to make a difference and I'm happy we're actually making a difference in people's lives. This is a real mission."