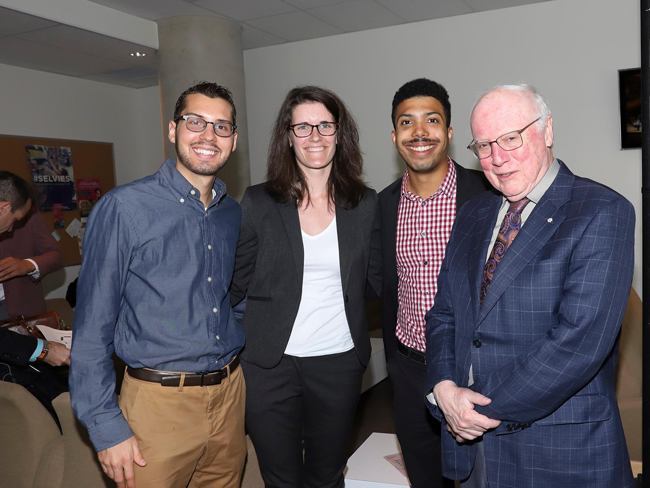 "It was my crazy idea," John Grew observed at the start of a conversation about what is now the only North American-based international pipe organ competition. "In North America, we are unique."
The Canadian International Organ Competition which began Friday, Oct. 6, and which wraps up Saturday, Oct. 21, with a gala at Maison Symphonique, brings 20 competitors from 14 countries to Montreal for three rounds of competition. Three organ students at McGill's Schulich School of Music will perform in at least Round 1 of the competition, which is focused on the work of Johann Sebastian Bach, at Église de l'immaculée conception at the corner of Rachel and Papineau streets.
McGill student Mária Budáčová performs on Monday, Oct. 9, at 7 p.m., while Alcée Chriss follows at 8:40 p.m. Two days later, Nick Capozzoli performs at 7:50 p.m. The Immaculate Conception church is used for the Bach part of the competition because its organ comes from Hamburg, Germany, and is well suited to Bach.
Competitors select pieces from a roster of Bach works, said Grew, Professor Emeritus, Organ and Church Music at the Schulich School of Music, and after the first round, the number of competitors is whittled down to 12. After Round 2, an open recital round, the list is further reduced to the six who will head to closing round, where they will play on the largest pipe organ in Montreal, at Notre Dame Basilica, on Oct. 19. A closing gala, where prizes will be awarded, will be held two days later at Maison Symphonique, home of another massive organ, where McGill doctoral graduate Jean-Willy Kunz is organist in residence. Kunz is performing during the competition, but is not himself a competitor.
The age limit for competitors is 35, Grew said, noting that the average age tends to be around 26 or 27. The prizes are not insubstantial. First prize is $25,000, plus three years of arts management (the services of a talent agent) and the production of a CD recording.
"It launches the performing career," Grew said. There is also a Bach Prize and an Audience Prize, each worth $5,000. Kunz won the Audience Prize in 2011.
Grew is proud of the way the competition has not only continued to stand while others in North America have faded away, but how it has thrived. "We had 56 applications from 21 countries," he said, noting that the Montreal competition, which has occurred every three years since the first one in 2008, "puts us on the level of major organ festivals" in Europe.
Grew, described as a leading figure among Canadian organists has taught organ students at McGill for more than 30 years. In 2005, he received a Distinguished Teaching Award from the University.
He was instrumental in the planning, with organ builder Hellmuth Wolff, of the French classical organ at Redpath Hall, one of Montreal's most important concert venues. Grew served as Dean of the Faculty of Music from 1991 to 1996.
In a statement on the competition's website, Grew explained what drove him to create the competition: "Ever since my childhood, I have always been fascinated by music and rapidly the organ caught my attention. My career as Professor at McGill University offers me the privilege of contributing to the training of young organists. Parallel to this, my career as concert artist has allowed me to foster close ties with great organists around the world, many of whom have become close friends. With so many elements playing in favour of Montreal, the creation of an international organ competition became obvious."
In his interview with The Reporter, he added a final note: "I'm hoping for the first prize to be won by a Canadian this year!"
Canadian International Organ Competition, Friday, Oct. 6, to Saturday, Oct. 21. Get more information the Competition website or its Facebook page.