By Chris Chipello
"La Bohème is a great opera for young singers," Pavarotti once said. "It's talking about students, artists, young lovers, Paris…"
So it certainly seems like a natural fit for Opera McGill, whose production of the beloved Puccini work opened yesterday (Jan. 26) and runs through Sunday (Jan. 29).
The opera's principal roles are double-cast. "Bohème is my favorite opera, and the casts that have been assembled for the Opera McGill production are the strongest I've ever worked with here at Schulich," said Patrick Hansen, Director of Opera McGill.
During the second act, with the orchestra, chorus, children's chorus and cast, there will be over 100 students on stage.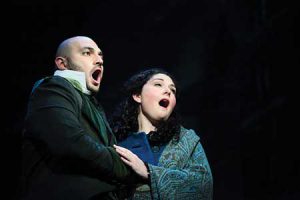 "Conductor Julian Wachner and I collaborated on a semi-staged concert version of Act 2 at the Kennedy Center last year," Hansen said. "He has a passion for Puccini that matches my own."
The Opera McGill production is set in the late 1840s to early 1850s, à la novelist Henri Murget's 1851 work Scènes de la vie de bohème, which served as the inspiration for Puccini's opera of 1896. Hansen's design collaborators, Vincent Lefèvre (sets), Ginette Grenier (costumes) and Serge Filiatrault (lighting) helped create the mid-1800s Parisian ambience.
La Bohème was premiered in Feb. 1896 by Arturo Toscanini and instantly became part of the standard Italian opera repertory. The libretto was written by Luigi Illica, who also wrote the libretti for Puccini's Tosca, Manon Lescaut and Madama Butterfly.
The tale features a group of bohemian friends living in Paris, and particularly the romantic relationship between the poet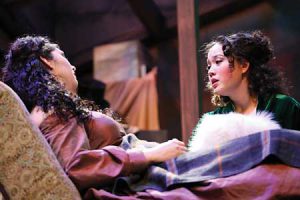 Rodolfo and his next-door neighbor Mimi. As the story opens, Rodolfo and Marcello, a painter, shiver in their cold attic quarters on Christmas Eve, bereft of money and food – until their friends Colline and Schaunard turn up. Soon thereafter, Mimi arrives on the doorstep looking for someone to relight her candles. And the plot thickens…
Performances are Friday, Jan. 28 and Saturday, Jan. 29 at 7:30 p.m., and Sunday, Jan. 30 at 2:30 p.m. in Pollack Hall. Tickets are $27 adults/$22 children, students and seniors. The box office, at 555 Sherbrooke St. West, is open from noon to 6 p.m. weekdays, and one hour before each performance. Tickets are also available by phone: 514-398-4547.