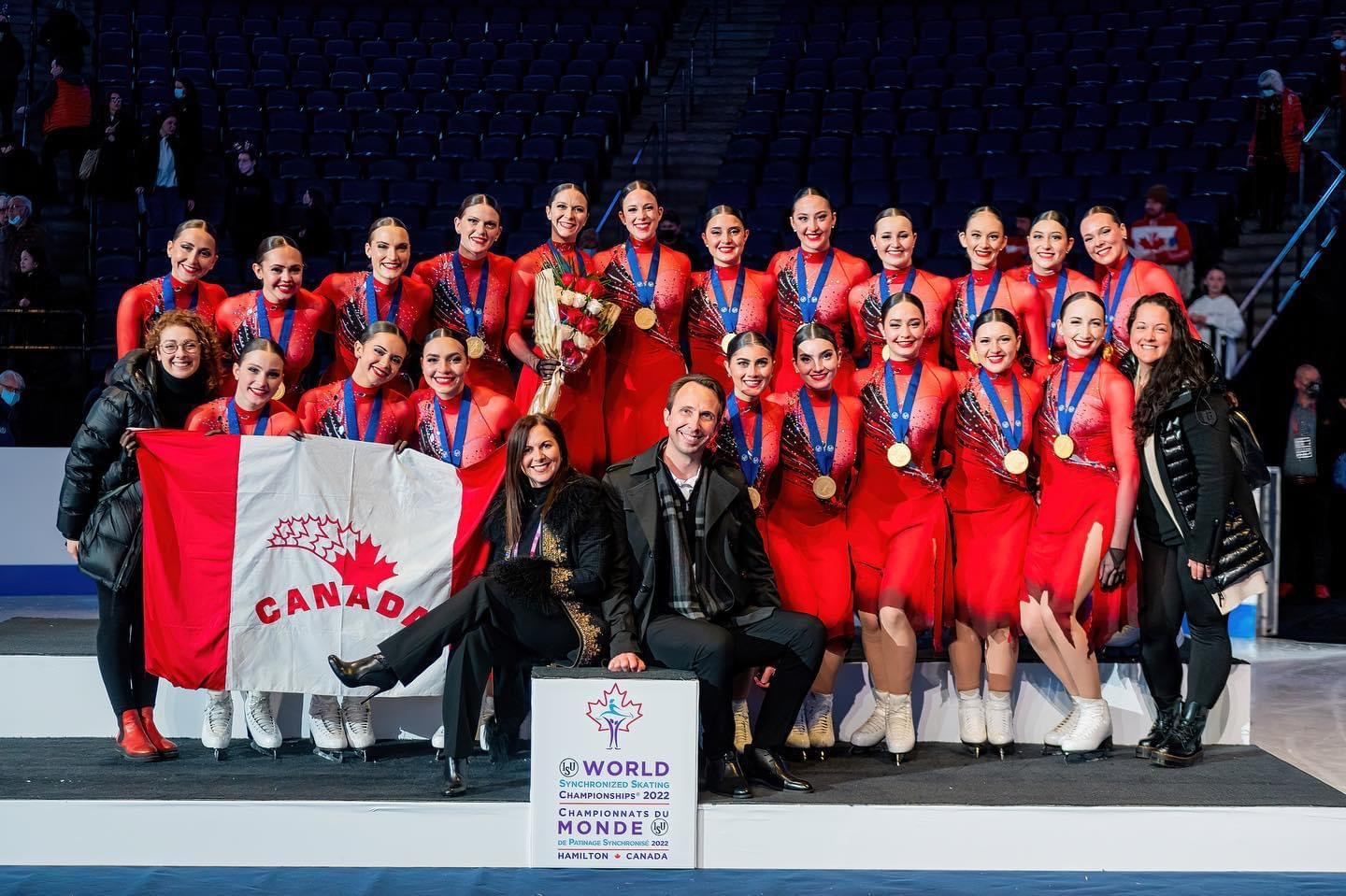 April is a busy, often stressful, time of year for students. Final exams and end-of-year assignments loom large, demanding optimal performance for those who want top marks.
Some people say it is a dry run for life outside the Roddick Gates. McGill undergrads Olivia Ronca and Loriana Cocca might agree. On April 9, as part of Montreal's Les Suprêmes synchronized skating team, they gave a performance of a lifetime, earned top marks and were crowned world champions.
Sitting in second place after the short program, the 20-skater team vaulted to the top of the podium with a stellar free skate. The gold marked Canada's first victory in seven years at the ISU World Synchronized Skating Championships. To top it off, the team's final score broke the world record.
"Although we were ecstatic about our score [after the free skate], there was one more team left to skate after us, so we weren't sure what the final result," said Ronca, in her first year of a Bachelor of Arts degree. "When we were told the news later in the dressing room, we couldn't believe it, and most of us started jumping up and down and crying. I, for one, thought I was dreaming."
Home ice advantage
The event was held in Hamilton, Ontario, giving the two Canadian teams in the competition a distinct home ice advantage.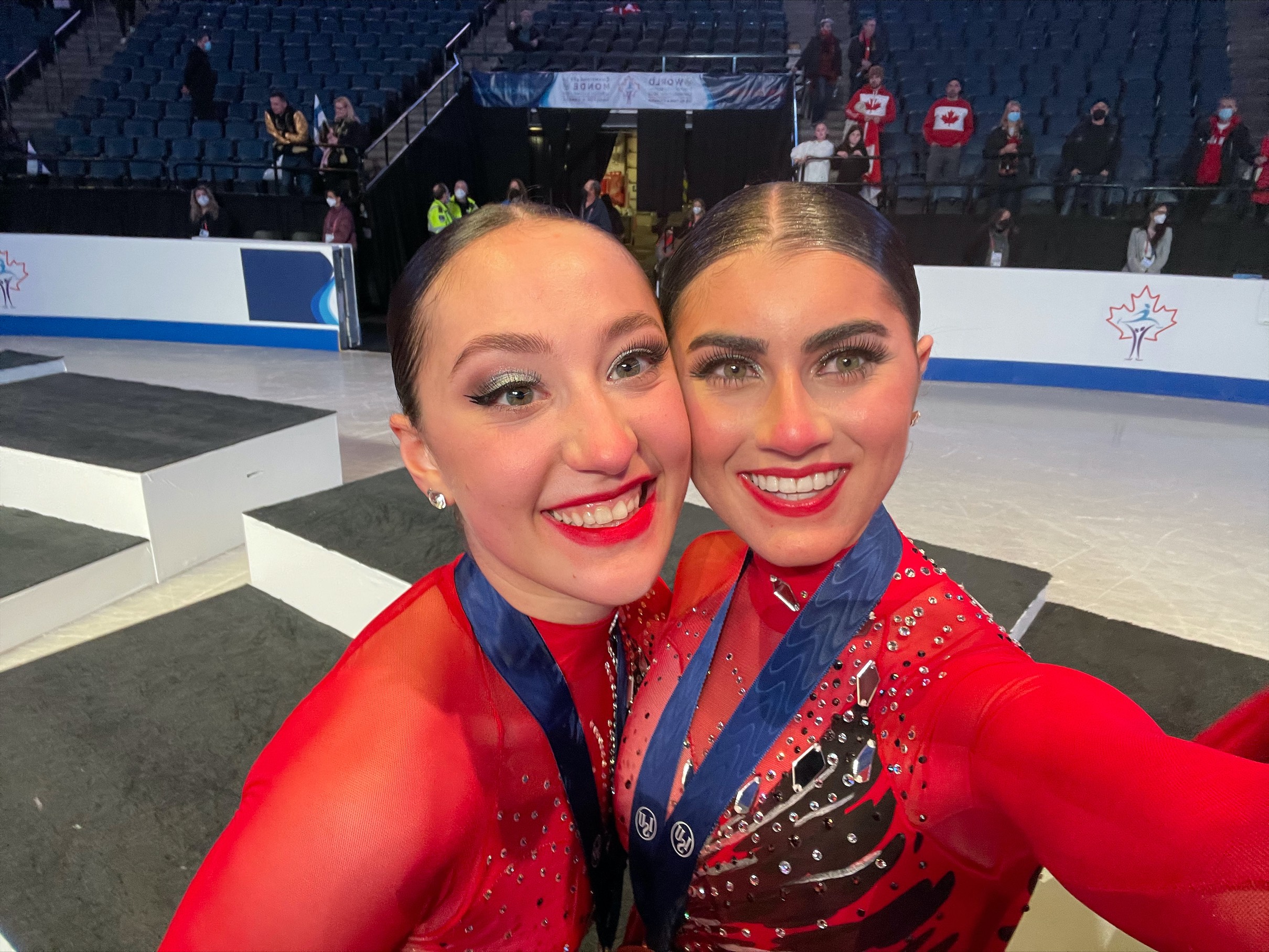 "The last time the World Championships were held in Canada was in 2015, and many of us on the team were in the stands watching, hoping to some day be on that ice," said Cocca, a U2 Nutrition and Dietetics student. "It was a dream come true, and to have bring home the world title was surreal."
"Our team definitely fed off of the energy of the crowd during our performances, and it was surreal to be able to look up and see a sea of red and white flags while we were skating," said Ronca. "Not to mention, many of us were so happy to be able to compete in front of our friends and family, who were also happy to come and watch live skating after such a long time due to the pandemic."
Winning on home soil – or ice – made the podium ceremony all the more poignant.
"This is a moment that will be engraved in my memory and heart for the rest of my life," said Cocca. "Being on that podium, it felt like time was slowed down. Singing the anthem, seeing our flag being raised, and standing on that podium with my best friends brought me to tears. It is an indescribable feeling and such an honour."
"Being able to stand on the podium singing O Canada at home was surreal. I think that's really when what had happened started to sink in for me, and that I realized I'd accomplished the dream I had had for 11 years," said Ronca.
Road to podium paved with hard work
Of course, like all great sports stories, this one is not without its blood, sweat and tears.
During a regular season, Les Suprêmes practice five days a week, for a total of about 20 hours a week. This includes on-ice training, as well as ballet, fitness and strength training, yoga, and running through their routines off-ice to make sure everything is clean and precise.
The pandemic threw a monkey wrench into the proceedings. Lockdowns meant the team had to suspend much of its on-ice training. "We continued doing off-ice training at a distance, while being unsure about the future of our season, or if we'd ever be able to get back on the ice in time for our Nationals (the World Championship qualifiers)," said Cocca.
"Additionally, in the month leading up to the world championships, we had seven different COVID cases on our team, which meant quite a few of us were isolating at home during what should be the most practice-heavy time of the season," continued Cocca.
"Those who were isolated continued training as best as possible over FaceTime or Zoom, while the rest of the team continued going to practice in person. While it was difficult to maintain our regular training with these conditions, our team kept a positive and perseverant attitude all the way up to the competition, which helped us to be ready in the end."
Balancing school and sport
As if the demands of a world-class athlete weren't enough, Cocca and Ronca must also focus on their studies.
"It is definitely challenging to be a student-athlete, especially at the university level. Especially at McGill, which we know is very demanding," says Ronca. "However, having been a student-athlete for such a long time, I've learned how to juggle both my academic and athletic life over the years – which I'm sure many other student-athletes can relate to. What's most important is finding a balance between school and sports and organizing yourself early on in the season, so that you don't wear yourself thin later on in the year."
World championship behind them, McGill's dynamic duo look forward to continue skating – and developing their friendship.
"Olivia and I met in 2017 when I first joined the Les Suprêmes family," said Cocca. "We are so similar and bonded right away. Olivia and I will now be starting our fifth skating season together, and I am so excited to live new experiences and memories with her."