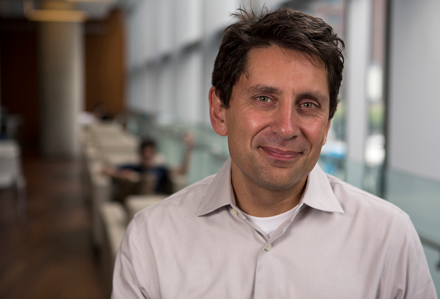 By Doug Sweet
McGill has reached to Concordia for its new Deputy Provost (Student Life and Learning).
Ollivier Dyens, Concordia's Vice-Provost (Teaching and Learning), will succeed Morton Mendelson, the inaugural DPSLL, on September 1.
Dyens said he's excited to be coming to McGill and eager to plunge into a challenging, diverse portfolio of responsibilities.
"One of the main reasons I wanted to come to McGill is to be able to work at one of the top universities in the world, but I was drawn also by the position itself," he said. "The way it was drafted shows real vision.
"I see the position as being the voice of students but also in support of the faculties."
In creating the post of DPSLL seven years ago, following Principal Heather Munroe-Blum's Task Force on Student Life and Learning, McGill showed it understands that learning goes beyond the classroom, Dyens said.
At most universities, Dyens said, the deputy or vice-provosts are devoted to either learning or student life, but not the combination of the two. And although he was focused more on the pedagogical side at Concordia, Dyens is eager to lead the broad area of Student Life and Learning, which includes Student Services, Teaching and Learning Services, Athletics and Recreation, Residences and Housing, Food and Dining Services, Enrolment Services, the Office of the Dean of Students, and the Office of the Deputy Provost.
"I think offering a wide range of support to students is a crucial part of the University. For students to have a good learning experience, they need a good life experience," he said. "Research is clear about the link between such support and student retention and graduation rates. In this respect, McGill can be particularly proud of Student Services and of programming in other SLL areas."
An award-winning author, artist and poet, Dyens, has served since 2008 as Concordia's Vice-Provost. He has also been a professor of French and will be appointed a full Professor of French language and literature at McGill.
He's a fluently bilingual Plateau-dweller and an avid cyclist.
Provost Anthony Masi announced in a message to the McGill community last week that the Board of Governors had approved Dyens's appointment and took the opportunity to thank Mendelson "for his outstanding service to McGill in this and other roles," adding that Mendelson "has served with distinction and accomplished a great deal in building a truly impressive Student Life and Learning team."
In an interview, Mendelson expressed his happiness in the choice of Dyens as his successor.
"Ollivier brings an impressive palette of skills and experience to the job," Mendelson said. "I'm very confident he will tackle the challenges of this office with enthusiasm and in the positive, collaborative fashion the job requires. I wish him all the best."
As Vice-Provost at Concordia, Dyens has overseen all aspects of curriculum development, and has been responsible for the promotion of teaching and learning. Concordia's recent e.SCAPE conference on technology-integrated teaching one example of his many initiatives and he was also responsible for redesigning Concordia's academic program-appraisal process. He sits on Quebec's Conseil Supérieur de l'Éducation.
An authority on cyberculture, Dyens obtained his PhD from Université de Montréal in 1996, writing a thesis on the impact of technology on the representation of humanity. He is the founder and webmaster of Metal and Flesh (1998-2003), Continent X (http://www.continentx.uqam.ca/), and The Inhuman Condition (theinhumancondition.org) websites, which are dedicated to the study of cyberculture.
He's coming to McGill at an interesting time, when technology is provoking major changes in the way people learn and teach. McGill has recently signed on to the edX consortium started by Harvard and MIT to begin providing MOOCs, or massive open online courses.
Those and other technological developments make for a fascinating future, Dyens said.
"Technology is an integral part of what we do today," he said. "Technology opens up possibilities, and they're not always positive.
"But it does open up new ways to transmit knowledge and "forces us to ask ourselves the question: 'what's the added value of classroom instruction?' "
Up until now, he said, there really hasn't been any competition between classroom instruction and some other forms of learning. He sees online and classroom learning as complementary, freeing up more time for professors to devote to the human relationship with students that is crucial to a positive learning experience.
Dyens is the author of 11 books, including La Condition inhumaine, essai sur l'effroi technologique published in France by Flammarion, and Metal and Flesh, The Evolution of Man, Technology Takes Over, published by MIT Press whose French version (VLB Éditeur) was awarded Best Essay by the Société des Écrivains Canadiens.
He has been awarded more than $2.8 million in research funding as a principal investigator or collaborator over the course of his career and has lectured in Europe, the United States and Canada. His digital artwork has been exhibited in Brazil, Canada, France, Venezuela, Germany, Argentina and the United States.
Born in Rome, Italy, but a resident of Canada since the age of 3, Dyens has spent most of his adult life in Montreal. After completing his PhD, he taught for five years at Sainte-Anne University in Nova Scotia, before taking a position at Louisiana State University in Baton Rouge.