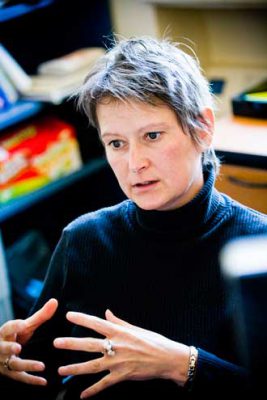 By Chris Chipello
Students have Service Point. Now, McGill researchers are about to get their own one-stop service centre.
The Office of Sponsored Research (OSR), as the new centre is called, is the culmination of an ambitious, two-year effort to reorganize support-service operations reporting to the Office of the Vice-Principal (Research and International Relations). The OSR officially opens for business in mid-November.
Four former service units – the Research Grants Office, the Office of International Relations, the Office of Technology Transfer and the Strategic University Research Funding Office – have been folded together under the OSR banner. The combined operations, whose 60 or so staffers were previously scattered across four separate locations, will now be housed in the James Building.
Much as Service Point has helped cut down on bureaucratic hassles for students, the Office of Sponsored Research is designed to minimize administrative chores for researchers – while maximizing opportunities for them to access research funding.
Under the OSR, staff who worked for separate service units have been formed into teams to serve specific Faculties. This new setup is "much more client-centered," explained Sandra Crocker, Assistant Vice-Principal, Strategic Planning & Partnerships. Researchers no longer have to figure out exactly whom to contact, she noted. Instead, they can call any member of the team assigned to their Faculty.
The reorganization is also reflected in the recent launch of a new website for researchers, providing information about grants, compliance, ethics, and all the nuts and bolts of how to do research at McGill. The new site, www.mcgill.ca/research, pulls together and condenses material from hundreds of pages that previously sat on a half-dozen sites and reconstructs it in an architecture that's more intuitive to navigate and in language that's less jargon-laden.
The overhaul of support services has been driven by a number of factors, not least of which is McGill's slippage in rankings of Canadian universities for research-intensity. From first place five years ago, McGill dropped to fifth before edging back to fourth last year, according to Research Infosource. "We're back on the right trajectory, but that was a very serious impetus" for the reorganization, Crocker said.
Another important factor: delivering measurable research outcomes – jobs, economic development, patents, licenses and the like – has become a key consideration in government funding for research across Canada, and universities need to improve their ability to transfer knowledge and technologies to society.
"Our researchers are expected to be excellent teachers as well as excellent researchers, and to be involved in a variety of internal and external scholarly and administrative activities. In other words, they are very busy," said Rima Rozen, Interim Vice-Principal (Research & Intl. Relations). "Our goal was to try and support them by simplifying or alleviating some of the challenges in the responsible conduct of research."
Services include:
• identifying and promoting funding opportunities to researchers across the University;
• linking researchers with funding sources, sponsors and industrial or government partners;
• supporting researchers in project and team development;
• liaising with prospective funding organizations throughout the proposal submission and evaluation process;
• negotiating contracts and agreements with funding agencies, governments and industrial partners;
• advising on project management issues;
• providing technology analysis and support, including due diligence on new invention disclosures, business development for licensees and new company creation.
"We are there through the whole process," Crocker said. "We start with your first grant application when you're a new faculty [member], right through to a patent application if your research results in an invention."
The next step will be to strengthen ties with the Faculties, she said. "I think we need resources in the Faculties to help us do outreach and identify opportunities."
Researchers from across the University are invited to take a peek at the new Office of Sponsored Research and meet its staff at a wine-and-cheese open house on Tuesday, Nov. 16, from 4-6 p.m. at the walk-in reception area on the 2nd floor of the James Administration Building. RSVP to Lorraine Torpy by email, at lorraine.torpy@mcgill.ca