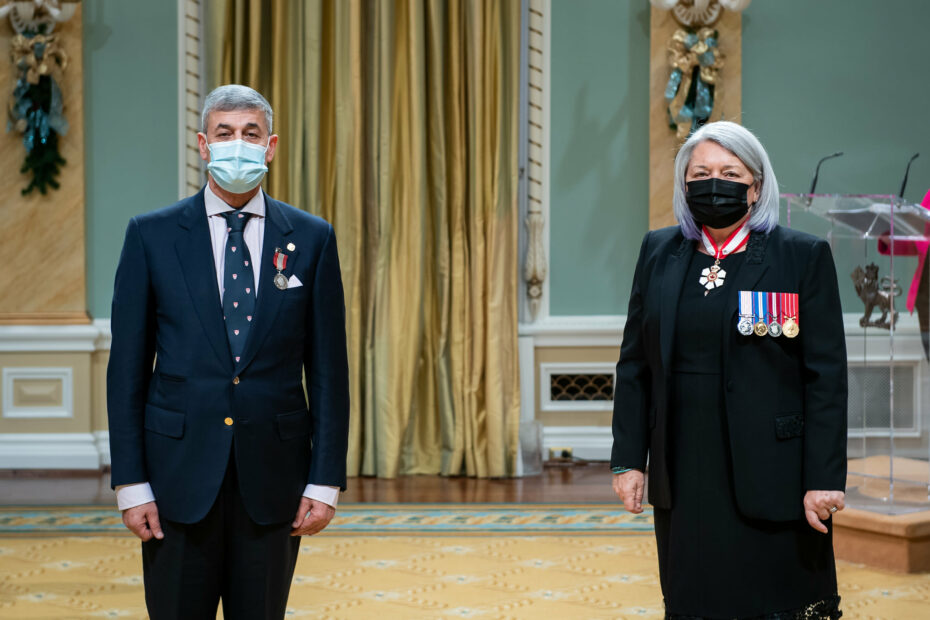 On December 13, at a ceremony hosted by the Canadian Governor General's Office in Ottawa, Ebrahim (Eby) Noroozi, MSc'78 (Food Science and Agricultural Chemistry), was presented with The Sovereign's Medal for Volunteers in the presence of Her Excellency the Right Honourable Mary Simon, Governor General of Canada. The award, affixed by local MP Francis Scarpaleggia on behalf of the Governor General's Office, recognizes living Canadians who have made a significant, sustained and unpaid contribution to their community, in Canada or abroad.
Noroozi, an accredited Certified Food Scientist (CFS, USA), Occupational Health & Safety Professional (CRSP, Canada) and Professional Chemist (P. Chem.), has volunteered his time and resources to scientific, social, cultural, educational, recreational, and academic causes dating back to the 1970's. His dedication to volunteerism stems from a deep-rooted belief that giving back is not only essential to the success of the community, but also key to one's personal growth and understanding of the world we live in.
"It is not important where, when or at what stage of life we are in, there is always room to provide a helping hand in whatever capacity we can," he explains. "We are part of a larger community in which we need to share, learn, grow, and give back to help promote a more sustainable environment and society."
And although he has a long list of accolades attached to his name for the various activities he has lent his time and energy to over the last half-century, Noroozi admits that the Sovereign Medal for Volunteers holds particular significance for him.
"To have been selected, among many deserving nominees, for this prestigious award from the Governor General is a testament to the significance of the effort I have put toward helping build a better community, locally and beyond. It's quite an honour."
Read the Governor General's Office Press Release

See the full list of honours recipients