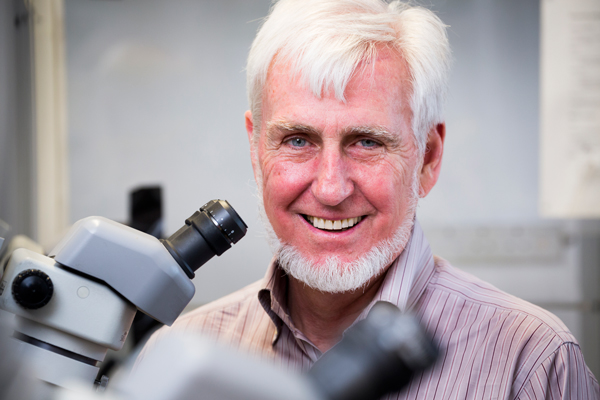 By Doug Sweet
It was the early '60s and, in addition to the explosion of pop culture, the field of neuroscience was bursting with new knowledge and discovery. Guided by such luminaries as Wilder Penfield, Donald Hebb and Brenda Milner, McGill was at the leading edge of new neuroscience frontiers. Modern labs and technology were about to be provided in the massive Stewart Biology Building, which was then under construction. There was a hunger for breakthroughs, an energy that drove scientists to work around the clock.
It was, no pun intended, a heady time for young researchers interested in probing the human brain.
Into this milieu stepped a graduate student out of New York City, in his early 20s, named John O'Keefe. After completing his Master's in 1964 at McGill, he began working with his mentor and PhD supervisor Ronald Melzack, himself a legendary pain researcher, in the brand new brutalist-style biology building that opened in 1965.
Nearly 50 years later, in October 2014, O'Keefe would share the Nobel Prize in Physiology or Medicine, becoming the 10th Nobel Prize winner to have been affiliated with McGill, the most of any Canadian university.
"It was a terrific atmosphere," O'Keefe said in an interview with The Reporter. "It was really the heyday, the beginning of the program that Don Hebb had set in motion, where he said we can understand a lot of things about cognition and memory and perception by studying the brain.
"And all the students who got there, who were PhD students there, were really energized by this. It was an incredibly exciting time to be there. Peter Milner was there in the Stewart Building, and then there was Brenda Milner and Wilder Penfield and Herbert Jasper – it was star-studded is all I can say.
"There was a terrific feeling to be there. And people worked night and day. People worked 24/7. The term hadn't been invented, but we worked seven days a week. We used every moment available to us to do research and to think about the brain."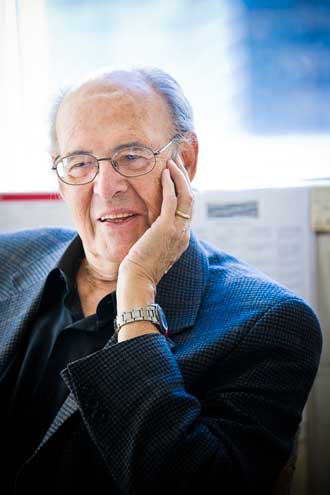 That hard work paid off. O'Keefe, who went on to do post-doctoral studies at University College London and has stayed there ever since, discovered a type of cell in the brain's hippocampus, called a place cell, which acts sort of like an internal GPS in terms of its ability to help us orient ourselves in space.
It was that discovery that resulted in this year's Nobel Prize, shared with May-Britt Moser and Edvard I. Moser, both based in Norwegian institutes in Trondheim.
"It's terrific," O'Keefe said. "It's a great honour and I was a bit stunned when they told me and I think I'm almost getting back to something close to normal. But, yeah, it's terrific."
His mentor Melzack was effusive. "He's a brilliant guy and deserved his prize," Melzack said in an interview. "He just wanted to work. All he asked of me was to help him get his equipment and to bounce his ideas off me.
"I'm very, very proud of him. He wanted to do something important in life and he's done it."
Melzack "was a terrific mentor and I have a lot to thank him for," O'Keefe said. While he did some work with Melzack on spinal cord research, "I kind of decided my interests would be better served if I worked on more central parts of the brain. He was always interested in the limbic system and he was always very happy for me to do that."
O'Keefe saw Melzack in Montreal a couple of years ago when he attended one of Brenda Milner's birthday celebrations. "And so I had a brief chat with him. And it's great to see him doing so well; he recently got the Grawemeyer Prize, which was well deserved."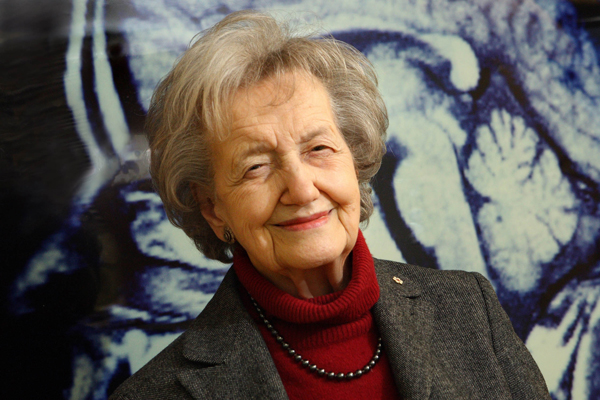 And he saw Milner as well in Oslo when they were joint winners (along with Marcus Raichle) of the 2014 Kavli Prize. "I owe a lot to Brenda Milner as well because her studies of HM really did set the whole agenda for studying the hippocampus and I think she convinced us all that it was some sort of a memory system and when I went to study the hippocampus, I was really expecting to see that it was a memory system.
"I didn't expect that it would be a memory system for space, in animals, but I was quite happy to believe and come up with the evidence that it was."
"Ron, in his generosity, had just received quite a considerable grant – when I first went to McGill it was all sealing wax and rubber bands, and we all shared a very, very small amount of equipment in the physiological psychology group – but then Ron got a very large grant and he was very generous with it," O'Keefe recalled. "He gave me and a very, very talented neurologist named Ken Casey, enough money to build a very good electro-physiological lab – and then I went on to start to use that to start to develop some of the techniques that I used on the hippocampus. So he was terrific and I am eternally indebted to him.
"There was a tremendous feeling and people thought they were making progress and they did. The people who came out of that cohort of students, many of them went on to do some very important things. It was a terrific time."
What's next for a Nobel winner?
"I'm still a bench scientist, so I still go into the laboratory and try to do some experiments – obviously I can't do that full time – and I intend to continue to do that as long as they'll let me.
"But I also have another job. I'm Director of a new institute called the Sainsbury Wellcome Centre, and that's an institute for the study of neural circuits and behaviour.
"We're at the stage in neuroscience where we can see, in the very near future, that we will be able to record not from a small number of cells at the same time but from large groups of cells, and maybe thousands. And everybody, starting from Hebb, believes that that is where the action really is, that concepts and memories are really not located in single cells, but in the interactions between large groups of cells. We're very excited, and we've been given some substantial grants to build this new institute."
The next big thing on his radar screen, he said, is continuing research into Alzheimer's disease.
"When we started in the hippocampus there was no evidence that I knew or even indication that it was going to be one of the first areas involved in dementia. So I'm very lucky because now, other people, not us, have been able to create mice with some of the features of Alzheimer's dementia, and we know that both in those mice and in humans that the disease process seems to start in the temporal lobes, in parts of the hippocampo formation.
"So we've taken the opportunity using some of our techniques, to look at models of dementia and to find that in fact that place cells are, very early on in the disease process, starting to become functional.
"We think this is going to be a very exciting period in the next little while. We all know that Alzheimer's is going to be an enormous problem, not only for people who have it, but also for care-givers, government health care systems and everything. I'm hoping to invest quite a bit of time and resources into that.
"We're trying to develop tests that we can actually use to assess the earliest signs of cognitive dysfunction in patients who are at risk of going on to Alzheimer's. It's work that started off as pure research, as curiosity-driven research. As we know in most areas of science, if you begin to understand something about how it works normally, then you can begin to ask how it goes wrong, and that gives you the tools to assess this process."
What drew him to McGill back in the early '60s?
"Very simply, it was one of the best places in the whole of North America for doing physiological psychology, not the least because Hebb was there, and Melzack and Milner, and they were all widely known and already very famous neuroscientists. So if you wanted to do physiological psychology, that was one of the two or three top places to go.
"I have a lot of fondness for McGill. It was a great time in my life and I'm always very grateful that they accepted me. They only took a very small number of students and I was one of the lucky ones who got accepted and they even gave me some research support in the first year and provided me with a stipend.
"I have a very warm spot in my heart for McGill."