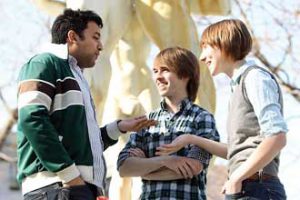 By Neale McDevitt
When the dust settled at the Canadian National Debating Championships held at University of Alberta on March 20-21, the McGill Debating Union (MDU) left no doubt about which Canadian university has the top debaters. Not only did the MDU have both teams in the finals, it also produced the nation's top speaker and top novice speaker. Placing four of eight teams in the semi finals (out of a field of 58 teams), McGill debaters were beaten only by other McGill debaters.
Total domination? Clearly, there is no debate.
"It was pretty exhilarating," said Sophie MacIntyre, (U3 Economics and Biology) President of the MDU and member of the championship team along with Vinay Kumar Mysore (U3 Psychology and Philosophy). "In past years we usually lost to the University of Toronto, but this time we eliminated them in the quarterfinals."
Saro Setrakian (U1 Law) and Sean Stefanik (U2 Political Science and History) finished second in the team finals, with Stefanik earning honours as the nation's top debater. Tim Abdulla (U0 Economics and Computer Science) was named top novice speaker.
The competition was waged using Canadian Parliamentary style of debate – a nerve-wracking form in which the "government" team arrives fully prepared to debate an issue of its choice. The opposition's first speaker has a mere seven minutes to formulate their argument after hearing the government's opening salvo. But while this seems to give an unfair advantage to the government team, Stefanik says the opposition wins "60 per cent of debates."
"The judges take into account that the government team has had more time to prepare," MacIntyre said. "The burden of depth of analysis is somewhat reduced for the opposition. And it is pretty difficult for the government to come up with an argument that doesn't have a fatal flaw."
But flaws are a part of the game and Stefanik, despite his title as top debater, freely admits to his Achilles heel. "For me, without a doubt, it is philosophy. I go totally blank," he said with a laugh. "But you have to go on, so it means making the types of arguments you've heard other people make, even if you don't find them convincing. It's hard selling an argument you know isn't very good."
Contrary to what many people may think, arguing a position you don't actually believe doesn't faze good debaters. "You have to step backward and isolate yourself from your own personal views," MacIntyre said.
"I usually do a better job defending a view that I don't believe in because I tend to approach it more logically and less emotionally."
For his part, Stefanik jokes that the debater's chameleon act has its downside. "After so many years of doing this, I don't really know what my own opinions are anymore."