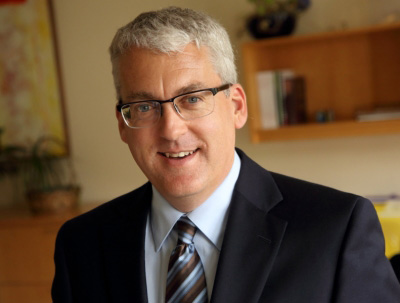 On Thursday, April 26, 2018, McGill's Board of Governors approved the reappointment of Professor Jim Nicell as the Dean of the Faculty of Engineering. Nicell's second five-year term will begin on July 1, 2018, and end June 30, 2023.
In a message to the McGill community, Provost Christopher Manfredi praised Dean Nicell's leadership, citing the Faculty's ongoing "commitment to a student-centered learning environment, to leading-edge research, and to promoting partnership and engagement within McGill and beyond."
In 2017, for example, the Faculty of Engineering received top honours at McGill's Awards for Equity and Community Building for, in the words of Associate Provost Angela Campbell, "showing achievement, initiative and impact in the domains of equity, inclusion and community building." The award recognized Faculty-wide initiatives, under Dean Nicell's leadership, such as the Equity Ambassadors Program, which provides equity-related training to staff members, who can then act as listeners for students who encounter prejudicial barriers or discrimination during their studies.
Nicell's reappointment comes on the unanimous recommendation of the Advisory Committee for the Possible Reappointment of the Dean of the Faculty of Engineering. The Advisory Committee reviewed written comments about Dean Nicell's first term from 15 members of the McGill community. The committee met with Nicell to discuss his achievements and challenges in the first term, and specific future goals, commitments and expectations. The committee also reviewed the results of a 360-degree leadership assessment completed by Nicell, senior Engineering administrators, department chairs, research directors, and members of the Principal's Executive Team.
Provost Manfredi chaired the committee, which included four professors from the Faculty of Engineering, four representatives from Senate, three from the Board of Governors, Secretary-General Edyta Rogowska, two representatives from SSMU and one from PGSS.
Jim Nicell is a 26-year veteran of McGill. He joined the University's Department of Civil Engineering & Applied Mechanics as an assistant professor in 1992. He was promoted to associate professor five years later, and made full professor in 2004. He has extensive teaching experience in environmental engineering, particularly water and waste water systems in urban communities.
Nicell was a James McGill Professor from 2007 to 2014, in recognition of his outstanding research contributions to the areas of pollution control, green chemistry approaches to chemical design and production, and studying the fate of discarded xenobiotics (such as pharmaceuticals, illicit drugs, and plasticizers) in water supplies. Nicell's work has directly contributed to the implementation of health and environmental policies, regulations, and permitting processes. He is the author of more than 75 research publications in international peer-reviewed journals, and has presented extensively at scholarly conferences and workshops.
As an administrator, Prof. Nicell has served as Associate Vice-Principal (University Services) (2007-2012) and as Engineering's Associate Dean (Student Affairs) (2001-2006).
Nicell is a registered professional engineer who holds a PhD in environmental engineering, and MASc and BASc degrees in chemical engineering, all from the University of Windsor. In May 2017, he was elected Vice-Chair of the National Council of Deans of Engineering & Applied Sciences, an organization committed to the continuous improvement of engineering education, and to research that enhances the innovation and leadership skills of Canadian engineering graduates.