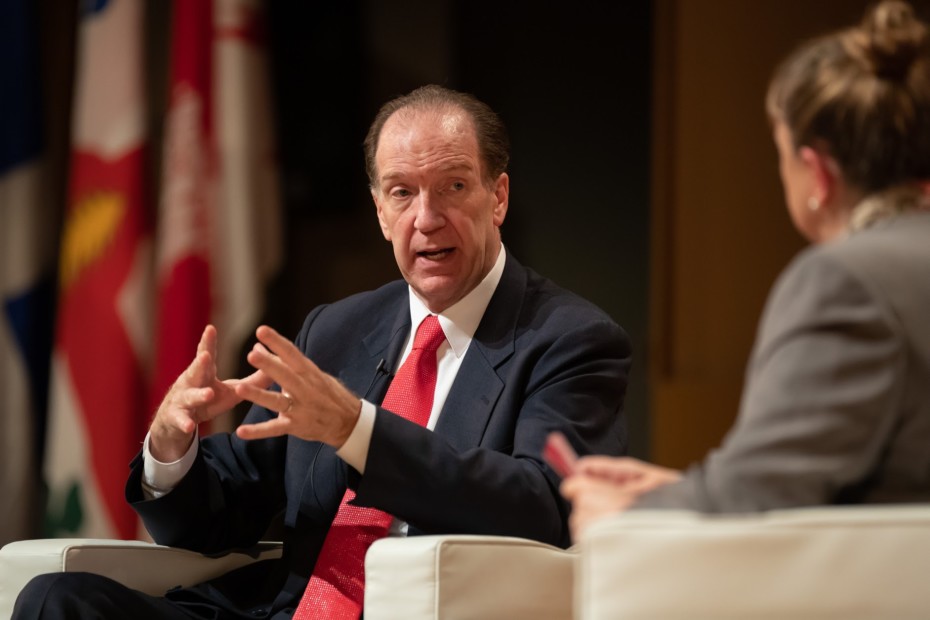 David Malpass was at McGill on Monday, Oct. 7 to give his first major speech as president of the World Bank Group. The event took place in the Schulich School of Music's Pollack Hall, and included a discussion moderated by Prof. Isabelle Bajeux-Besnainou, Dean of the Desautels Faculty of Management. Prof. Antonia Maioni, Dean of the Faculty of Arts, served as MC.
Malpass's speech capped off a day spent at McGill, which included an engagement session with 25 students from the Institute for the Study of International Development, Max Bell School of Public Policy, the Desautels Faculty of Management and the Mastercard Foundation Scholars program.  Professors Chris Ragan and Paola Perez-Aleman led the session.
The World Bank president traditionally gives a university address as the lead-in to the World Bank Group-IMF Annual Meetings (to be held this year in Washington, D.C., Oct. 14-20), which are attended by finance and development ministers from around the globe. Previous World Bank presidents have spoken at universities that include Stanford and Columbia. The McGill event marked Malpass's first such speech since starting his five-year term as World Bank president in April. Malpass previously served as the U.S. Under Secretary of the Treasury for International Affairs, among other positions.
Nadine Girault, Quebec's Minister of International Relations and La Francophonie, and former Quebec premiers Jean Charest and Philippe Couillard joined McGill students, alumni, faculty and staff members to hear the address.
Working toward ending extreme poverty and fostering income growth
"Since it was first created almost 75 years ago, the World Bank has been providing assistance to developing countries around the world and helping them apply innovative knowledge and solutions to the challenges they face," said Principal Suzanne Fortier in her welcoming remarks. "Under President Malpass's leadership, the World Bank will continue to work toward meeting its ambitious goals of ending extreme poverty and fostering income growth for people in the bottom 40 percent income level in every country.
"It is my tremendous pleasure to welcome Mr. David Malpass to McGill, to Montreal, and to our downtown campus."
Malpass's speech, entitled "Securing Good Development Outcomes: Global Growth Challenges and Opportunities," focused on what he called "the urgency of growth in developing countries—and my worry that the combination of extended weakness in Europe's economy and in developing-country investment is weighing heavily on the outlook for the rapidly-growing populations in several developing countries." He mentioned that much of the conversation at next week's annual meeting will be around activities to address these issues.
Malpass began by telling a story set in Kenya. Recently, the country's central bank was doing routine monitoring of mobile phone money transfers, when officials noticed a spike in transactions at 3:00 every morning. They suspected money laundering.
"The reality," said Malpass, "was a pleasant surprise."
Rather than a criminal red-flag, the spike was the result of Kenyan women taking out early-morning micro-loans so they could buy produce to sell at local markets. When they'd sold the day's wares, the women repaid the loans. Malpass reported that 96 per cent of rural Kenyan households now use M-Pesa, a service that allows people to transfer funds via text message: "It's transformational in terms of the ability of women to participate in the economy and society—with cash, physical possession is nine-tenths of the law, but with a gender-neutral digital system, women have more control of their budgets."
He traced this success story to the Kenyan central bank's decision to allow a mobile-phone provider to enter the financial sector. "It's the kind of liberalization process we need to unleash across the developing world."
Malpass believes that enabling secure, transaction-focused systems like M-Pesa to flourish in other developing countries "would be revolutionary because it allows people the freedom and opportunity [people] need to improve their living conditions. Once more countries enable these technologies, the innovation may turn out to be as big an advance in development policy as the ones that allowed people to move from a barter economy to a market economy."
Prodding a sluggish global economy
The World Bank Group forecasts 2.6 per cent growth for the global economy in 2019, the slowest pace in three years. Despite this less-than-rosy prediction, Malpass believes that "strong policy frameworks and robust institutions would allow almost all developing countries to deliver broad-based growth that reduces poverty and allows shared prosperity."
But there won't be a one-size-fits-all solution: Malpass says that the World Bank Group, along with its members the International Finance Corporation (IFC) and Multilateral Investment Guarantee Agency (MIGA), are "pushing hard with approaches tailored to a country's and region's unique circumstances." He illustrated this point by explaining that Ethiopia and Egypt are experiencing very different major disincentives to investments: the former is hindered by delayed letters of credit, while the latter faces exceptionally long wait times for goods to clear customs.
"Both are fixable," he explained, by working cooperatively with countries and the development community to customize country- and region-specific solutions. The World Bank is already working with 11 countries to create platforms "tailored to the countries and their needs, and will be particularly focused on private-sector involvement and engagement.
"It's clear that the quality of policies and institutions plays a key role in explaining why some developing countries have been able to make the leap out of poverty, and others have been unable to advance. It's also clear that development cannot be imposed from outside.
"Country leadership and ownership matter."
Success of these country programs can be measured by several metrics, such as the World Bank's Human Capital Index, which tracks country performance in health and education, or median per-capital dollar income. Malpass gave the audience a sneak peek at "a new approach to measure learning poverty" which will be debuted at next week's annual meeting; the metric "looks at the proportion of children aged 10 who have achieved functional literacy: the ability to read and understand a simple story."
Climate change initiatives
Malpass also discussed the pressing need to address climate change, noting that the World Bank Group wants to increase the $17.8 billion already earmarked for climate-related initiatives this fiscal year. He noted that, at September's UN General Assembly meetings, the World Bank announced PROGREEN, a partnership with Germany focused on ending deforestation.
Malpass closed by talking about the "pivotal role" that the private sector plays in growth and job creation, which necessitates that developing countries have "a sound rule of law that provides a level playing field so that the private sector is allowed to compete fairly with state-owned enterprises, the military and the government itself.
"For many countries, this means opening up their closed and protected markets, allowing prices to be determined by market forces, and liberalizing capital flows. The payoff is that countries that make this step attract more investment, both foreign and domestic, and can generate growth that benefits a broader part of the population."
He also called for "transparency, sustainability and effectiveness in public spending," in order for developing countries to develop better budget allocations for health care, education or infrastructure, noting that the World Bank has an important role to play in "encouraging more transparent and sustainable borrowing practices as well as more effective and efficient public spending, so that citizens can see their government's obligations and the use of proceeds."
"We're more focused than ever on Nelson Mandela's call to 'set people free' from the 'prison of poverty,'" Malpass concluded. "I hope today's examples give you a glimpse of what we are doing on the ground, and I look forward to the hundreds of fresh ideas many of you will bring to this important work in the years come."
Malpass's speech was followed by a discussion with Dean Bajeux-Besnainou, and a Q&A session with the audience. You can stream the complete event at the World Bank Group website.