Nathan Smith: Reducing stress, risk
Nathan Smith, a new professor in the Department of Educational and Counselling Psychology, is a long way from home, and about to face his first Canadian winter. The Dallas, Texas native is  about to get acquainted with the real thing, a prospect he finds both exciting and a little stressful.
And Smith, who is teaching a graduate course in statistics and another on helping Counselling Master's students develop their therapy skills, knows a thing or two about stress.
Smith's research focuses on how people overcome stressful or negative life events. He looks at the ways in which specific coping mechanisms help people either overcome stress or, inversely, increase the negative impact it has on their general well-being. He looks at two specific populations: people living with HIV or at risk of contracting HIV, and lesbians, gays and bisexuals.
"My planned research is to develop a psychotherapy intervention for young gay and bisexual men, who are HIV negative or don't know their HIV status, that is done in a group format," Smith said. "The purpose of the group, in addition to providing standard HIV-prevention messages, would be to provide participants with instruction and intervention on coping with anti-gay discrimination and the development of a positive gay identity."
"There is a small body of research that shows that experiences of anti-gay discrimination and internalized homophobia are both related to risky sexual behaviours," he continued. "My plan is to intervene within a group therapy format,  on those two variables in the hopes of reducing the participants' risk behaviours," he said.
"This research ties all of my interests together: coping, HIV prevention, and lesbian, gay and bisexual issues."
One thing that isn't stressing Smith is the prospect of continuing his work at McGill.
"I was looking for an institution that had the infrastructure and resources that would allow me to take my research to the next step," Smith said. "In the last several years of my career I have been setting the foundation to move forward in my research, and I feel like McGill is going give me the tools to do that."
– Jim Hynes
Petra Schweinhardt: Pain, pain go away
"The winters," laughed German-born Dr. Petra Schweinhardt, when asked what drew her to Montreal in 2006 for post-doctoral work after a PhD at Oxford, where the winter season, she lamented, consists of below 5º C weather and constant drizzle. "I mean, that's not what you call winter, right? Here, it's clear cut."
That explains Montreal's appeal, but she added it's not why she came to McGill, where she has just become a professor, with a cross-appointment in the faculties of Medicine and Dentistry. Schweinhardt focuses her research on pain and said she was attracted by the "amazing agglomeration of world class pain researchers" at McGill's Alan Edwards Centre for Research on Pain, which she characterized as "probably the
world's best."
Long fascinated by brain imaging techniques, Schweinhardt hopes to further our understanding of the "subjective experience of pain," how pain is processed by the brain, and how it can alter cognitive abilities and emotions, for instance, in chronic pain sufferers. "It's not just the pain signal coming up to the brain and then being passively received by the brain," she said. "The brain does a lot to that signal."
This must be understood in the larger context of the paradigm shift she believes is occurring. Pain has long been considered merely a symptom of an underlying disease, suggesting that treating the disease equates to treating the pain. "Chronic pain should really be considered more a disease in its own right," she said.
"The more we understand what happens in people who have pain for a long time, the more we understand that there are consequences just because of the fact people have pain, and not because of the underlying disease." This has led her to focus on how pain itself alters the central nervous system.
Schweinhardt hopes to improve the "very limited treatment options" for chronic pain sufferers and is convinced she's found the right spot to do it. "McGill's a wonderful place for me because of the professional opportunities," she said. "I'll definitely stay for many years."
And she'll be happy to learn that every one of those years will include a very real
winter.
– Pascal Zamprelli
Salah El Mestikawy: Opening doors, studying pathways
When asked how he became interested in working with the brain, Salah El Mestikawy laughed. "I don't know if I should tell you because it's kind of embarrassing," he said on the phone from his office at the Douglas Mental Health University Institute where he is the Canada Research Chair in Neurobiology.
"When I was young, I was studying in a very nice district in Paris called the Fifth District [the famed Latin Quarter] and I was looking for a lab so that I could stay in that area," he said. "It was a pure accident that I happened upon a lab working on the brain. I was fascinated. That was 30 years ago and I'm still fascinated."
For much of the last decade, El Mestikawy's work has focused upon the role of glutamate in brain function. Glutamate, best known by most of us as the ingredient in Chinese food that either tickles our taste buds or saddles us with a splitting headache, is the brain's main excitatory neurotransmitter, making communication between neurons possible. But when the pathways used by glutamate to connect neurons break down, it can lead to a variety of mental illnesses including Parkinson's, Alzheimer's, schizophrenia and autism.
Ironically, because glutamate is essential to so many of the body's functions, it makes it very difficult to study. "Glutamate is involved in so many diseases and their pathways, so it makes it very hard to isolate one specific problem," said El Mestikawy. "For example, as soon as you use a drug that acts on glutamate, you could affect everything. Vision, locomotion, memory – they could all be perturbed."
Difficult, yes – but not hopeless. Because specific functions are localized in the human cortex, researchers can tie areas in the brain where neurotransmitter pathways break down to specific conditions. El Mestikawy's team has identified a section of the pre-frontal cortex that, when such a breakdown occurs, is perfectly correlated to the onset of dementia.
He hopes that this discovery will eventually lead to early detection and improved treatment. But as always, the opening of one door usually leads to a dozen new doors.
"Because the brain is so complex, we are always working with question marks,' said El Mestikawy. "But we love that challenge."
– Neale McDevitt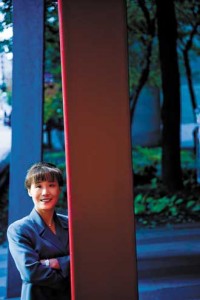 Yeona Jang:From the boardroom to the classroom
Until a few months ago, Yeona Jang was the Chief Information Officer at Samsung SDS, the information tech-
nology services arm of South Korea's sprawling Samsung group.
For three years, she led business transformation initiatives designed to support Samsung's global growth and position it as a leader in the IT services industry.  She also helped change the company's organizational culture from command-and-control to a flatter, more diverse and collaborative
environment.
"I think I made some differences in the corporate world in Korea, so that was a good experience," said Jang, who grew up in Seoul but has spent most of her career in the U.S. after earning a PhD in computer science from the Massachusetts Institute of Technology and a master's degree in business management from MIT's Sloan School of Management.
Jang was one of only about 15 women among the 3,000 or so executives in the Samsung group.  Her two decades of consulting and management experience also include stints at Citibank, New Jersey utility PSEG and AT&T.
Business departments tend to operate in "silos." Marketing, sales, finance, legal and delivery groups, for example, may each do a great job – and yet the end results may not be the best possible. To deliver competitive solutions and help customers, these groups need to work together.  Fostering that communication and collaboration is part of the CIO's job.
Indeed, chief information officers are often among the few people who know what's going on throughout their company, she said.
Growing up in Korea, Jang became a science fiction fan who loved watching Star Trek and devoured Frank Herbert's Dune. After graduating from prestigious Seoul National University, she won a scholarship to study abroad and was accepted at MIT.  "I had never, ever lived outside of my parents' house before I left Korea. It was a bit scary, actually, but I like challenges."
While studying computer science at MIT, she worked alongside cardiologists to observe problem-solving in the diagnosis of cardiovascular conditions. Watching doctors' behaviours in life-and-death situations, where information is sometimes limited, helped prepare her for decision-making in business.
Now Jang, who joined McGill in June, is sharing her real-world insights in the classroom. Her knowledge management class focuses on "unlocking collaborative capacity in organizations."  Next semester she will teach technology and innovation management, and IT consulting.
– Chris Chipello
Jaswinder Singh: Sowing the seeds of change
If anyone was destined to become a plant scientist, that person is Jaswinder Singh.
Growing up near the city of Ludhiana in India's Punjab state, Singh spent his time working in the fields in the many farms in this wheat-producing area known as "India's Bread Basket" – when he wasn't hitting the books on his way to become one of the area's brightest students, that is.
Singh joined McGill's Department of Plant Science this summer after almost seven years at the University of California, Berkeley, where he led the effort to develop a functional genomic resource in cereal crops. He will teach two courses next fall, including one on his true passion (and the subject of much of his research),
plant breeding
"I am really looking forward to it. Plant breeding is the backbone of agriculture. And I think that every scientist should realize that, especially now that we have a global food crisis," he said. "I have prepared myself in such a way that I have plant breeding skills but also molecular biology and genomics skills. I'm just marrying the two together so that I can help develop something that will help the poor and do something for the food crisis and world hunger."
Plant breeding involves the crossing of different varieties of plants with the goal of creating high-yield, high-quality, disease resistant ones. The traditional method involves crossing male and female plants and then looking at thousands of them over several generations to find those with the right characteristics.
"But it takes so much time to do that," Singh said. "With molecular genetics and biotechnology and genomics tools, we are speeding things up by being able to select desirable plants at generation one. Instead of using our eyes to say "This plant is good," we have tags and markers at the DNA level which can tell us that. It's like traveling by horse and buggy compared to flying in a jet plane – we can get to the same places, but faster, more reliably and more comfortably."
"When it comes to food, time isn't something we have to waste," Singh said "The population is increasing, land is decreasing… so I'm hoping that I can instill a passion for plant breeding in students and so develop the next generation of breeders. We will need them in the future."
-Jim Hynes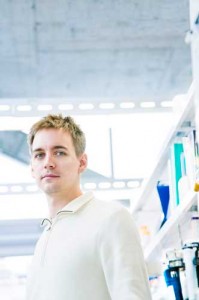 Gary Brouhard: The road less traveled
Gary Brouhard is nothing if not well-traveled. A professor in molecular biophysics and one of the newest additions to McGill, Brouhard comes to Montreal from Ann Arbor Michigan, via Dresden, Germany. If that seems like a route less travelled, that might also describe Brouhard's whole academic career to date.
"I started out studying chemical engineering and switched over as a graduate student to study biomedical engineering," he said.
"My earliest research projects had to do with ortho-pedic biomechanics and bone remodeling," he said. "But my focus shifted to smaller and smaller size scales in biology to the point where I now work on individual protein molecules."
After completing his PhD at the University of Michigan in 2004, Brouhard's interest in the cytoskeleton – the scaffold-like structure inside cells which gives them form and shape – led him to a four-year post-doctoral fellowship at the prestigious Max Planck Institute of Molecular Cell Biology and Genetics in Dresden, Germany.
When the opportunity to join McGill's faculty came up, Brouhard and his family were excited, but also, he admits, a little cautious.
"Honestly, we'd been living as foreigners for four years, and we were a little leery of again living in a non-English-speaking environment," he says. "But in the end we realized that we
really enjoy the experience. I especially enjoy living in a non-English speaking city, although it's easier to get by in English in Montreal than it was in Dresden!"
Everything about Brouhard's new career at McGill is brand new.
The massive picture window in his Bellini Life Sciences Complex office is spotless, most of the equipment in his spacious lab is still packed in boxes, and he is still in the process of recruiting his first graduate student.
Once the boxes are unpacked and the lab no longer looks so factory-fresh, Brouhard will get back to his research on the microscopic proteins which regulate the cytoskeleton and the cell that controls construction of its internal scaffold.
"The particular type of scaffold I'm interested in is called microtubules," he explains. "These are stiff hollow tubes built out of a polymer building block called tubulin. It's ancient. Bacteria don't have tubulin, but yeast, plants and other organisms all have it."
"The microtubule cytoskeleton is very much a part of cell division, so it relates to cancer, obviously.
Cancers are essentially rapidly dividing cells, so some of the most well-known chemotherapy drugs target
microtubules."
– Mark Shainblum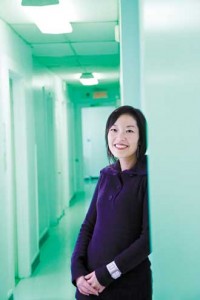 Yuriko Furuhata: Living outside the brackets
Growing up in Kugenuma, Japan, Yuriko Furuhata had aspirations of being a photographer, a painter or a filmmaker. "But there was the question of talent," she laughed from her office in the Department of East Asian Studies, where she's been teaching courses on mass culture in postwar Japan and Japanese cinema. "So I joined academia instead."
Self-deprecating humour aside, Furuhata also said that, as much as she enjoyed her artistic pursuits, she found them somewhat limiting when it came to full exploration. "Art is about immediacy and about the way you feel, not necessarily about the way you think," she said. "But academia – especially the Humanities – is all about articulating, explaining and analyzing. In many ways, the artistic experience is bracketed.
"When I study film or visual culture, I can put things into an historical context. That's the kind of perspective I didn't have when I was making art because it was never about situating myself in historical precedents. It was all about myself."
Not one to live within brackets, Furuhata knew she wanted to study and work outside Japan where "academics live in a self-enclosed community. They don't have the same access to the international academic community."
Finishing her undergraduate work at the bilingual International Christian University in Tokyo, where she perfected her English, Furuhata did her MA in Foreign Languages and Literatures at the University of New Mexico and her PhD in Comparative Literature at Brown University.
Furuhata signed on with McGill upon completing her dissertation this past summer and although these are early days yet, she is thrilled at the prospect of expanding her horizons even further. "Most Asian studies programs in North America are very political," she said. "But this department is very different because it is so open to theoretical and comparative approaches."
Her own research focuses on Japanese visual culture and Japan's avant-garde filmmakers of the 1950s and 60s. Once again, Furuhata uses an approach that extends beyond the parameters of the films themselves. "I realized that these filmmakers were very well educated – they knew their philosophy, they knew their history," she said. "Some were commercial filmmakers who went beyond studio filmmaking. I'm interested in the connection between their artistic productions and their commercial productions, and how those boundaries are sometimes blurred."
-Neale McDevitt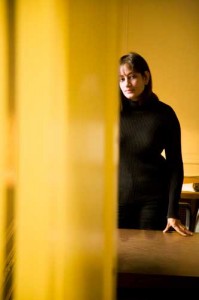 Vrinda Narain: Defending freedom and gender equality
When Prof. Vrinda Narain was a law student in her native India, her class studied a famous case involving a man who refused to pay support to his wife following a divorce. Although the woman won her case, Narain was touched by the plight of women and a career focused on the ties between law, rights and social justice was launched. "There were all these interesting things about gender equality, religious freedom, and constitutional law," she said, "so that's what got me started on the topic."
She went on to practice law in India – mostly providing free legal aid for women – before coming to McGill to complete her PhD in Law. Now, after a stint in Toronto which included the recent publication of a book, Reclaiming the Nation: Muslim Women and the Law in India and a year as a Boulton Fellow here, she has joined the teaching ranks as an Assistant Professor, cross-appointed between the Faculties of Law and Arts.
"I'm interested in how people use constitutional rights to forward social justice claims, whether it's gay rights, women's rights or minority rights." Narain will be teaching a course on how women are seen in different constitutions around the world, including those of Afghanistan, Iran, India, South Africa and, of course, Canada.
She has also been tapped to teach the ever important course on the Canadian Charter of Rights and Freedoms at the Law Faculty. She looks forward to teaching outside of Law for the first time, offering a course on feminism and nationalism in the post-colonial era at the Faculty of Arts.
So far, Narain's experience at McGill has been a good one, something she largely credits to the degree of academic independence the university affords its professors. "It's a very interesting place to teach, because they let you teach what you want to teach," she said. "You have that freedom of choice and they leave you on your own to decide these things. That's the nice part about being here. It's very affirming."
– Pascal Zamprelli