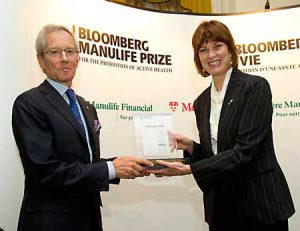 By McGill Reporter Staff
It's no coincidence that Lawrence Bloomberg co-founded a securities firm called First Marathon.  As well as being a prominent financier, Bloomberg (MBA'65) has long been a big believer in physical fitness. And now he's funding a major academic prize that he hopes will help persuade more people to lead healthier lives.
McGill, together with Bloomberg and corporate partner Manulife Financial, is establishing the Bloomberg Manulife Prize for the Promotion of Active Health. The Prize, announced May 17 in a ceremony at McGill, is valued at $50,000 annually, making it the largest of its kind in Canada.
Bloomberg and Manulife are each providing $1-million gifts to fund the Prize. They are also establishing a fellowship fund in the Faculty of Education to support PhD students entering the Dept. of Kinesiology and Physical Education and studying in an area related to physical activity, health and lifestyle.
"I want the Bloomberg Manulife Prize to help create a shift in people's attitudes toward healthy living and I am confident that McGill – with its skills and talents and its international reputation for excellence and innovative research – can help achieve that,"  Bloomberg said.
Principal Heather Munroe-Blum praised Bloomberg and Manulife Financial for their generosity and vision in creating the Prize and fellowships. "We are delighted that they chose to invest their support here at McGill, in our Faculty of Education, where healthy living is a cornerstone of innovative research, teaching and scholarship," she said. "More broadly, the Bloomberg Manulife Prize and fellowships represent one of the most powerful paradigms for generating meaningful social change: a dynamic partnership that unites individual and corporate philanthropic vision with the unique capacity of a research university to develop and realize concrete advancements that help build a better, healthier world."
The inaugural winner of the Prize is expected to be announced in the fall of 2011. The annual award will honour a researcher at a North American academic institution whose work within the past five years has broadened understanding of how physical activity, nutrition or psychosocial factors influence personal health and well being. The researcher's work will also have had a positive effect on the behaviours and lifestyle choices of North Americans.
The Prize will take the form of a stipend to fuel continuing research, and the recipient will be invited to deliver a public lecture and participate in a roundtable discussion before a live audience.
Bloomberg, a Toronto-based financier with a long and distinguished business career, has also been actively involved in numerous community initiatives related to health, including many years as chair of the board at Toronto's Mount Sinai Hospital. These experiences led him to focus his energies on improving health care and finding ways to better educate the population on issues related to health. In 2009, Bloomberg was presented with the prestigious Order of Ontario, in recognition of his volunteerism and philanthropic contributions to healthcare, innovation and education.
"Given my involvement in healthcare, I believe that disease can be prevented by changes in lifestyle, and that individuals' heath can be improved based on the evidence-based research that's being done. So I believe we can lead healthier lives, and if we lead healthier lives we will also be less of a burden on the healthcare systems," Bloomberg said.
"I think the Prize will help bring good science to everyone's attention. And if we can do that, then maybe people will change behaviour. I think that's important. I also think it's important to try to celebrate the scientists. It's hard for scientists in this space to get air time. I'm hoping that this Prize will also encourage the scientists to bring new perspectives to healthier living as they compete for the prize."
The 68-year-old Bloomberg said he has exercised almost all his adult life, and has run several marathons in the past. His founding partners in First Marathon were also into running – so the name seemed like a nice fit, he recalled. These days, Bloomberg goes to a gym "almost every day."
Hélène Perrault, Dean of Education and a Professor of Exercise Physiology, said the Prize "will provide a welcome boost to the much needed research that still needs to be carried out at McGill and at universities across North America to foster active health behaviours and positive lifestyles. The fellowships will allow the Dept. of Kinesiology and Physical Education to attract new talent and to spearhead new initiatives aimed at enhancing Canadians' health and physical activity.
"The link between optimal health and healthy eating or exercising or lifestyle habits is known," said Perrault. "But what we still need to do is better understand the physical, psychological or social barriers to adopting such lifestyles and to translate that knowledge into interventions that will help people know how to move in that direction. Our Faculty is very much about understanding and intervening with human behaviours to optimize all aspects of human development and well-being."
For its part, Manulife "firmly believes in encouraging and promoting forward-thinking academic research that enhances healthy lifestyle choices. Our belief is that this work will lead to individuals benefiting significantly from a better quality of life," said Donald A. Guloien, President and CEO of Manulife.