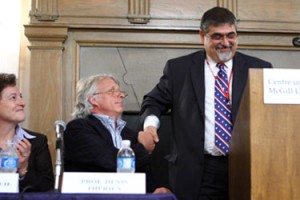 By Jim Hynes
It was an historic award announced in an historic place. And its recipients hope to make history in the not so distant future.
The Canada Foundation for Innovation (CFI) last week formally awarded McGill University and the McGill University Health Centre (MUHC) a grant worth nearly $100 million to build and equip a state-of-the-art medical research centre at the MUHC's facilities on the Glen Campus. The investment is the largest ever made by the CFI to a single institution in its 10 years of existence.
McGill, MUHC, CFI and federal and provincial representatives attended a crowded press conference at the Royal Victoria Hospital last Wednesday to announce the investment, totaling $99,988,343 from the CFI's Research Hospital Fund (RHF).
"The CFI's decision is historic, reinforcing the vital relationship between McGill, the MUHC and their public and private partners on a project of this magnitude," said Denis Thérien, McGill's Vice-Principal of Research and International Relations. "We wish to acknowledge the crucial role the CFI has played in the success of this project and we applaud the CFI's vision in awarding this funding to such an important project."
The MUHC's new Research Institute at the Glen Campus will house some of the most advanced scientific facilities, equipment and technologies. It will bring together researchers in both pediatric and adult medicine, promoting discoveries that will yield new treatments and cures for patients of all ages.
International peer review
"The investment we are making today will help bring together internationally renowned researchers who will pursue work on disease prevention, advanced therapeutics and the optimization of health care for Canadians," said Jacques Gourde, the Lotbinière-Chutes-de-la Chaudière MP who represented the Federal government at the event.
The award was recently approved by the CFI's Board of Directors after a highly competitive and rigorous assessment, including international peer review, of 28 projects from across Canada. The MUHC proposal was one of only eight projects to receive approval.
"What a wonderful day this is for McGill, and for the hospital community in Montreal," said Suzanne Corbeil, Vice-President of External Relations and Communications for the CFI. "You should be very proud to have succeeded in this difficult competition."
While emphasizing the crucial role research hospitals play in Canada's health care system, Corbeil called the investment "one of most important in the history of health research in Canada."
"Collectively, Canada's research hospitals perform 80 per cent of all publicly funded health research in this country," she said. "These hospitals, together with the universities with which they are affiliated, have a proud record of research investment and achievement that have had global impact. Indeed, when it comes to return on investment in research, few metrics define it more clearly than do the major medical breakthroughs that cure illness, enhance the quality of life, and provide hope."
MUHC researchers are currently spread out over more than 65 separate labs in 50-to 100-year-old buildings that impose severe restraints on their activities, said Research Institute Director Vassilios Papadopoulos. The new centre will allow them to work side-by-side, and with some of the best technology available.
Dreaming of discoveries
"Thanks to the CFI, our plan to bring together our investigators on the Glen and Mountain campuses in order to bridge biomedical research and clinical medicine is assured," said Dr. Arthur Porter, Director General and Chief Executive Officer of the MUHC. "I am extremely proud of the leadership of our Research institute's director, Dr. Vassilios Papadopoulos, and the entire McGill-MUHC team who worked on this landmark application."
The award will support building areas of roughly 40,000 GSM (400,000 GSF) for the Research Institute's Centre for Innovative Medicine, Centre for Translational Biology and Evaluative Research Infrastructure on Glen Campus. The addition of research neighbourhoods, shared platforms and equipment for 180 clinical, evaluative and biomedical researchers will enhance the MUHC's capacity for meaningful innovation dramatically.
"Given the world-class achievements of our scientists and clinicians under these poor conditions, one can only dream of the discoveries that will emerge from a modern facility that is designed to encourage the interdisciplinary collaborations and synergies that are the basis for true scientific innovation," Papadopoulos.
In acknowledging the important support offered by the CFI, McGill's Vice-Principal and Dean of Medicine, Richard Levin, underscored how much more rapidly medical science can advance through facilities such as the one planned for the Glen site.
"In this era of medicine, with biology at the forefront, it is imperative that we create a continuum where our world-renowned researchers, our students and our practitioners can work together as one toward a common vision," Levin said. "It is through close collaboration and continuous communication that we will translate breakthrough after breakthrough into new therapies – at an unprecedented speed. We are very privileged to have some of the very best talent in medical science here in this city to help us achieve this."
The CFI grant is to be matched by an additional $100 million in funding by the Quebec government and approximately $50 million in funds from donors. The next step in the MUHC project is the choosing of a private partner. Construction at the Glen Campus is expected to get underway in late 2009.