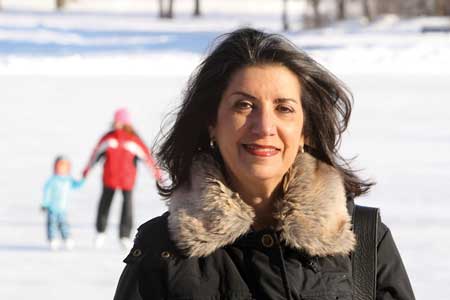 McGill will be first university in Canada to offer program within a School of Social Work
By McGill Reporter Staff
After over a decade spent building collaborations with other interested parties both within the University and across the province, McGill will become the first university in Canada to start offering a Master's program in Couple and Family Therapy (CFT) within the context of its School of Social Work in the autumn of 2014.
The two-year interdisciplinary applied program will be offered in conjunction with the Department of Psychiatry at Montreal's Jewish General Hospital (JGH), which is already highly reputed for the clinical training it offers in couple and family therapy. Students will thus combine academic training from McGill, with lectures from faculty such as Prof. Heather MacIntosh, known for her work in trauma, interpersonal relationship, couple therapy and sexual abuse, with practical experience gained at the JGH and other university-based clinical sites.
People will come out of the program not only with a Master's degree from McGill, but also with two professional permits: one as a couple and family therapist (approved by the Ordre des travailleurs sociaux et des thérapeutes conjugaux et familiaux du Québec -OTSTCFQ); and the second as a psychotherapist (approved by the Ordre des Psychologues du Québec – OPQ).
"This is a major achievement for both the School of Social Work and for McGill," said School of Social Work Director, Wendy Thomson. "It has taken lots of work from people here in the School and all across the University to make this happen, and it marks a real step forward in terms of the training we can offer students who come here to McGill."
The program is geared towards turning out couple and family therapists who understand the often complicated interplay of physical, psychological, cultural, economic and social factors that may form a backdrop to the problems faced by couples and families today. Along with courses on subjects such as human development across the lifespan, contemporary issues and diversity in couple and family therapy, and trauma and resilience, students will also be given an overview of some of the biological and neurological foundations of behaviour.
Program organizers believe that this combination of theoretical course work and practical experience will equip the students who come out of the program with the ability to grapple with and manage complexity. So that they can recognize how the fact that a child has a depressed, unemployed, immigrant mother and no father plays into their behavioural troubles at school, and unpack these elements in order to give the child the help they need.
Sharon Bond, the Director of the new Master's in Couple and Family Therapy program, believes that the fact that the program is housed within the School of Social Work will have an effect on the profession as a whole. "Social work, more than any other profession, has the ability to think macro, and see the interconnections that lie behind a problem. I am proud for McGill, and proud for social work that we have created this program," said Bond. "It is time for us, in social work, to assume leadership in this field, and I'm really looking forward to seeing who comes into the program in the fall."
For more information on the new program keep an eye on the School of Social Work website.