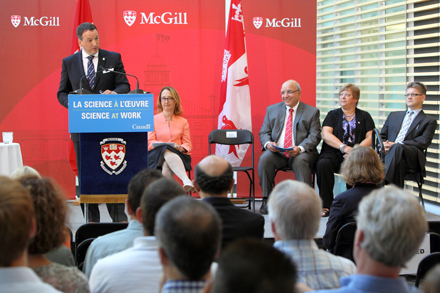 By Neale McDevitt
Even though most people would be hard pressed to name a single medical physicist, almost everyone has benefitted at least once in their life from the innovations made by these researchers. Ultrasounds, X-rays, CT scans, MRIs and nuclear medicine are only a few examples of the essential contributions made to healthcare by medical physicists.
As announced earlier today, McGill has received $1.65 million through NSERC's CREATE (Collaborative Research and Training Experience) initiative to develop a multidisciplinary training program in the fields of physics, biology and medicine. The Medical Physics Research Training Network (MPRTN) will provide internships, mentoring and training opportunities for the next generation of medical physicists that will nurture collaboration while also addressing the need to put new technologies into clinical practice. It might not make any medical physicists a household name, but it will significantly enrich graduate education in the field.
"Medical physics research training is essential to harness the problem-solving skills of the graduates so that they can successfully operate in a clinical environment of ever-increasing complexity," said Prof. Jan Seuntjens, Director of the Medical Physics Unit at McGill and the Research Institute of the McGill University Health Centre and co-director of the MPRTN. "The network will enable us to offer this research training by facilitating access to the best expertise or technology, regardless of whether this exists at universities, in industry or government. Next-generation medical physics innovators will improve the translation of discovery of new processes or technologies into clinical applications. This means better medical care for patients needing better diagnostics and treatments."
The MPRTN funding is just one of a host of new training initiatives in a variety of research areas, including genomics, climate change in the Arctic, clean combustion engines and wireless technologies, that will be supported by NSERC's CREATE program. In all, the Federal Government will invest more than $24 million over six years in 15 initiatives to help science and engineering graduates add valuable job skills necessary in today's labour market to their academic achievements.
"Our Government firmly believes that science, technology and innovation [along with] cooperation from all sectors, whether it is private, industrial, academic or government sectors, underpin the modern economy and are essential to shaping Canada's growth and long-term prosperity," said the Honourable Greg Rickford in his first official announcement as Minister of State for Science and Technology.
"Scientific curiosity leads to discoveries and not only increases our wealth of information, but also inspires us to change the way we think about things, how we see things and, in fact, how we do things. It helps us to look at problems through new lenses, leading to game-changing products and services," Minister Rickford told the audience gathered in the Life Sciences Complex. "Where there are advances in sciences and technology, there is growth. Jobs are created, communities see their economies prosper and the quality of living improve."
For Anthony C. Masi, Provost and Acting Principal and Vice-Chancellor of McGill, the CREATE funding of the MPRTN is not only good news for medical physicists, it is great news for patients.
"Over the past century, Canadian medical physicists like Dr. Seuntjens and his collaborators have played a major role in transforming scientific discoveries into everyday clinical applications," Masi said. "Although commonplace, we should not underestimate the importance of these technologies. They save lives. For example, nearly two-thirds of all cancer patients will receive radiation therapy during their illness. The roles of medical physicists in radiotherapy include treatment planning as well as machine design, testing and calibration and, of course, troubleshooting. In short, they help make our treatments for some of our most devastating illnesses safer, more efficient and more effective."