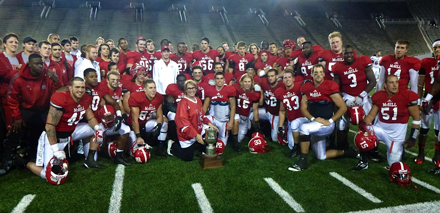 By Earl Zukerman
Luis Guimont-Mota, a sophomore from Quebec City, rushed for 111 yards and a pair of touchdowns as McGill defeated Concordia 32-19 to capture the 45th annual Shaughnessy Cup football game before 2,845 – including Suzanne Fortier, McGill's newly appointed Principal – at Percival Molson Stadium, Friday.
The result snapped McGill's 11-year, 15-game losing streak to the Stingers, dating back to a 10-8 Redmen conquest in the league's 2002 Dunsmore Cup championship game. The last time that McGill had won this annual challenge for the Shaughnessy Cup was also in 2002.
Fortier performed the ceremonial kickoff prior to the game. She is believed to be the third principal in school history to handle that function, following in the footsteps of David Johnston (currently the governor-general of Canada) and Heather Munroe-Blum. The Redmen have won each time that the university's top official has kicked off
The Redmen ground game was led by Guimont-Mota, a 5-foot-9, 188-pound tailback who registered 18 carries, including TD scampers of 21 and 28 yards. It marked the second-straight game that Guimont-Mota ran for more than 100 yards.
Others going over the century mark were two McGill teammates from Toronto – sophomore Joel Brtka who hauled in 11 catches for 146 yards and one TD – and freshman Pelle Jorgen, who amassed 108 all-purpose yards, including a 70-yard kickoff return, in his first-ever game at the collegiate level.
It was a Jekyll-and-Hyde affair, with both teams getting off to a slow start in what appeared to be a significant defensive battle. Concordia led 4-3 after the opening quarter and maintained a 7-5 advantage at the intermission. But the second half featured a wide-open offensive display, with McGill racking up a 22-7 lead heading into the final quarter, which the Stingers won 12-10
When all was said and done, the Redmen barked louder, generating 24 first downs and 402 yards of net offence, compared to 23 and 386, respectively, by the Stingers.
"It was a good team win but we have lots to improve on," said Clint Uttley, head coach of the Redmen. "We made too many mistakes and took too many penalties in the first half. Our defence and special teams carried the team until the offence finally got on track in the third quarter."
Redmen quarterback Jonathan Collin, a senior from Greenfield Park, Que., completed 22 of 40 pass attempts for 281 yards, one touchdown and an interception.
Stingers pivot Reid Quest of Regina, Sask., tossed for 312 yards and one TD in a losing cause. He made 27 of 39 passes and was picked off once. Francois Dessureault, his understudy from St. Tite, Que., went 5-for-9 for 39 yards and a TD.
The duo combined to find nine different receivers, including Kristopher Bastien of St. Lambert, Que., who snared six passes for 90 yards and a pair of scoring majors.
Kickers rounded out the scoring for both sides, with McGill sophomore Sammy Rassy collecting 12 points. He went 3-for-4 in field-goal attempts, connecting from distances of 29, 32 and 21 yards, respectively. His lone miscue was from the 36.
Concordia's Keegan Treloar went 2-for-2, connecting on a 42-yarder and a 17-yarder.
Defensively, McGill had a strong day from its linebacking corps of Alexandre Bernard (7 tackles), Jesse Briggs (6 tackles) and Chris O'Kill (6 tackles, 1 fumble recovery). They helped smother the Concordia rushing game and limited the Stingers to just 54 yards on 18 attempts. The Redmen defensive front racked up four quarterback sacks, including two from Carl Laverdiere, with one apiece from Briggs and David Deku, who is one of seven former Concordia transfers on the McGill roster. Zachary Lord was credited with 3.5 tackles to go along with an interception.
For the Stingers, Max Caron led the way with 6.5 tackles, a pair of sacks, one knockdown and a forced fumble.
This was a heated affair with no love lost between the cross-town rivals and the game featured a combined 21 penalties for 225 yards. On one particular play after a McGill touchdown, three Concordia players were each assessed unnecessary roughness penalties, which resulted in McGill kicking-off from the Concordia 25-yard line.
McGill, which improved to 1-1, travels to Sackville, N.B., next week to take on Mt. Allison (0-0) in an interlocking affair with the AUS conference on Sept. 14, while Concordia (0-2) will host St.FX (0-0).
REDMEN RAP: The McGill 48-man dresslist featured a single-game school record 20 freshmen, seven of them starters…  Among the faces spotted in the crowd was Cliff Wilson, a former Redmen team captain from the mid-1980s… The Shaughnessy Cup is a local rivalry matchup named after the legendary Frank Shaughnessy, a member of the McGill Sports Hall of Fame who coached at both McGill and Loyola College, which later became Concordia. Shaughnessy, a football innovator who led McGill to a pair of Yates Cup championships in 1913 and 1919, first introduced the forward pass to Canada in a 1921 McGill game against Syracuse at Molson Stadium and lobbied for a decade before the Canadian Rugby Football Union formally adopted the pass in 1931… McGill evened their lifetime record against the Stingers at 36-36, including a 20-14 mark at Molson Stadium… In Shaughnessy Cup play, the Redmen are 23-21-1 overall, including an 18-21 record against Concordia and an unblemished 5-0-1 against Loyola.