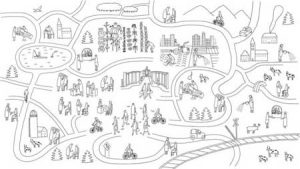 By Neale McDevitt
You have 30 seconds to tell your story. One, two, three – go.
No easy feat, to be sure, but considerably more difficult when the story you have to tell is about McGill, a 190-year old institution rich in history and accomplishments.
But that's exactly what is being done in a 30-second television ad running province-wide on French-language TV for the next month. Produced by local agency Orange Tango, the evocative commercial uses simple line drawings to highlight some of the valuable work McGill is doing in Quebec society.
Vaughan Dowie, Executive Head of Public Affairs, hopes the TV spot, which will air almost 700 times, will add a new dimension to the public's perception of McGill.
"The contributions made by universities, and McGill in particular, to Quebec and the lives of everyday Quebecers, are not as well understood as they should be – especially among francophones," Dowie said. "This ad gives people an idea of the positive impact we have."
McGill contributes to the community in many ways, be it through the mobile Dental Outreach Clinic that brings free dental services to disadvantaged people in the community, or the Edible Campus project that grows fresh produce on the downtown campus to help feed Montrealers in need.
The ad directs viewers to www.mcgilletsonmonde.ca where they can learn more about the University's numerous community outreach projects. The McGill in the Community website (www.mcgill.ca/community/) has also been expanded and updated in conjunction with the production of the commercial, giving visitors detailed information on the University's many community initiatives.
Dowie says the Jan. 10 launch of the ad was timed to get more "bang for our buck," by not having to deal with airwaves cluttered with holiday fare. "It was the most effective time to launch this campaign," he said, "because after Christmas, there are fewer commercials out there."