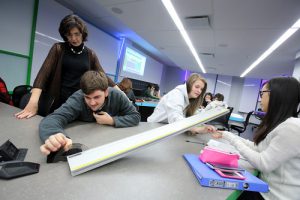 By Jim Hynes
On Friday, Nov. 2, representatives from McGill's Teaching and Learning Services and members of the Macdonald Campus community gathered to launch the latest of the University's Active Learning Classrooms, or in this case, the Macdonald Active Learning Lab (MALL), said to be the first of its kind in Canada.
MSB-016, a room in the basement of Macdonald-Stewart Building that was home to the School of Dietetics and Nutrition and Department of Food Science's Food Lab as recently as 2010, has been transformed into a state-of the-art dry lab for the Faculty of Agricultural and Environmental Sciences' undergraduate Physics and Chemistry classes, among others.
At the launch, Teaching and Learning Services Director Cynthia Weston was joined in the official ribbon cutting by Faculty of Agricultural and Environmental Sciences Dean Chandra Madramootoo and Dr. Alice Cherestes, a professor in the Department of Bioresources Engineering and Freshman Advisor and Freshman Program co-director in the Faculty.
Cherestes, who gave a brief demonstration of the new lab's equipment and capabilities, is one of the MALL's principal champions and main tenants. Together with Marcia Knutt, her fellow Freshman Program co-director, she put together the proposal for its construction and then helped design it. Today, she teaches a Physics tutorial and a Freshman seminar in the new lab, which is also home to a pre-calculus class. The lab has been home to classes since Oct. 1.
"We were aware that there were Active Learning Classrooms at many other schools and even here at McGill, but we wanted this to be an Active Learning Lab," Cherestes says. "We wanted it to have the possibility of doing lectures and group work but also dry lab work as well.
"We've been working with some schools from the States and we've been going to a lot of conferences, and what we're hearing is that the new generation does not really learn the same way
we used to, they don't necessarily learn with somebody lecturing at them for three hours. They need to be able to do something else too. We've always been very onboard here with all teaching with technology methods. We've been using clickers for many years, but this was the next step – for them be able to actually actively participate in the learning process."
Physical space dictates how we learn
And that's the whole point of Active Learning teaching spaces, says Adam Finkelstein, an Educational Developer at Teaching and Learning Services.
"To paraphrase Peter Jamieson [a professor at the University of Melbourne well known for his work on developing campus learning spaces in Australian universities], learning spaces, the environment that you see, that you walk into, give you an indication of how you are supposed to act," Finkelstein says. "The environment suggests the mode of behaviour, so when you walk into a lecture hall, as a student you are expected to sit and listen, and as an instructor you're supposed to stand up and talk. But when you walk into an active learning classroom, you are expected to collaborate and be active."
The MALL is one of a number of teaching spaces at McGill given the full Active Learning treatment since 2009. The overhauls include installing multimedia and wireless Internet connections, but also basic improvements such as proper ventilation, natural lighting, and seats that can be repositioned for work in groups.
MSB-016, with room for 84 students (seven tables of 12), features a Smartboard and 15 projection screens, one for each table and eight controlled from the professor's podium so that work can be seen from anywhere in the room. The three-winged worktables are colour-coded, and lights around the screens change colour to match that of the table whose work is being shown. The room also has a modern audio system, with speakers in the ceiling, wireless capabilities and microphones on desks and at the professor's console, and state-of-the-art lighting, with special modes for viewing the screens and movies and for lectures, experiments and group work. The lab's costliest feature is its raised floor, under which the cables that operate all of this high-tech gear run.
All told, the lab cost approximately $750,000 to renovate and equip. Construction and renovation work started last winter and was completed by mid-summer, after which NCS entered the picture to install and program the equipment.
Collaborative effort
The renovations to MSB-016 were recommended last winter by the University Teaching Labs Working group, which works in parallel with the Teaching and Learning Spaces Working Group to establish teaching and learning space standards based on sound pedagogical and technical principles; identify teaching and learning space needs; and investigate new teaching and learning technologies.
The working groups, which have access to an annual budget for the creation and upgrading of new and existing teaching and learning spaces at the University, are comprised of representatives from every faculty and from units like Teaching and Learning Services, Facilities and Operations Management, IT, and Enrolment services, among others.
"This is extremely unique when you look at other universities," Finkelstein says. "There's often such a huge division at schools between these groups, where the planning office will build classrooms and say 'here you go' without ever having that conversation around what types of learning people are looking for," Finkelstein says. I think it's one thing that McGill leads in. What it's saying is that it's the pedagogical mission of the University that's critical."
For more about Active Learning Classrooms, the Active Learning Classrooms Working Group, the University Teaching Labs Working Group and recent classroom improvements at McGill, go here.