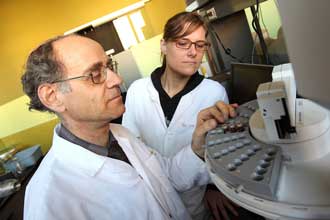 By Allyson Rowley
While a master's student at McGill in the 1980s, she worked in the first environmental laboratory on campus. "It was an old, old lab," remembered Dr. Diana Mourato-Benedek with a smile.
Twenty-seven years later, the three-time McGill graduate (BSc'81, MSc'83, PhD'90) was back on campus with her husband, Dr. Andrew Benedek, (BEng'66, DSc'05) to officially open a state-of-the-art teaching and research laboratory, funded by the Benedeks' extraordinary gift of $700,000.
Located on the fifth floor of the Macdonald Engineering Building, the Benedek Integrated Laboratories in Environmental Engineering will be "the place at McGill to tackle the environmental engineering challenges facing current and future generations," said Christophe Pierre, Dean of Engineering. The lab provides a unique space for undergraduates who will work side by side with professors and graduate students in integrated research teams.
"They did an amazing job," said Mourato-Benedek of the McGill team who worked on the renovations. "I felt like going back to work." The Benedeks have also given a further $25,000 for graduate fellowships in the Faculty of Engineering.
Andrew Benedek received an honourary doctorate from McGill in 2005 to recognize his pioneering contributions in the area of water and wastewater treatment. "We could see how McGill was being transformed by Principal Munroe-Blum's vision," he said. "We wanted to be part of this – to help transform a great university into an even greater one."
Mourato-Benedek is also recognized internationally for her leadership in water treatment technologies. She first came to McGill as an undergraduate, speaking no English. "I just dove in," she said with a laugh. The Benedeks are currently developing a new company which Benedek describes as "a new challenge – the nexus of waste and energy."
Both remain highly connected to McGill: Mourato-Benedek serves on the Faculty of Engineering Advisory Board, they are also McGill parents, and now, their world-class lab is here. Said Mourato-Benedek, "We are very proud to have our name son it."
With files from Ken Whittingham, Communications Officer, Faculty of Engineering.