By McGill Reporter Staff
New year, new students and new food!
McGill has several new food offerings opening up this fall, including such well-known names as Première Moisson and St-Hubert Barbeque, as well as a revamped cafeteria in the McConnell Engineering Building and changes at several other locales.
Première Moisson, one of Montreal's favourite bakeries, will open two outlets downtown: a full-sized store on the street level of New Residence Hall on Park Ave., and a smaller, express outlet in the basement of Redpath Library. Famous for breads and pastries, Première Moisson also serves up sandwiches and other meals at various locations in Montreal.
At the Bronfman Building, two new outlets will open in the space formerly occupied by Sinfully Asian: Quesada Burritos and Tacos, which will offer Mexican fare, and Bento Sushi, a franchise with a number of outlets in Montreal.
St-Hubert Barbeque chicken (and coleslaw!) will be available in the Rue McGill deli in the Trottier Building, while the renovated dining area in McConnell, which will be renamed E-Café, will also feature a coffee kiosk in the lobby called Dispatch.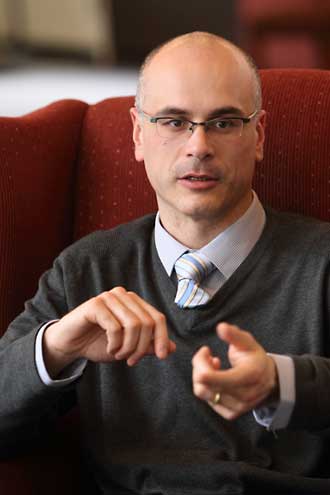 At Macdonald Campus, a new food location called Le Comptoir Mac represents "exactly what Mac Campus is all about," said Mathieu Laperle, Senior Director of Student Housing and Hospitality Services (SHHS). "The owner, Hakim Chajar, is a young entrepreneur and has been seen on Radio-Canada's popular Les Chefs! television show. They will make use of all the Macdonald farm products available."
Music Café will re-open this year, under the name of Vinh's, familiar to those who frequent the Genome Building. As with the other outlet, Vinh's will provide Vietnamese sandwiches, Tonkin soups and a daily assortment of desserts.
There are also changes afoot for residence dining halls, where more and more food will be cooked from scratch, including sauces, stocks and soups, Laperle said. "SHHS is already recognized as a leader in environmentally sound sourcing policies," he said. "We are proud to implement this new restaurant philosophy in our dining halls and to improve even more the quality of the food we serve."
McGill serves only sustainable seafood, purchases a considerable amount of its food from local farms and serves only fresh whole eggs from the Macdonald farm. The University's food services also try to address the overuse of antibiotics in the meat supply, Laperle said.
To find out more about food and dining at McGill, go here.