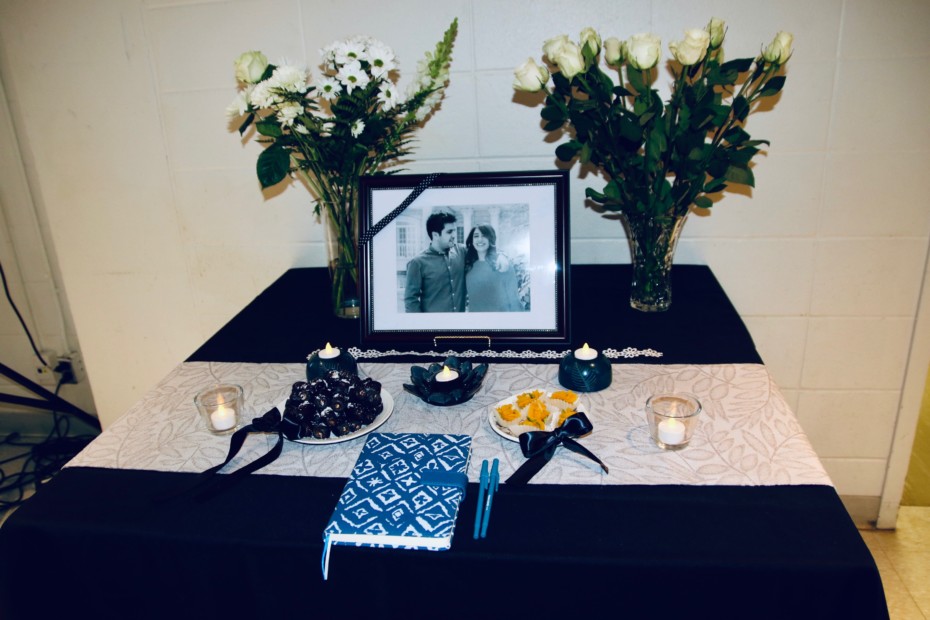 Although she was a member of the Macdonald Campus community only since September, Negar Borghei impacted a great many lives at the School of Human Nutrition. Already a nutritionist in Iran, Borghei was pursuing her Master's degree in Human Nutrition – Dietetic Credentialing, which would give her the accreditation to practice in Canada.
But those aspirations will never be realized. On January 8, Borghei was one of 176 people killed when Ukraine International Airlines Flight 752 was shot down by Iranian military forces just minutes after taking off from Tehran. Borghei had been visiting her family in Iran and was travelling back home to Canada with her husband Alvand Sadeghi, his sister Sahand Sadeghi and her young niece Sofie Emami who all died in the crash.
In an emotional memorial service at Macdonald Campus earlier today – which had to be moved to a bigger room at the last minute to accommodate the large turnout of mourners – Borghei was remembered for her dedication, her generosity and, mostly, her kindness.
"We can pay tribute to her on so many levels," said Linda Wykes, Director of the School of Human Nutrition, noting that Borghei was already a highly-educated professional clinician-scientist when she came to McGill. "It was only four months ago that she joined us, and in that short time she became part of our family. She was able to influence people through the brightness of her personality. She was a leader, an important colleague, and a collaborator in many group projects."
Tea and snacks
Principal Fortier offered her condolences to the families and friends of all the victims. "Their lives are shattered," she said. But she also spoke of the power of remembrance. "As we mourn the passing of Negar, let us take a moment to celebrate her life. Never forget that she was a bright young woman with many dreams and aspirations. Let's hold on to those memories."
"She was like a sister to all of us. She gave us tea and snacks," said [Yimeng] Imogen Li, MSc Applied candidate Human Nutrition – Dietetics Credentialing. "Where ever she is, her kindness will continue to influence many people in a positive way."
"We have lost our brothers and sisters. Our hearts are broken," said Maryam Razaghi, PhD candidate School of Human Nutrition. "So many beautiful, innocent people have perished in this tragedy… future contributions to our community and to the world have been lost forever."
"Negar was smart, very talented and very dedicated," said Razaghi, who attended the same university in Tehran as Borghei, noting how Borghei had made the brave decision to come to Canada. "She worked hard, like so many of us, to come to Canada, to study at a prestigious university like McGill, to build her life and to have a better future."
"She had direction, purpose and always asked the right questions"
Anja Geitmann, Dean of the Faculty of Agriculture and Environmental Sciences, said she had numerous email exchanges with Hamidreza Borghei, Negar's brother, since the tragedy. Geitmann told mouners that Hamidreza said his sister was like her Mac classmates in many ways; stressed about school, worried about fitting in, and concerned others might doubt her abilities because her essays "didn't flow as well" as others. "He said she was relieved that the McGill community had embraced her and she appreciated the people around her."
At the beginning of last week, Maureen Rose, Coordinator, Graduate Dietetics Programs, was looking at Borghei's transcript, checking her grades and looking at her proposed plan for the upcoming semester.
"Soon after that, there was the shocking realization that there was no next semester for Negar," Rose said. "She had direction, purpose and always asked the right questions in a very thoughtful manner… She was so well liked and, as many have pointed out, she was always smiling."
"Negar, you were a bright light and now you shine somewhere else. But you will always be here shining in our hearts."