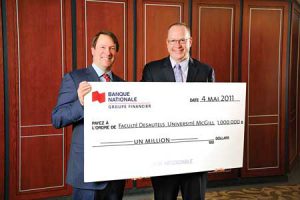 Donation to support entrepreneurship, research, teaching
By McGill Reporter Staff
National Bank Financial Group will contribute $1 million over eight years to the Desautels Faculty of Management to support entrepreneurship, PhD fellowships, and research and teaching in finance.
The donation, announced May 4, will be used to support the Faculty in four areas:
• The National Bank Financial Group-McGill Accelerator Fund will be used to distribute awards of $10,000 to $25,000 to
promising entrepreneurs from McGill, including winners of The Dobson Cup, an annual entrepreneurship competition run by the Desautels Faculty of Management and its Dobson Centre for Entrepreneurial Studies. These awards will provide start-up funding to new enterprises at the conceptual stage, enabling them to launch and helping to nurture them until they are ready to attract conventional venture funding.
• National Bank Financial Group PhD fellowships will be provided on the basis of merit to students in the Faculty's PhD program.
• The National Bank Financial Group Finance Seminar Series will support research and teaching in finance.
• The Risk Management/Global Asset Management Conference Support Fund will help finance a Risk Management and Global Asset Management Annual Conference.
"This generous contribution by the National Bank will help ensure that McGill continues to attract the most promising young business talent to Montreal, and enables our Faculty to further support top talent in Quebec, budding entrepreneurs who will undoubtedly be among our next industry leaders," said Peter Todd, Dean of the Desautels Faculty.
"To foster a culture and a strong entrepreneurial succession plan is an essential condition to maintaining a dynamic and prosperous society. Therefore we are proud to provide financial expertise and long-term support to the next generation of business leaders.
"This partnership proves once again that National Bank Financial Group is a key player of economic and social development," said Louis Vachon, President and Chief Executive Officer of National Bank Financial Group.
The gift adds to the momentum of Campaign McGill: History in the Making.