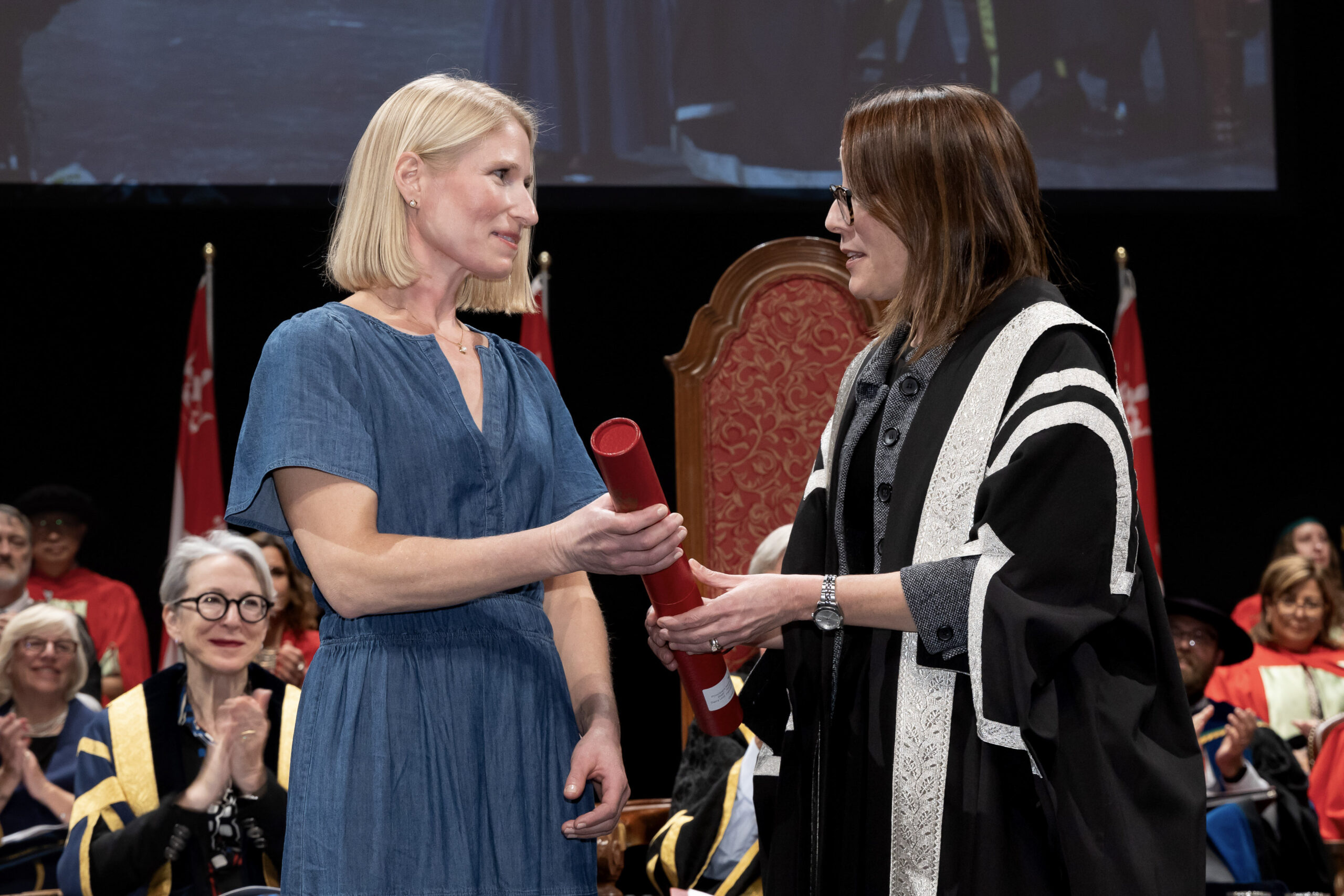 Every day for the past 18 years, Natasha Lapointe has been showing up for work at the Dairy Unit at Macdonald Campus Farm at 5 am. Luckily, she has a short commute.
"We live on campus (on the farm site) just a two-minute walk from the dairy barn," says Lapointe, this year's winner of the Principal's Award for Administrative and Support Staff in the Technical, Library Assistants and Nurses Category.
"My favourite spot on campus is my own backyard. It feels and smells like the country," she says. "We're surrounded by green space and we can see cattle in the pasture from home."
Producing Canada's best milk
On October 26, Lapointe, the Animal Science Coordinator of the Dairy Unit, received her award during the afternoon Convocation ceremony at Salle Wilfrid-Pelletier, Place des Arts
During the presentation, Diana Dutton, Associate Vice-Principal, Human Resources, called Lapointe a "model of dedication," singling out her exceptional work during the COVID-19 pandemic
"Natasha has gone above and beyond since the onset of the pandemic to ensure that McGill professors could continue their dairy-related research, students could pursue their education and, that the cattle are consistently well cared for," said Dutton.
"The lockdowns drastically reduced the number of available students who usually work at the Dairy," said Dutton. "Despite the arduous conditions for those able to stay on, the Dairy won multiple industry honours for milk quality and ranked in the top two per cent in Canada overall. This is exceptional for any farm and virtually unheard of for a research farm."
Praise for the team
Lapointe says scheduling was the most challenging issue during the pandemic. While people in other fields were able to work from home, dairy farmers can't take a day off. Cows need to be milked, fed and taken care of.
Her crew was reduced when people were required to isolate due to exposure or when they tested positive for COVID-19. Schedules could change at a moment's notice and Lapointe had to scramble to find last-minute replacements. It meant making sacrifices.
"We had to forgo some time off and work extra hours… We are lucky to have dedicated staff who love their jobs," she says. "Our team was put to the test and it says a lot about people when we can get through something like this and still come out as friends!"
"My colleagues are my work family," adds Lapointe. "Like any family, we argue, disagree, express our frustration… but we always get past it, and are able to move on. We also support each other when things get tough."
Lapointe credits team cohesiveness for the success of the Dairy Unit, which has earned seven milk quality awards since 2008.
"We pride ourselves on producing high quality milk," she says. "It requires everyone's cooperation and commitment to maintain high standards. It's an incredible accomplishment considering the number of employees in the dairy and the added challenges of research and teaching."
Reduce and recycle
Lapointe has also been instrumental in implementing practices to improve sustainability at the Dairy Unit, including implementing innovative grazing and pasture-management practices and introducing more sustainable and cost-effective supplies.
Always looking for ways to reduce inputs and to recycle, Lapointe found a supplier of recycled paper – which is used as an alternative to wood shavings or straw for bedding for the young animals.
"It's more absorbent, comfortable and ecological. This has been especially beneficial in the calf barn because the paper is dust free and has helped reduce respiratory illnesses. The paper is also more easily biodegradable," she says. "We also incorporate paper bedding in the box stalls (also known as maternity pens for calvings/sick/injured cows).
A lifetime of getting her hands dirty
Lapointe come by her love of farming naturally. She grew up on her parents' dairy farm in Eastern Ontario, years that she says "shaped me into the person I am today."
In recent years, her duties have expanded and she is spending more time in the office coordinating labs, visits, internships and research. She is also responsible for scheduling staff and assigning tasks, writing Standard Operating Procedures and reviewing protocols, organizing special events, and overseeing day-to-day operations.
However, she's quick to add, "I continue to work directly with the animals and getting my hands dirty like everyone else! Working with the animals is one of the best parts of my job."