Feb. 28 benefit concert to help unique music program for underprivileged kids
By Neale McDevitt
When asked what it was like as a young boy in Zagreb, Croatia, immediately following WWII, Ante Padjen remembers one thing above all else. "Music," says the neuropharmacologist, obvious joy in his voice. "The happiest hours of my youth were spent in long sessions with my music teacher, Elly Basic. She was a visionary in her approach to teaching children. She made it fun and creative and exciting. We learned and made huge strides without feeling like we were really working. It was a blessing."
This blessing stayed with Padjen his whole life even though his plans to become a professional musician changed when he contracted tuberculosis and was forced to put down his beloved viola during his convalescence. When he finally was discharged from the sanatorium after two years, the newly inspired Padjen followed his new career path and became a doctor.
But throughout his studies and his busy professional life, Padjen has always remained faithful to his first love, music. In 1989, the professor in the Dept. of Pharmacology and Theapeutics founded I Medici di McGill, an orchestra primarily comprised of professors or students from the Faculty of Medicine. Over the ensuing years, the unique orchestra has played hundreds of concerts in front of thousands of people – usually to raise money for worthy causes. "What can I say? We're doctors, we like to help," says Padjen with a smile.
Which is why I Medici di McGill's upcoming concert on Feb. 28, is such a perfect fit. The money it raises will go towards supporting Viva!Sistema, a music education program for underprivileged children at St. Gabriel Elementary School in Point St. Charles. "Every child deserves the chance to fall in love with music," says Padjen.
Welcome to the musical family
Now in it's second year, St. Gabriel music program is modelled after the El Sistema movement that began in Venezuela in 1975 when economist and orchestra conductor Dr. José Antonio Abreu gathered 11 underprivileged children in Caracas and began teaching them how to play music.
"Maestro Abreu had a very revolutionary idea at the time. He didn't consider his program to be music education, he saw it as a social program, an empowerment program," says Lisa Lorenzino, Music Education Area Chair at the Schulich School of Music and an expert in the El Sistema movement. "He wanted to create a sense of belonging, a sense of family. These children went from having very little going for them to having a real focus and a sense of purpose."
Over the ensuing four decades, the El Sistema program has exploded. At present a remarkable 600,000 Venezuelan children, many of them coming from the most dire situations, have been absorbed into various youth orchestras, the best of which now tour the world playing in the most renowned concert halls. In 2005, El Sistema's most famous graduate, Gustavo Dudamel, was named Music Director of the Los Angeles Philharmonic.
Now in over 50 countries ranging from Columbia and Scotland to Brazil and Japan, El Sistema has proven Abreu's vision bang on, transforming the lives of the most vulnerable people and, in so doing, benefitting whole communities. "Our research has found that the program helps prevent crime and many of the other negative aspects associated with poverty," says Lorenzino. "El Sistema students begin to care more about their communities and they are becoming leaders. Where there are El Sistema programs, crime rates are going down and people are more conscious about education, nutrition and wellbeing."
The El Sistema program was introduced to Canada in 2012. Here in Montreal, the program was established by the Quebec Music Educators Association (QMEA) in St. Gabriel and the Kahnawake Educattion Centre.
Now in its second year, the Viva!Sistema program at St. Gabriel is a free after-school program that teaches some 25 students, divided among first- and second-year violinists and cellists, two hours a day, four times a week. If that sounds intense – especially for children who have never held an instrument before – it is entirely intentional.
"One of the fundamentals of Sistema is that you provide group instruction as often as possible – every day if possible. Financial implications here in North America means we can't make it as intensive as it is in Venezuela [where the government-funded program sees children practicing between 2-6 hours a day], but it is still very intensive," says Theodora Stathopoulos, the Sistema program director in Montreal and the head of Fine Arts Core Education (FACE) School's string department. "The objective is total immersion into this musical family. For some children it becomes a home away from home. They become very attached to their tutors and the teachers because they see them every day."
Those teachers and instructors are made up entirely of graduates from FACE and McGill Music Education students or those from the Education Department who are taking a Music major.
Helping the most vulnerable
Stathopoulos says that because Sistema's mandate is to effectuate social change rather than just to provide a standard education, the goals are very different. "[In my regular music class at FACE] children with behavioural problems are out of place because the objective of that program is not to change one child, it is geared to the majority of children who are well adjusted," says Stathopoulos. "But the Sistema program is designed specifically for these at-risk children with behavioural or social problems."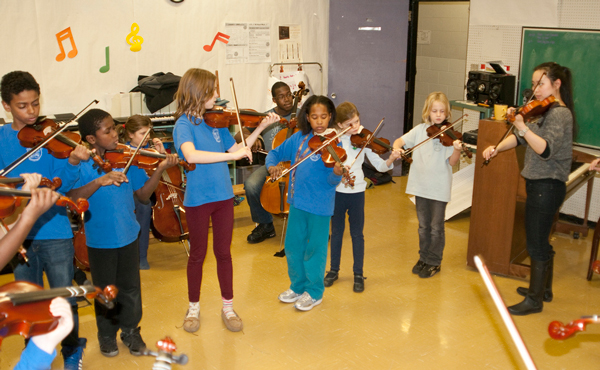 One of the keys to Sistema is the group-learning environment. This is not a question of supplying musicians with private tutors or sequestering them on their own for endless hours of solitary practice. "Maestro Abreu's philosophy is clear; social change happens in group settings," says Stathopoulos. "If a person is a bully, they won't learn anything by practicing their instrument on their own. It is in working with others, as part of a community, that a person will learn these fundamental lessons."
"So when we have to make decisions about choosing the kids to be in this program, we choose primarily children who may have problems adjusting at school and, as a result, are at a high risk of not succeeding," says Stathopoulos.
As impressive as are the results of the Sistema program both in Canada and worldwide, Stathopoulos doesn't pretend it is a global panacea.
"Some of these kids come in with baggage. A lot of baggage and two hours a day of music isn't going to fix everything, but it is a step in the right direction," says Stathopoulos. "But there is definitely an improvement in our kids and, for some, that improvement is huge.
"In September, some of the children were having tremendous issues and it seemed like we couldn't get past some of the behavioural problems," continues Stathopoulos. "But I was blown away by the Christmas concert at St. Gabriel. Not only did they behave amazingly, they played even better. It was really beyond what any of us expected."
"It is moments like that that make you sit back and go 'wow.'
Under the direction of Maestro Iwan Edwards, I Medici di McGill will present a Benefit Concert to support the Viva!Sistema, music education at St. Gabriel Elementary School on Feb. 28. This concert will feature works by Antonin Dvorak, his Symphony No. 9 "From the New World," and the Cello Concerto in B minor with Stéphane Tétreault, one of Canada's most promising young cellists. 
Concert to benefit the Viva! Sistema. Feb. 28 at 7:30 p.m.
Venue: Saint Gabriel Church
 (2157 Centre Street)
Metro: Charlevoix
Regular tickets: $30; Donor: $100 (includes $70 tax deductible donation). Donor ticket holders are invited to a post-concert reception to meet the artists, teachers and the honorary committee. 
Advance tickets can now be purchased at the I Medici website. Please consider making an additional contribution to Viva!Sistema to ensure the continuation of the program. Tickets will also be available at the door.