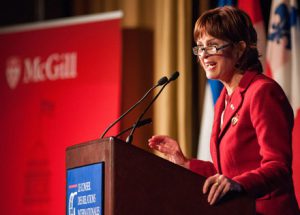 By McGill Reporter Staff
If Quebec is to keep pace with the rest of Canada and the world in terms of innovation and productivity, the government must do everything in its power to make the province's universities the first choice among international students, Principal Heather Munroe-Blum told a luncheon sponsored by the Conseil des relations internationales de Montréal (CORIM) on Friday afternoon.
"Quebec needs all the talented, educated people it can get," Munroe-Blum told the 400 people who gathered at the Fairmont Queen Elizabeth Hotel for the event. "Quebec's share of Canada's international student population has decreased from 33 per cent in 2001 to 25 per cent in 2010. In contrast, British Columbia's share increased from 10 per cent to nearly 20 per cent.
"Quebec is positioned to win the race for global talent if we move quickly, competitively and with confidence," she said.
But, at present, a number of obstacles are hindering Quebec universities from attracting their share of talented international students, said Munroe-Blum, who spent the bulk of her speech debunking some common myths surrounding these students.
One commonly held fallacy is that students from abroad are a drain on Quebec. Not true, she said.
"International students are essential contributors to Quebec's success. We cannot succeed without more well-educated, highly skilled, multilingual people – people who have knowledge and experience of the major cultures of the world, people who are comfortable with managing complexity and, who are welcoming of change," the Principal said.
"International students are exactly what Quebec needs. They spend years in our institutions, they speak or are motivated to learn French, they know Quebec's values, and they are already integrating into our society," continued Munroe-Blum. "Collectively, we Quebecers have supported a portion of their education with our taxes, and, collectively, we Quebecers benefit from the investment made elsewhere in their early training, and, from who they are today."
Valuable contributions to Quebec
There are numerous benefits to recruiting international students, she said, not the least of which is their impact on our economy. For example, international students in Canada have an economic impact of $8 billion annually. And according to the Conférence régionale des élus, one-third of international students who study in Quebec choose to stay here after their studies.
"A great example is Aldo Bensadoun," she noted, referring to the founder of Aldo Shoes. After graduating from McGill, the Morocco-born Bensadoun "stayed in Quebec and from here, created an extraordinary Quebec multinational shoe company that today has 1,000 shoe stores in 66 countries around the world – and thousands of employees here in Quebec. You might say, the Cirque de Soleil of shoes."
However, she added, there is an unfortunate lack of recognition of the costs behind recruiting and supporting students who come from outside Quebec. Although these students pay higher tuition than their Quebec peers, universities only keep the equivalent of in-province tuition. The difference – $55 million each year, in the case of McGill – is turned over to the Quebec government, which redistributes the money across the entire Quebec university system.
"Universities, and the students they're attracting, are being deprived of significant resources that should be returned to them," she added. "That's not an invitation for universities to do more."
Tuition hikes help, not hinder, recruitment
One popular criticism of higher tuition rates is that they would drive talented students Quebec and international students away from Quebec universities. According to Munroe-Blum, not only is this a "deep myth," but also one that has no basis in fact.
"Studies across the country are crystal-clear: no link exists between the amount of tuition and attendance in universities," said the Principal. "If low tuition created better access, Quebec would lead the country in the percentage of young people receiving a university degree. It does not. It is now amongst the lowest in Canada, behind Nova Scotia (No.1) and Ontario (No.2), the provinces with the highest tuition, though still reasonable.
"What matters is having both the quality and reputation of our universities, and, the availability of effective student support for those in need," said Munroe-Blum. "Quality is what international students are seeking. It is also what Quebecers need.
"Nobody wants to go to school for a poor quality of education, even if it costs nothing," continued the Principal, citing McGill's MBA program as an example of how higher tuition has improved enrollment significantly.
"Since tuition was substantially raised in McGill's MBA program, in order to provide highest quality education and professional formation, and we have doubled the number of Quebec students enrolled in the program. And, many of the best-prepared Quebecers who previously left Quebec to get an MBA, are now studying here," said Munroe-Blum. "Why? Because we can now offer a guarantee of quality and support for students in need. Thanks to higher tuition, we have been able to create one of the most generous financial-support programs for MBA students in North America."
Quebec is in the middle of what Munroe-Bum calls "an international race for talent," a race the province risks losing if it does not offer more incentives to attract and support the best students from around the world. For Quebec to remain competitive in the international student sweepstakes, Munroe-Blum said, the province needs to shore up a number of areas. International students – especially post-graduate and doctoral students – need to have access to more French courses. Quebec must also concentrate its efforts on boosting enrolment of international students to 33 per cent of Canada's international student population, up from the 25 per cent recorded in 2010. And, finally, Quebec-based companies must create work environments that promote entrepreneurship, innovation and productivity.
"Quebec universities are the engines of economic innovation," said Munroe-Blum, "but they are dramatically underfunded in comparison to their competition across Canada by some $620 million according to the most recent CREPUQ [the Conference of Rectors and Principles of Québec Universities] findings as validated by CIRANO."
"Without universities, innovation is not possible. The Government of Quebec has to keep this in mind when establishing its public and fiscal policies. Nothing is more important to guarantee Quebec's success," she continued. "But, if the province's performance in regards to recruiting, innovation and productivity remains unchanged, we will no longer be in the game."
Watch some video highlights of the speech here: