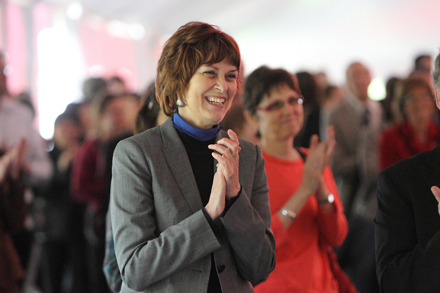 By Neale McDevitt
It was fitting that, at Monday's party to celebrate her decade-long run as Principal and Vice-Chancellor of McGill, Heather Munroe-Blum chose not to get up on stage to address the crowd en masse.
Instead she walked through the audience to talk to people individually, eschewing a microphone and prepared message for handshakes and hugs.
That didn't surprise David Harpp, longtime chemistry prof and the Tomlinson Chair in University Science Teaching.
"Many years ago, I was on campus with my dog watching them put up the Convocation tent and Heather came over to meet my dog," said Harpp. "About eight years later, my dog died and I mentioned it in an email I had sent to Heather. Ten minutes later, the phone rang. It was Heather offering her condolences for my loss. You don't expect that personal touch from someone who is so busy, but she took the time to make that call. It is something I will always remember."
About 600 people visited the afternoon event, which was kicked off with a speech by Provost Anthony Masi, who lauded the Principal for a work ethic that was "truly the stuff of legend."
"Some of us will actually miss your emails and text messages that arrived at all hours of the day and night including weekends," the Provost said with a smile.
Calling Munroe-Blum his mentor, Masi praised her for leading "this University successfully through unchartered waters during some turbulent and often unexpected circumstances… You have been willing to engage in innovative approaches yet you have protected and enhanced time-honoured traditions.
"Heather, McGill will never be the same because of you. McGill will never be the same without you. Thank you for all that you have done."
Next up was Michael Di Grappa, Vice-President (Administration and Finance). In typical fashion, Di Grappa injected a healthy dose of humour into the proceedings.
Inspired by David Letterman, Di Grappa unveiled his own Top 10 list of why he will be sorry to see Munroe-Blum finish her tenure as Principal. "No. 9: Now I'll never know what's new and exciting in pant-suits this fall… No. 2: I always admired the way she worked so tirelessly and effectively to bring a shy, reticent Tony Masi out of his shell and get him to speak up…"
But, Di Grappa got serious when it came down to the No.1 thing he will miss most about Munroe-Blum's tenure as Principal coming to an end.
"She is without question, the greatest, most inspirational leader I've ever had the privilege of working for and McGill will never be the same without her," said Di Grappa. "It is especially fitting to celebrate under the Convocation tent, not only because this glorious tent symbolizes so much of what makes McGill great – outstanding students, distinguished faculty… and our long tradition honouring excellence – but also because Heather, more than anyone, cherishes Convocation and the opportunity to personally experience and share in the pride and joy of our graduating students and their families.
"All of us who know Heather know that this is her favourite time of year. These brief moments on stage with each student touch her, I think, in a very personal way and affirm that the work we are doing, and the work she is doing, is important. They remind her, and us, that there is no more noble cause than McGill."
After the speeches were done, Munroe-Blum walked around the tent greeting people and thanking them for their efforts at the University. An impromptu line formed in which dozens of people waited their turn to chat with the Principal.
One of those people was Brian Karasick, Physical Planner, Campus and Space Planning and a 24-year veteran of McGill. "I thanked her for fighting for McGill because it definitely hasn't been an easy time. She said 'We're doing well and we'll get through it,' which was good to hear," said Karasick. "She's done a great job at putting McGill on the map and getting us out in the world.
"I think in the past McGill has kind of taken itself for granted but she has never taken us for granted," said Karasick. "McGill is most definitely a better place thanks to her."