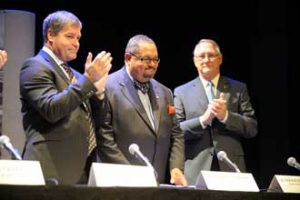 By Neale McDevitt
For Arthur Porter, the complex task of building a hospital begins with a simple question. "How do you want to care for patients?" asks the MUHC's Director General and CEO. "Then all you have to do is build a hospital around the answer."
If your answer is to offer patients world-class care in a state-of-the-art facility equipped with the latest research and health-care technologies and designed both to treat illness and promote wellness, the hospital you build would probably look pretty similar to what Porter and his colleagues envision for the Glen Campus. Just don't call it a superhospital.
"I never liked the term 'superhospital,' " Porter said a week after a symbolic sod-turning marked the start of the project's long-awaited construction phase. "I prefer to think of it as a series of super patient rooms. Rooms that can take care of patients with dignity; that provide the right environment; that have space for the best equipment; and that reduce the level of infection."
To ensure all of the above, the 300,000-square-foot Glen Campus complex will boast only single-patient rooms – 500 in total – complete with private bathrooms, in-room space for mobile equipment needed for bedside procedures, even bedside controls for lighting, temperature and sound.
These same standards will also be applied to upgrades slated for facilities at the Mountain Campus (the Montreal General Hospital) and the Lachine Campus (the Lachine Hospital). Once completed, the three hospital centres will boast some 837 such single-patient rooms.
In addition, the pediatric emergency room will be a Level 1 trauma centre (providing the highest level of surgical care to trauma patients) that will be able to handle 62,000 visits a year. The adult
emergency room will be able to take on 38,000 cases over the same time frame. Add to the mix $190-million worth of diagnostic and treatment equipment and you begin to understand why the Glen Campus price tag tops out at $1.343 billion.
Upgrading from ancient hallways and dungeons
As wonderful as the new facilities sound – especially in a province in which hospital overcrowding means some patients spend their entire stay laid up in a gurney-jammed corridor – the Glen Campus complex will be more than just one of the world's leading patient-care facilities. "Not only are we a tertiary care institution [providing a full complement of services that include pediatrics, general medicine, various branches of surgery]," Porter said, "but, as the academic home of McGill medicine, we are also an academic delivery system."
Richard Levin, Vice-Principal (Health Affairs) and Dean of the Faculty of Medicine, believes the new "health city" will dramatically improve how medical students will learn. "The single-patient room is wonderful and will change the way students interact with patients in many ways," he said. "And the hospital is designed to make it easier to practice medicine for students and staff. They will spend less time maneuvering through what were ancient hallways of castles and dungeons and be able to go three feet to do the next test or X-ray.
"It will result in a sea change for us… In terms of everything that is the traditional mission of a medical school – education, research, patient care and advocacy – this is truly wonderful," he continued.
Principal Heather Munroe-Blum shares Levin's enthusiasm, saying this marks a pivotal moment in health care and science for Quebec. "It gives me great pride to have McGill as part of such an outstanding project that will benefit countless people, here at home and, indeed, around the world," she said.
Finally, the campus will also be home to the Research Institute of the MUHC, an institute that earned an unprecedented $250 million in funding from the Canada Foundation for Innovation, the Government of Quebec and various donors.
"The Research Institute of the MUHC is already an international powerhouse. Soon, with modern facilities and solid information technology platforms, our investigators will be able to accelerate their understanding of many diseases," said Vassilios Papadopoulos, Director of the Research Institute. "Pushing the boundaries of science not only improves health care but it is a vital contributor to our nation's economy, attracting inquisitive minds and encouraging innovation."
Three pillars
The project is based upon three pillars – patient care, education and research – a unique concept in which the design of the physical space will foster a greater interaction between clinicians and researchers, much as the new Life Sciences Complex promotes greater collaboration between scientists in different disciplines.
"Between the Research Institute and the hospital proper is the Centre for Innovative Medicine (CIM) where we will take the bench-to-bedside approach. In other words what we are doing in the lab will go directly to the patient," Porter said. "Physicians can now tell our researchers 'This is the question we're trying to answer' and scientists will better understand why they do what they do.
"We will be able to fast-track clinical trials and the development and testing of new drugs because our business is not just to take care of patients today, it is also to find the cures of tomorrow."
But at what cost?
Of course, Glen Campus has not been without its critics. Some take exception to the series of delays that has extended the project to 12 years before shovel finally struck dirt.
Others maintain that the Glen Campus will be overkill in view of the Centre hospitalier de l'université de Montréal's proposed regrouped hospital complex slated to be built largely on the site of St. Luc Hospital.
And still others can't see past the project's hefty price tag.
For project planners, all three points are moot. "If you look at municipal adventures like this anywhere around the world, you'll see they take a long time," Levin said. "At New York University, the planning for what we called the new Bellevue Hospital was completed in 1955. But the hospital didn't open until June of 1975."
For his part, Porter doesn't understand the two-hospital debate – especially when it is framed within the province's never-ending linguistic tug of war. "We've got hospitals in Montreal all running at about 105 per cent. From the standard capacity base, we need two hospitals," he said.
"Look at the population we serve and the makeup of our staff – we are truly bilingual. Besides, I've never found that disease correlates to language," Porter added.
When it comes to the issue of money, Porter is even more adamant that the MUHC team is on the right path. "When you look at what will come out of this in terms of science, productivity, new cures, etc., this is, I think, a small price to pay."
Great facilities, he argues, attract great doctors, researchers and students. Papadopoulos himself was recruited from Georgetown University where he was Associate Vice- President of the school's Medical Center and Director of the Biomedical Graduate Research Organization.
"I make no bones about it," said Porter, "I want the very, very best people. We're dealing with a world market. These are professionals who could go anywhere in the world but they want to come here.
"We're not going to open a textbook and read what to do to treat a heart attack. We're going to be the people developing the new textbooks."
There is confidence that this critical mass of world-class talent – combined with the world-class facilities – will significantly ease the burden of our over taxed health care system.
The consolidation of treatment – what Porter calls "the right care in the right place at the right time" – will significantly reduce the length of patients' stays in hospital.
New complex, new attitude
Massive construction project aside, there is still much work to do before the doors of the Glen Campus finally open in 2014. With the change in venue also comes a change in the way people work and the way things get done. In many ways, building a billion-dollar complex may be easier than overhauling a stagnant health-care system.
"I don't want people to wait in new hallways who used to wait in old hallways," Porter said. "We have to work with the government and all concerned parties to eliminate the inefficiencies of the current system.
"On our end, one of the best things about building a new facility is you can have an almighty garage sale. You can ask everybody 'If you had to do it over again in your department what would you keep? What would you throw out?' You'd be amazed at how many things we do just because they've always been done like that," he said.
"Now we have the opportunity to change the system before we move in," Porter said. "All we have to do is ask the questions a seven-year-old would ask: Why? What? How?"
Sometimes the simple questions are the most profound.