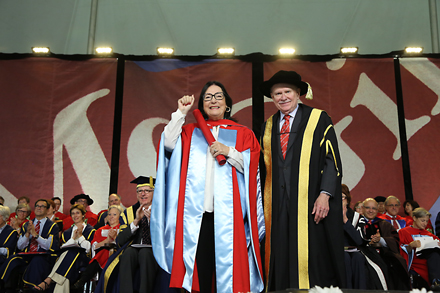 Recording star fights back tears during Hon Doc ceremony
By Neale McDevitt
One of the most successful female artists of all time, Nana Mouskouri has recorded more than 1,500 songs in eight languages, has sold more than 300 million records and disks, and has performed in the world's most prestigious concert halls in front of royalty, dignitaries and world leaders. She has won awards and prizes ranging from the Chevalier des Arts et des Lettres and Officier de l'ordre de Bienfaisance of the Hellenic Republic to the UNICEF Goodwill Laureate Award and the Golden Medal of Athens.
But receiving an Honorary Degree Thursday as part of the Faculty of Arts ceremony had her choked up.
"I hope I can make it," Mouskouri told the audience with a faltering voice as she fought back her tears at the beginning of her address.
The crowd broke into spontaneous applause of encouragement, a gesture that seemed to bolster the international recording superstar. "It is a great honour and a really great privilege to be part of this day, a day when the youth opens their wings of hope for the future," she said.
Mouskouri spoke eloquently about growing up in German-occupied Greece during WWII. "Those who escaped and survived only had two roads to follow," she told the audience. "The first road was to continue living in the aggressiveness that they had lived for so many years. The other road was to search for peace, love, humanity, understanding and, of course, justice and dignity."
Clearly Mouskouri chose the latter path. A humanitarian and a fervent children's-rights activist, she has been a Unicef Goodwill Ambassador since 1993 and from 1993 to 1999 she has served as a member of the European Parliament for Greece, promoting actions to foster cultural co-operation amongst European people. "It is up to you to make the world a better place," she told graduating students.
"The importance is not in what you do, but why you do it and how you do it," she said.
At a press conference after the ceremony, Mouskouri was asked why she was so touched to receive her honorary degree. "I have many distinctions from many countries, this is true, but this is the first time I have an honorary doctorate," she said smiling. "I am honored that it comes from here, McGill University, so well known around the world and so prestigious…
"To receive this degree means that I'm appreciated not only as a singer but also perhaps on the human side and for everything I do around that in my life… It is moving because it is like somebody has told me that finally I was right to do what I did."
Mouskouri shared the honorary doctorate spotlight at the ceremony with American philosopher Judith Butler, who drew enthusiastic applause for her address, which referenced Montreal's student activism and the need for everyone, including activists, to engage in conversations and seek understanding of all points of view.
The two honorary degree laureates, from different countries, vastly different backgrounds and different mother tongues, offered remarkably similar messages, which were loudly appreciated by the graduating students and their families and friends.