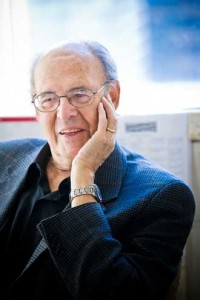 Dr. Ronald Melzack is the first recipient of the Outstanding Pain Mentorship Award, a new honour from the Canadian Pain Society (CPS). The Award acknowledges the important contributions Melzack has made to the pain field by providing outstanding mentoring to numerous pain researchers and clinical scientists over his long and illustrious career. The award was presented on May 29 at the CPS' Annual Conference in Quebec City.
Melzack, Emeritus Professor and former E.P. Taylor Chair in Pain Studies at McGill's Department of Psychology, revolutionized the study and treatment of pain. In the seminal 1985 publication Gate Control Theory of Pain, he and Dr. Patrick Wall of MIT argued that psychological factors and environment play a large role in feeling pain, and that pain is subjective and ultimately at the mercy of the brain. This overturned the then-accepted view of pain as a primitive and static danger warning system.
Dr. Melzack later developed the McGill Pain Questionnaire, which remains a widely used clinical tool to evaluate pain in patients. In recognition of his breakthrough research, Dr. Melzack has been honoured with a Killam Prize, is an Officer of the Order of Canada and l'Ordre du Québec, and has been inducted into the Canadian Medical Hall of Fame.