McGill's valedictorians are outstanding students whose strong academic performance, leadership and community involvement has earned the respect of their peers. This year's cohort is remarkable for its diversity, each having vastly different backgrounds, experiences, passions and goals.
What they do share is ambition, curiosity, and a desire to have a positive impact on the world.
As with most students, McGill's valedictorians were challenged over the course of their studies. But, with perseverance, dedication, and the support of people around them, they thrived. The University has benefitted just as much for having them as valuable, contributing members of our community.
As part of our Spring 2023 Convocation coverage, the Reporter is conducting a series of Q&A interviews this year's valedictorians.
In this instalment, we feature Mona Sajjadi, valedictorian for the Health Sciences 'B' ceremony on Tuesday, May 30, at 3 p.m. Sajjadi will receive her Masters of Physical Therapy.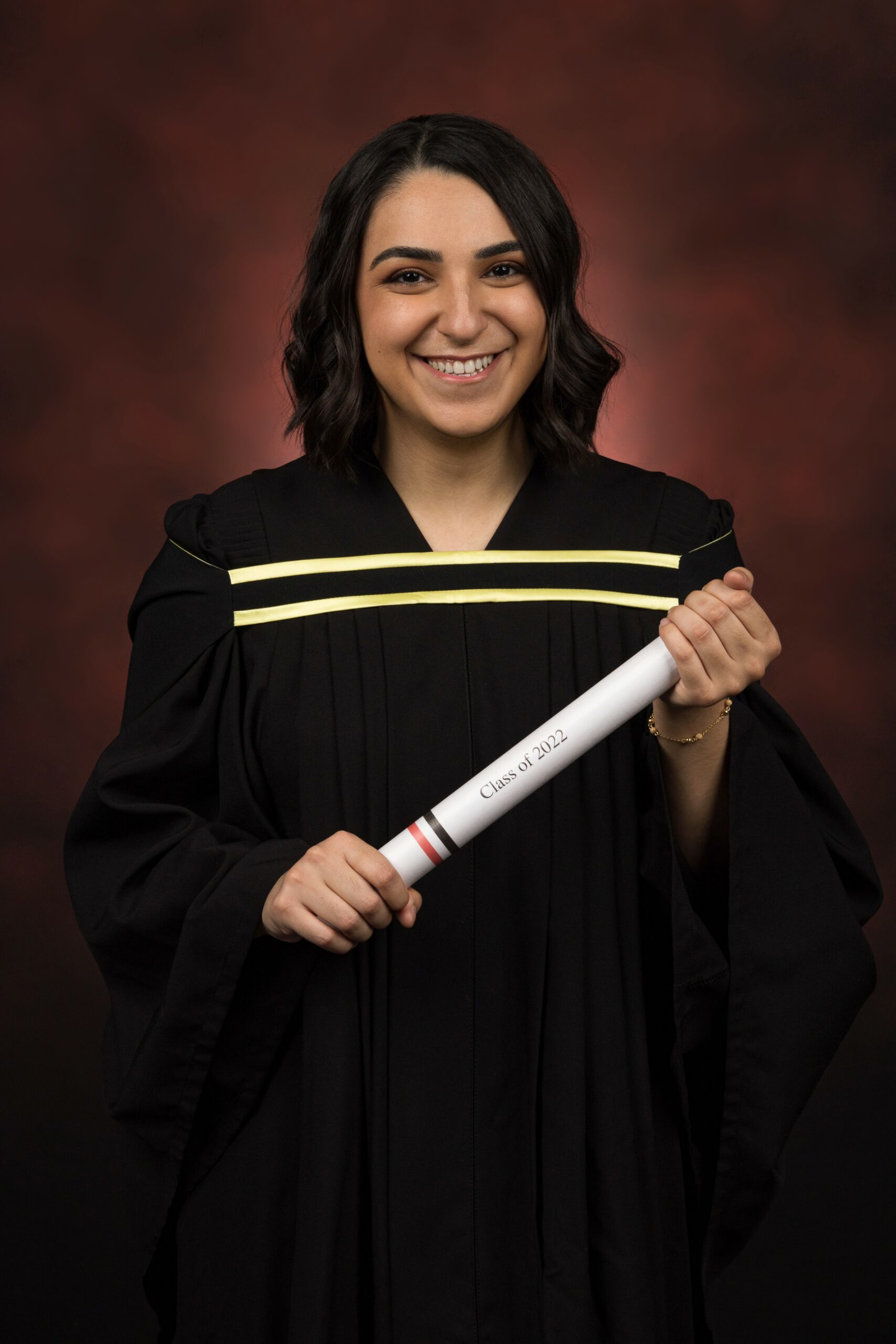 Where is your hometown?
Montreal.
Why did you choose McGill?
Primarily, I wanted to stay close to my family and friends. McGill is also a world-renowned university that I knew would provide an excellent education and – bonus – it has a beautiful campus!
What were some of your impressions when walking onto campus for the first time?
"I'm going to get in shape, walking up this hill everyday!" I remember looking up at McTavish when taking my student ID photo and feeling both excited and nervous to start university.  I remember trying to meet with a friend at the front gates and somehow getting lost and discovered new beautiful buildings such as the Arts building.
Three favourite places on McGill/Mac campus?
The garden behind Hosmer House
McGill Lower Field on that first warm day after winter
Second Cup café in Stewart Bio
What were some of the biggest challenges you faced during your time here and how did you overcome them?
Stress and academic pressure. When I started university, I put a lot of pressure on myself to get good grades and I had a lot of stress. Throughout my time at University I learned to better manage my stress by reaching out to my support system for help, allowing myself to take breaks, and making time to do meaningful activities – which for me was playing ringette! Learning how to balance work and life was key.
What's next for you, both short and long term?
I'm currently working as a pediatric physical therapist as I love working with children. I love being able to promote their development and help them reach their goals. It is incredibly rewarding as a career and allows for fulfilling patient interaction.
Long term, I would like to participate in research and in more community improvement projects. For example, I would love to research and implement ways on making public areas (parks, daycares and/or schools) more accessible to children with physical disabilities.
Tell me about your Faculty and your classmates. How important have they been to your overall McGill experience?
The faculty and my classmates  have been a huge part of my McGill experience. I've grown so much intellectually, but more importantly as a person, thanks to the friends I have made and to the academic mentors that I've been so fortunate to have.
Who or what will you miss most?
I will miss sharing so many memorable experiences with my friends. There are so many special memories I have at McGill with my friends such as celebrating after exams, stressing about submitting that final project at 11:50 p.m., and being able to learn from one another. I will miss these university experiences, but I know that the friendships and bonds I've made will last for a lifetime!
What advice do you have for new students to McGill?
Try new things and stay open minded! Sometimes what we think we want may change – and that is ok. It is also important to remember to not compare yourself to others; everyone has their unique set of goals, experiences, challenges, and strengths. Try focusing on yourself and your unique journey. My last bit of advice is to find your community of people that you can lean on when times are tough. Surround yourself with people who motivate, inspire, and support you, because many of the valuable lessons I've learned have taken place outside of the classroom.
Do you have friends or family coming for Convocation?
Yes! I have many of my lifelong friends that I've made at university that will be present as well as my family and partner whom have supported me tremendously throughout my time at McGill.