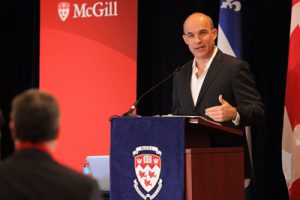 By Doug Sweet
Perhaps reflecting the country to which it is devoted, the McGill Institute for the Study of Canada's conference on talent and success opened Monday with a dose of discourse on failure.
Opening speakers at MISC's annual conference, including sometime McGill business student and Olympic mogul skiing champion Jennifer Heil, and pop music star Béatrice Martin, who were part of a panel discussion on "incubation and lift-off," spoke of how important failure is as both a teacher and a motivator.
But the speakers and program for Day 1 of the two-day conference quickly scampered on to what needs to be done in Canada to encourage top talent from within and draw it here from without if the country is to be competitive in an increasingly globalized economy that can pull the best together from every corner of the planet to create the next Apple or the next Google.
And it heard from former RIM (now BlackBerry) CEO Jim Balsillie and advertising whiz (and McGill alum) Bertrand Cesvet, of the internationally renowned Sid Lee firm, that Canada is working against itself in a couple of specific areas, when it comes to making this country a go-to destination for the creative, innovative elements of the world's population. These would be, respectively, the protection of intellectual property rights and restrictive immigration policies.
The conference, officially called "Lifting Off and Flying High – Talent and Success in Canada," has drawn in impressive list of speakers. In addition to household names like Heil and Balsillie, former Canadiens goaltender and Liberal MP Ken Dryden, Quebec singer-songwriter Patrick Watson, former McGill Chancellor and onetime head of the World Anti-Doping Agency Richard Pound, Just For Laughs President Andy Nulman and First Nations television and film actor Tantoo Cardinal are all on the program. Former Hab and Green Party deputy leader Georges Laraque is scheduled to give Tuesday's keynote address.
Topics on the agenda include technological innovation, sports and athletics, culture and the arts and how being a Canadian may have helped or hindered someone pursuing a career south of the border.
Canada, Heil said during her presentation and in answer to questions, takes a very haphazard approach to developing talent in her chosen field – Olympic skiing. "We don't have a systematic approach to identifying talent and developing talent in sports. … There's not a clear path to get where you're going," she said, noting that a personal failure – finishing fourth and out of the medals at the 2002 Olympics – was her greatest learning moment. "I took that as my starting point."
Venture capitalist Jean-Sebastien Cournoyer echoed Heil's remarks about the importance of failure. "Don't be afraid of failure," he said. "Transition brings opportunities."
In the panel discussion on technology, moderated by Principal Heather Munroe-Blum, Sean Ferguson, Dean of the Schulich School of Music, traced the development of the early music synthesizer as a little-known invention by Canadian Hugh LeCaine that predated the Moog synthesizer by 20 years.
But because of its odd appearance and name (the electronic sackbut), the device never took off.
Technology, said Raja Khanna, five-time Gemini winner and CEO of Television and Digital Groups for Blue Ant Media Inc., is the great enabler. Technological disruption, where new technology quickly and radically changes old businesses, presents incredible opportunities.
"Two of you in your garage can take on Time-Warner," he said. "In Canada, we have a unique opportunity to develop talent because there's all sorts of 'free money'" in the form of government support. What Canadians need to do more, he said, is get out in the world and come back having learned best practices. And to then develop businesses and products with an eye to global markets, not just domestic markets.
Canada has a sound foundation in the form of a solid education system on which to build talent and develop potential, said Sylvie LaPerrière, program manager in Google's network content division.
"I think you need to be curious," she said. "How does it work? Why does it work this way? Can I make it work better?"
She echoed Khanna's view that it is important to look beyond Canada's borders.
That international outlook was also a thread in Ilse Treurnicht's remarks. CEO of Toronto's MaRS Discovery District (similar to Montreal's fledgling Quartier d'Innovation), Treurnicht urged the conference to knock down the stereotype of entrepreneurs as "obnoxious male college dropouts" and recognize the importance of immigrants and women to the development of cohesive teams of people who can change the world.
But it's not easy, Cesvet said. The McGill grad has reached the stratosphere of the advertising world, thanks in large measure to such international clients as Cirque du Soleil and Absolut vodka.
"To be perfectly honest, it's hard to attract talent to Canada," which hasn't established a reputation as a creative country, he said. "Canada has a lot to offer, but part of the problem is that we haven't defined ourselves when it comes to talent. We're not making it easy for talent to come here."
That means embracing diversity to a greater degree and opening up to the world more, so that talented people from abroad can be brought here more easily, he said.
Balsillie, who, with his partner Mike Lazaridis, took Research in Motion to global heights with their BlackBerry mobile device, focused directly on the need for Canada to do more to strengthen intellectual property rights.
There are instances where we got public policy right that led to the development of Canadian talent, he said, citing the CRTC decision to impose Canadian-content rules on radio stations and the "Own the Podium" program that led to Canada's stunning gold-medal haul at the Vancouver winter Olympics in 2010.
"We need to get the public policy right in Canada if we're going to talk about productivity and innovation," he said.
RIM, he said, was "an anomaly, an exception to the rule and there won't be another one until we get the public policy right."