Calgary philanthropists Richard and Carolina Walls also to receive Hon Doc at fall Convocation ceremonies
By Neale McDevitt
As the only coach to be inducted into the Triple Gold Club – hockey people who have won the Stanley Cup, Olympic Gold and the World Championships – Mike Babcock keeps some very exclusive company. Today, the longtime coach of the Detroit Red Wings and McGill alumnus (BEd86) became a member of another select club with the announcement that his alma mater will confer an honorary doctorate upon him as part of Fall Convocation 2013.
Babcock will be made a Doctor of Laws, honoris causa, as part of the Convocation ceremonies to be held on Monday, Nov. 25. McGill will also bestow honorary degrees to Calgary philanthropists and McGill benefactors Richard A. Walls and Carolina J. Walls, both of whom will receive a degree of Doctor of Science, honoris causa. The honorees will share the stage with approximately 1,800 graduating students at the ceremonies to be held at Salle Wilfrid-Pelletier at Place des Arts in Montreal.
"No question about it that an honorary degree from McGill was more improbable to me than winning a Stanley Cup," said Babcock when asked which he would have thought more unlikely had someone told him 25 years ago he would one day hoist Lord Stanley's hallowed Cup or be granted a Doctor of Laws from McGill. "When I went to McGill, I had no idea of the quality of people I would meet and the quality of institute that I would be attending. And I didn't know it until after I arrived and maybe even until after I left what a great school it was and how it was going to impact my life. So to be honoured in this fashion is so humbling and unbelievable."
• • •
Kentucky native Richard Walls founded and built five companies in the energy business after earning a PhD in Geology from McGill in 1978. An entrepreneurial leader in the industry, he has been responsible for significant oil and gas discoveries in North America. Carolina Walls, originally from Chile, came to McGill by way of New Brunswick, receiving her BSc in Psychology in 1985. She then attended the University of Alberta Law School and practiced primarily in the areas of immigration and refugee law.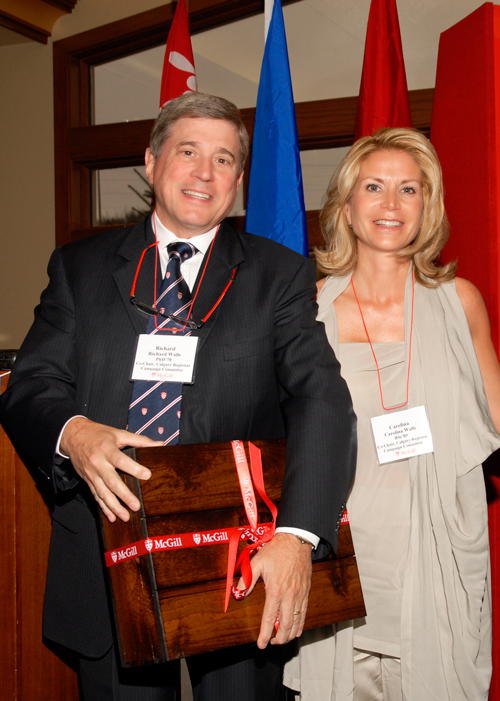 While they are both alumni, they didn't attend the University at the same time. "We didn't meet at McGill, but we met because of McGill," said Carolina. "We were introduced at a party one day and my first words to him were 'I understand you went to McGill.' "
After they were married Richard asked why Carolina dated him. "I said, 'because you did your PhD at McGill so I knew you weren't dumb,' " she said, laughing.
The Walls have maintained strong ties with their alma mater. The couple first raised funds to support the T. H. Clark Chair in Sedimentary and Petroleum Geology in memory of the iconic paleontologist and geologist who taught at McGill until the age of 99. Again thanks to their generosity, McGill established, in 2008, the scholarship program "Best in the West," that assists students from British Columbia, Alberta and Saskatchewan enrolling at McGill.
"Growing up we didn't have any money and if I didn't get a scholarship I don't know how I would've gone through University. We just want to help the kids," said Richard. "We like to think that the Best in the West program also helps cement the country a little bit because you have westerners going east and coming back having had a wonderful experience."
"Neither Dick nor I are from Canada but were both ardent Canadians," says Carolina. "We really believe if someone can go to high school in somewhere like Calgary and go to university in Montreal, it will make them a better Canadian."
• • •
After he had served as co-captain of the McGill Redmen hockey team, Babcock plied his trade as a rugged defenceman in the hockey wilderness upon graduation, playing for the Whitley Warriors, a semi-pro hockey team in Northeastern England. Yes, England, not New England.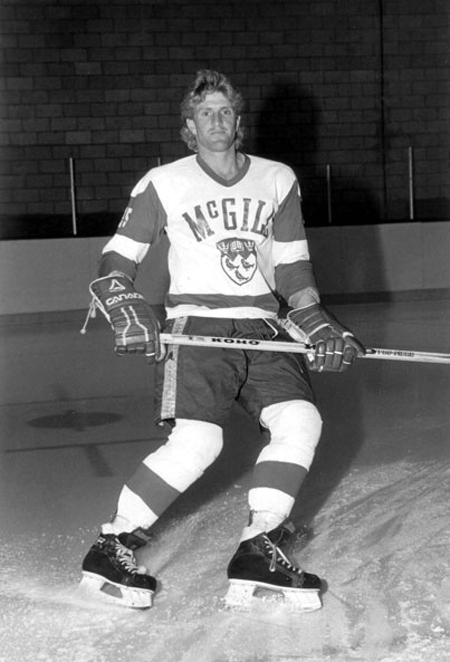 His coaching career had equally humble beginnings, starting as the head coach of Red Deer College in Alberta before taking the helm of the University of Lethbridge hockey program and spending six years as head coach of the Western Hockey League's Spokane Chiefs.
When he finally arrived in the NHL in 2002-03, Babcock thrived, leading the Anaheim Mighty Ducks to the Stanley Cup finals in his rookie year as head coach. And he hasn't looked back, leading Canada to the top of the podium at the Worlds (2004) and the Olympics (2010), and guiding the Red Wings to the Stanley Cup (2008). Since he began his coaching career in the NHL, his teams have won more regular season and playoff games than any other team in the league.
But there's more to Babcock than what he does behind the bench. In Detroit (and in Anaheim) so much of his free time has been spent visiting sick children and their families that one hospital issued him his own employee ID that says "Coach" to help get him past the rare security guard who doesn't know who he is. Not surprisingly, when the Wings came back home with the Stanley Cup in tow in 2008, the first place Babcock took it was the Children's Hospital of Michigan.
Wherever hockey has brought him, Babcock has always remained a proud McGill alumnus. "When I left Saskatoon to go to McGill, I wasn't very interested in academia at all, I was just focused on hockey," Babcock told The Reporter. "But it changed my life forever. I'm absolutely thrilled and so pleased to have graduated from McGill and for what it gave me. And now, to get an honorary degree… I'm very honoured and humbled."
With files from Julie Fortier and Earl Zukerman