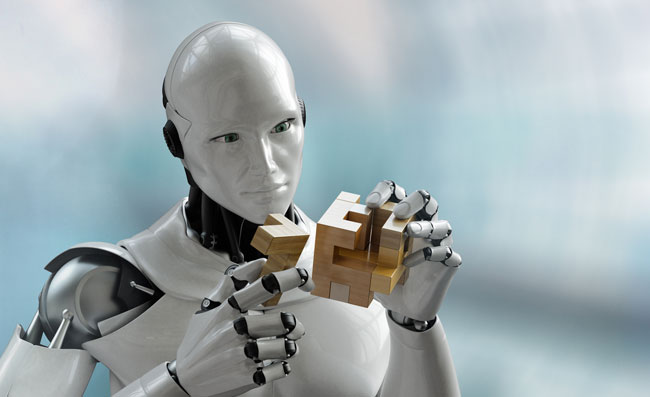 By McGill Reporter Staff
You don't need the cognition of a Westworld-style robot to understand that Microsoft anticipates big things from Montreal's artificial intelligence (AI) research community.
This past December, the computing giant invested an undisclosed amount in Element AI, a Montreal-based incubator comprised of academic researchers from across North America – including McGill's Joëlle Pineau and Doina Precup. Last week, Microsoft announced its pending acquisition of Maluuba, the Montreal deep-learning research lab focused on creating literate machines that can think, reason and communicate like humans.
The latest development came this morning at the World Economic Forum Annual Meeting in Davos, Switzerland, where Microsoft president Brad Smith announced plans to double the size of Maluuba within the next two years.
Maluuba was founded in 2011 by University of Waterloo graduates Sam Pasupalak and Kaheer Suleman. In December, the company announced that it was partnering with the Reasoning and Learning Lab in McGill's School of Computer Science to tackle one of AI's most complex and complicated challenges: teaching machines to have common sense.
Microsoft's new plans to grow Maluuba include a gift of $7 million to two Montreal research universities that excel in AI. Over the next five years, the Université de Montréal will receive $6 million and McGill will receive $1 million.
The news is Microsoft's latest endorsement of what the Globe and Mail has called Montreal's "reputation as an emerging global centre for one of most anticipated technology trends."
Microsoft's Smith made the announcement alongside Dominique Anglade (Quebec Minister of Economy, Science and Innovation), the Honourable Navdeep Bains (Canada's Minister of Innovation, Science and Economic Development) and Quebec Premier Philippe Couillard.
"Microsoft is excited to engage with faculties, students and the broader tech community in Montreal, which is becoming a global hub for AI research and innovation," said Smith.
"Microsoft has chosen to focus on Quebec talent, on the know-how of our researchers as well as on our expertise and innovative technologies," said Premier Couillard. "In a constantly evolving global economic context, artificial intelligence is a sector at the cutting edge of technology that helps propel societies towards the digital economy. It's a sign of recognition and confidence towards Quebec's strengths."
McGill Principal Suzanne Fortier thanked Microsoft for its "investment in Montreal's AI strengths." Professor Fortier is in Davos to participate in a WEF panel about the Fourth Industrial Revolution, and to introduce a McGill IdeasLab presentation about sustainability.
"McGill and Université de Montréal researchers are doing cutting-edge work in artificial intelligence," she said. "This kind of collaboration with an industry leader [Microsoft] is crucial as researchers ask, and answer, the kinds of questions that are reimagining our physical, digital, and even biological, worlds."
Pineau, who is an associate professor in the McGill School of Computer Science and a co-director of the Reasoning and Learning Lab, says Microsoft's gift will allow McGill to recruit and support the top graduate students. "What is particularly exciting is to see large companies recognize the importance of fundamental research, and support research projects that are carried out in the open," she said.
Microsoft is not alone in its enthusiasm for, and support of, Montreal as an AI research cluster. In November, Google invested $4.5 million in the Montreal Institute for Learning Algorithms, which is based at the Université de Montréal. In September, the federal CFREF program announced a $213-million grant to fund AI and big data projects at four Montreal post-secondary institutions, including $84-million for McGill's Healthy Brains for Healthy Lives neuroscience research program.